An AI writer is innovative software. It is unique because it uses manufactured intelligence to predict content. It does that based on the details or text you provide.
Want one for yourself? Here are five AI writing software you need to try.
1. Jasper

Jasper is one of the most popular AI writing software. With it, you can create keyword-rich texts. The great thing is that you can be sure it is plagiarism-free when you use Jasper. Increase the efficiency of your content pipeline by having Jasper.
If you want to monetize your content you can increase sales and boost ROAS by easily writing and testing additional copy variations that you do using this software. You don't need to write in only one language. It allows you to use 20 languages creatively and straightforwardly. When you begin to write your text, it will complete sentences for you. Jasper is one of the best tools for making original content.
2. Grammarly

Grammarly analyzes your writing using modern AI and Natural Language Processing algorithms that can optimize your writing experience. The writing assistance tool may help you fix problems with sentence structure and style that you have. Reducing any mistakes will make your material more concise, clear, and professional.
You don't need to use additional writing tools. Grammarly also checks for plagiarism. One of the reasons so many people use it is that it makes recommendations on how to improve the quality of the text you've produced. It is easy to install, and you don't need to worry as it will automatically check your text. If you want to improve the quality of your articles or social media posts, use this tool.
3. Wordtune

Wordtune is a popular AI writing software. One of its biggest features is that it gives you a variety of unique alternatives that can come in handy when you are trying to create a unique piece of content. This is one of the few AI software applications that try to decipher the structure and grammar of your writing.
A lot of content creators use Wordtune to improve the quality of their social media presence. This platform is innovative as it combines neural-net-based NLP technology. That technology is also working with AI tools that can be found in other similar tools. What makes it so helpful is the fact that it uses what you already wrote. You don't need to worry about the quality of the text you are going to publish. How easy the text is to read is important. This tool enables you to provide your readers with content that they will easily understand.
4. AI Writer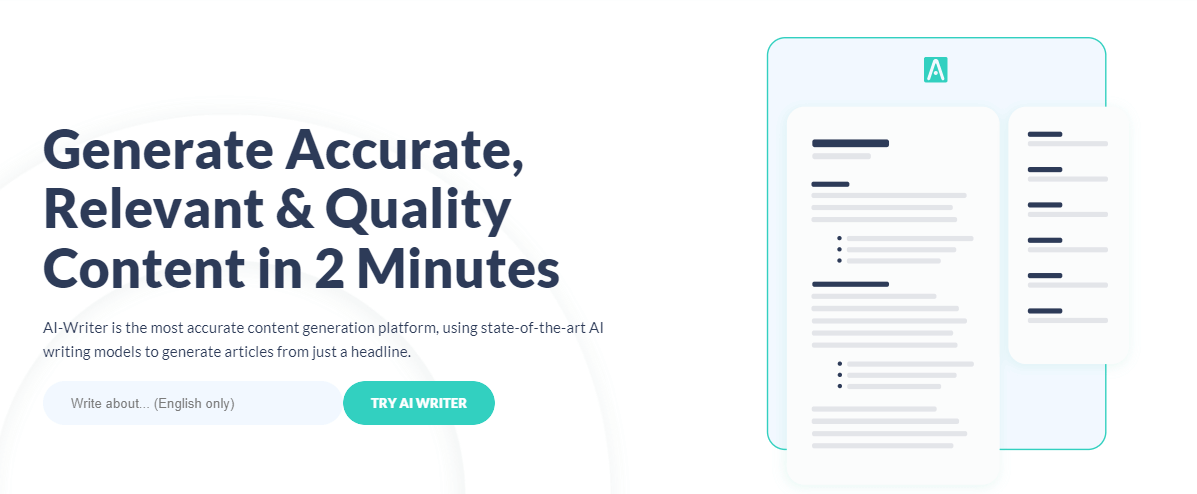 AI-Writer is your on-demand personal helper that will make writing original content easier and faster. It got you covered if you already have a piece of material that you would like to republish but you want to make some changes. All you need to do is submit the text. After a few minutes, your article will be rewritten for you.
The amazing thing about this AI writing software is that the content you submit will be the same, but the text is different. AI Writer is great for SEO authors and content creators who don't have time to perform in-depth analysis for report writing and content display for content marketing. Because of the simple to use dashboard and the fast rewriting system it is one of the mostly used tools for the purpose. If you are not sure about this tool you can try it out for free. They offer a 7-day free trial.
5. Text Blaze

Text Blaze has a lot of advantages over many other AI writing tools that you can find online. It works on any device that can run Google Chrome. The great news is that it is also running on devices that use ChromeOS. The setup process is simple, and anyone can use it to manage snippets.
Text Blaze has a lot of features that make it simple and efficient to use. If you have a long piece of text you need to write this is the perfect tool to use. It is compatible with a lot of online apps that you might be using for your business. The amazing thing is that you can use this AI writing software tool for free. Of course, it also provides a lot of different packages that vary in the features they offer.
Conclusion
The top AI writers make creating automatic material for blog posts, courses, and other online content straightforward and easy to understand. These kinds of software drastically changed the writing system.
Like never before, articles can be written in just a few minutes. You can easily summarize any text you want. With the fast breach of different information, you need to write new unique content daily. That is possible thanks to Artificial Intelligence.