In order to get contacts, leads, and sales from your website, you need a way to collect the visitors' information. A great way to do that is via web forms, through which you can create surveys and quizzes or simply use them to gather information about the customers, which can be helpful in the future when it comes to marketing your business or a product.
Whether you want to add a login form, customer registration form, newsletter form, order form, customer support form, donation form, or a job application form to your website, you will want to have an appropriate form builder to help you set everything up without the unnecessary fiddling with the website code.
For that reason, we have compiled the following list of some of the best, hand-picked form builder tools you should consider getting in 2022. 
Let's dive right into their features.
#1 FormDesigner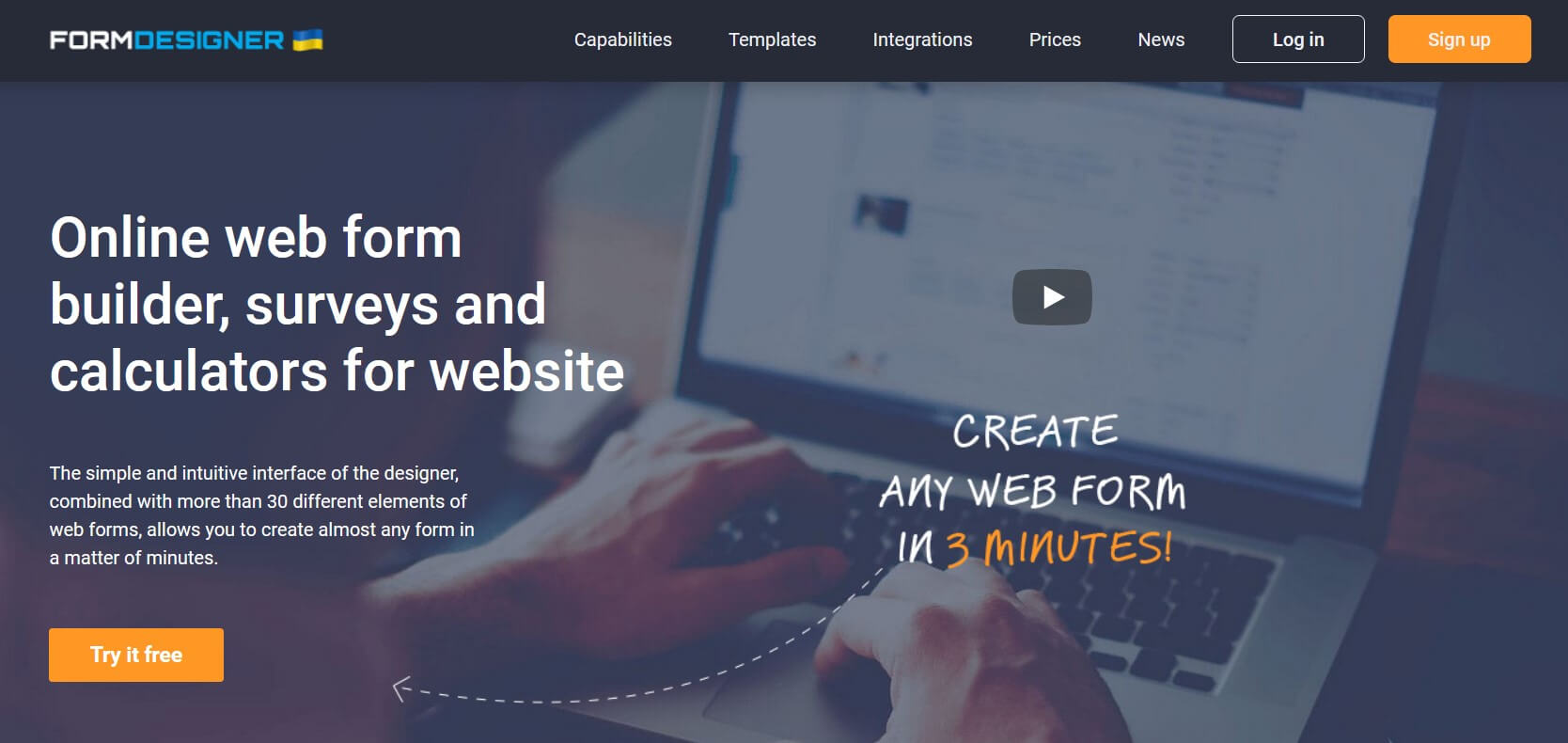 Equipped with a simple drag-and-drop builder filled with flexible settings that require no programming or coding knowledge, FormDesigner is a powerful online web builder developed to assist you in creating any kind of online form that will look great on both desktop and mobile devices.
It includes an abundance of other convenient features, including more than 90 form templates, 30 different question categories, integration with Analytics, personalized form settings, smart redirects, and many more form configuration settings. FormDesigner is a builder tool that will help you get the most out of online forms and save both your time and effort.
#2 Zapof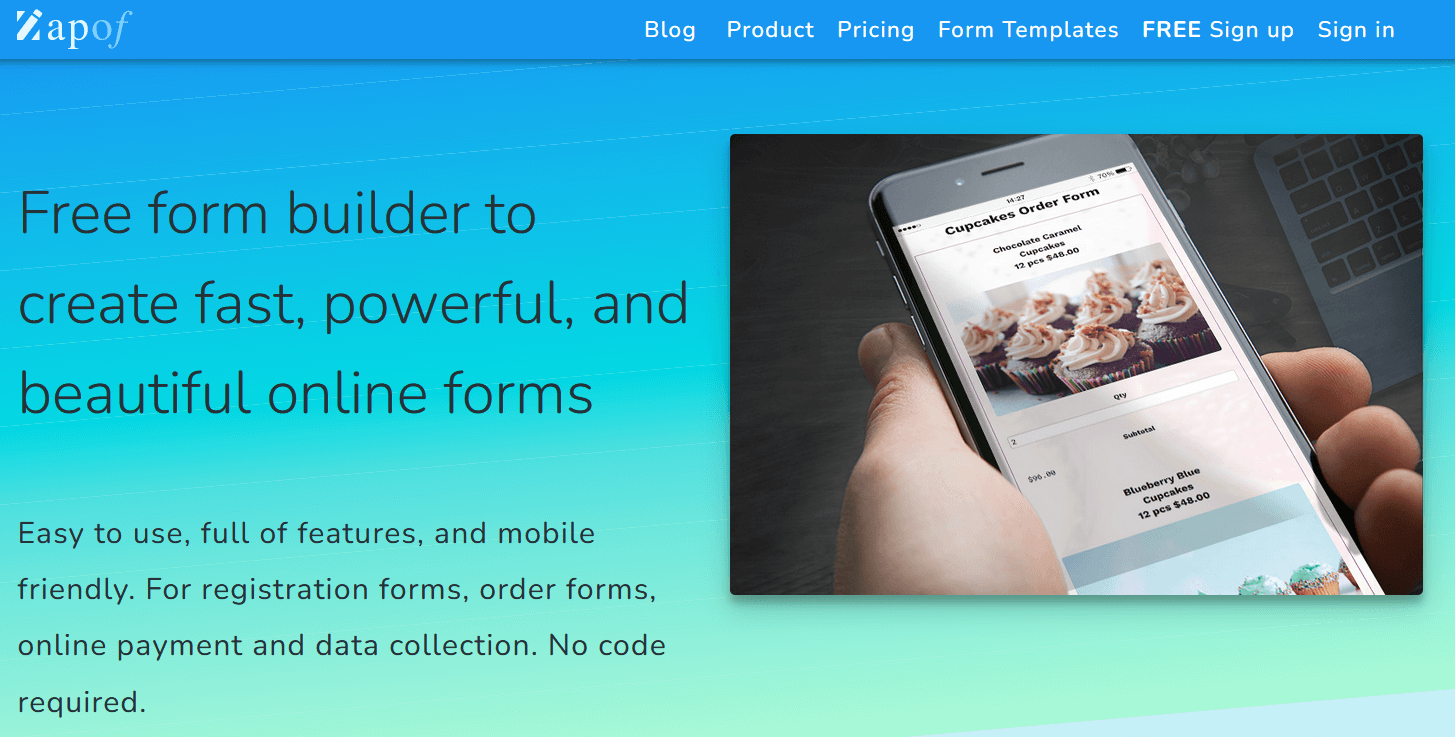 Zapof is a form builder that allows you to completely customize every single element of the form, starting from currency, numeric, text, date/time, choices, and rating scales to ranking, constant sum, yes/no choice, and checkbox. 
This fast form builder is developed to meet even the most challenging requirements and help you to set up a form that will be unique and get you all the information you need from the customers. You will be immediately notified via email when the user has submitted his form answers and able to access the data.
#3 Formly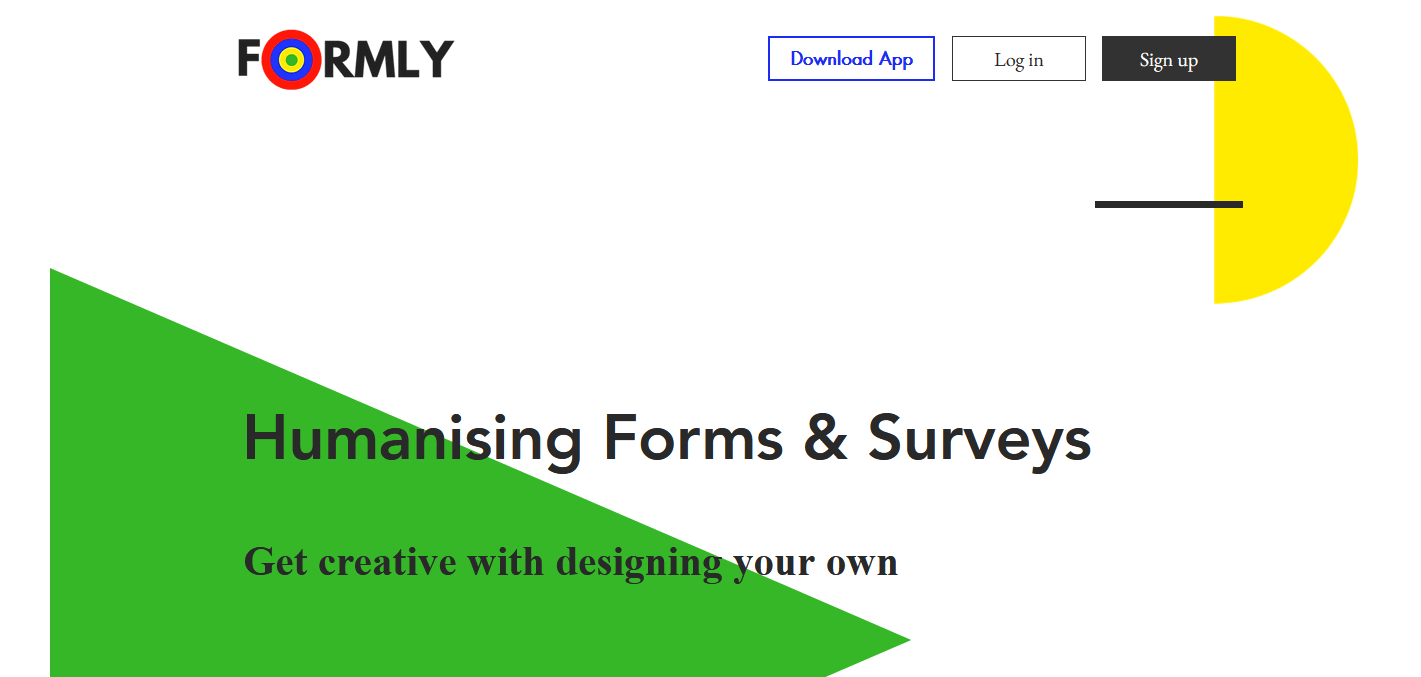 If you are looking for a form builder that will help you create colorfully customized surveys for collecting various types of data, Formly is a tool that has your back. With Formly, collecting information from users has never been easier and more engaging, even if you are currently offline. Moreover, you can set up conditional email notifications and collect payments from the users in no more than a few steps. Last but not least, Formly also allows you to customize the form URL according to your preferred domain and even enrich the form with your own visual identity.
#4 Growform

Growform is a builder tool developed to help you create beautiful and high-performing multi-step forms that will be everything but boring. The forms will look and work flawlessly on both desktop and mobile devices and therefore capture more leads and engagement to your website. 
The tool includes more than 20 form templates, but if that is not enough, you can easily customize basically every element of your form, including fonts, backgrounds, colors, and custom CSS.
#5 Headlessforms

Another great solution when it comes to creating forms, receiving form submissions, and sending auto-responsive emails is called Headlessforms. Capturing submissions from your customers and other website visitors has never been easier, as Headlessforms provides form endpoints, which makes it perfect for WordPress, Netlify, Vercel, and other sites. 
By using this form builder and its user-friendly dashboard, you can easily create HTML forms within minutes. As for the receiving submissions, Headlessforms includes a spam filter that will keep all the unwanted content away from your inbox. You can even integrate it with third-party apps to add advanced features.
#6 Formcake

Continuing in a similar tone, Formcake is another convenient form builder tool you can use to create HTML forms without any coding knowledge necessary. It will help you manage everything from integration support and file uploads to virus handling. 
Even though developers built it for developers, it is straightforward to set up and use and designed to save both your time and nerves. Formcake allows you to set up an unlimited number of forms and requires no dependencies whatsoever. 
#7 Formvio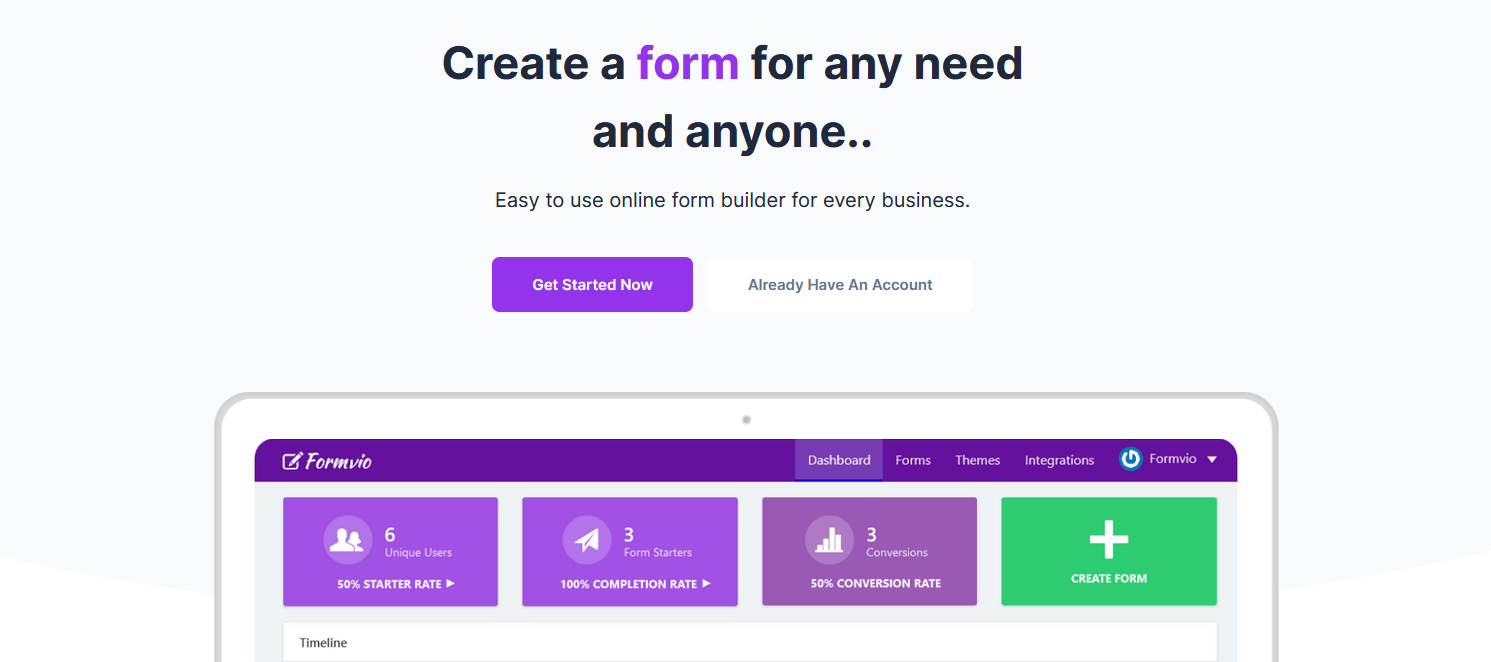 Formvio is a tool that jumps straight to the solution when it comes to setting up a perfect form for your website. Requiring no coding knowledge whatsoever, Formvio is created to capture any kind of data you need, whether the user is engaging via desktop or mobile phone. Customizable backgrounds, colors, fonts, and page breaks will enhance the experience of form filling, making it everything but boring. 
Your data will be collected and available the moment the user submits it, without the need for you to download or export it, as you will be notified immediately via email when the user fills out the form.
Moreover, Formvio integrates with a number of different tools, namely MailChimp, Webhooks, and Stripe, and is planning to integrate with more of them in the future. Lastly, Formvio offers multiple ways to share your form with an audience, whether it is a standalone link, QR code, or it is directly embedded into your website.
Conclusion
Let's face it, filling out forms can sometimes be a tiring experience. With the little help of form builder tools listed above, you can make filling out forms and questionnaires fun and interesting for your customers. 
By doing some customizing and personalization, your forms can become both engaging and visually stunning, as well as look professional and therefore suited for your business' website. All the previously mentioned solutions include a simple drag-and-drop builder and a dashboard in order for you to keep track of all your forms and submitted data.
No previous coding or design knowledge is required to use the listed form builder tools, and everything can be up and running in a matter of minutes! With these advantageous form builder tools available in 2022, no website form should ever remain boring.