With the abundance of products that are offered online, customers often get confused about buying a certain product they need due to the large offer and similar specifications. Your job as the owner of a web shop or a marketer is to increase the conversion rate and encourage your customers to buy one of your products.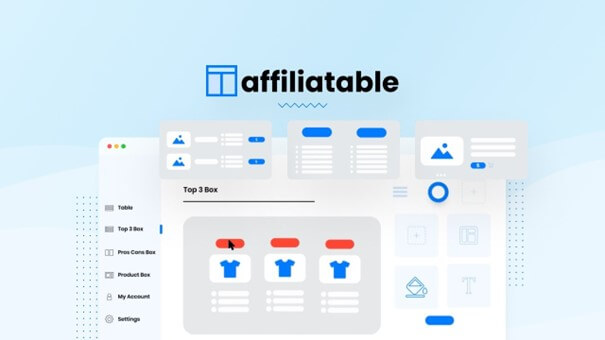 One creative way of doing that is by letting them compare the products and review all the details and specifications of the product they need to make a final decision. By helping them in such a visual way, you will save them a lot of time and offer them a wonderful customer experience.
You can be certain that they will eventually come back for more products from your website. All that you need to achieve is one tool – Affiliatable, which you can find by following this link: https://appsumo.8odi.net/doYavW.
What can I do with Affiliatable?
Well, for starters, Affiliatable enables you to be a bit of an artist and create magnificent comparison tables and product boxes for your customers. This tool will help you create an astonishing affiliate website and increase your sales by allowing your customers to compare the benefits of your products and see all the important information.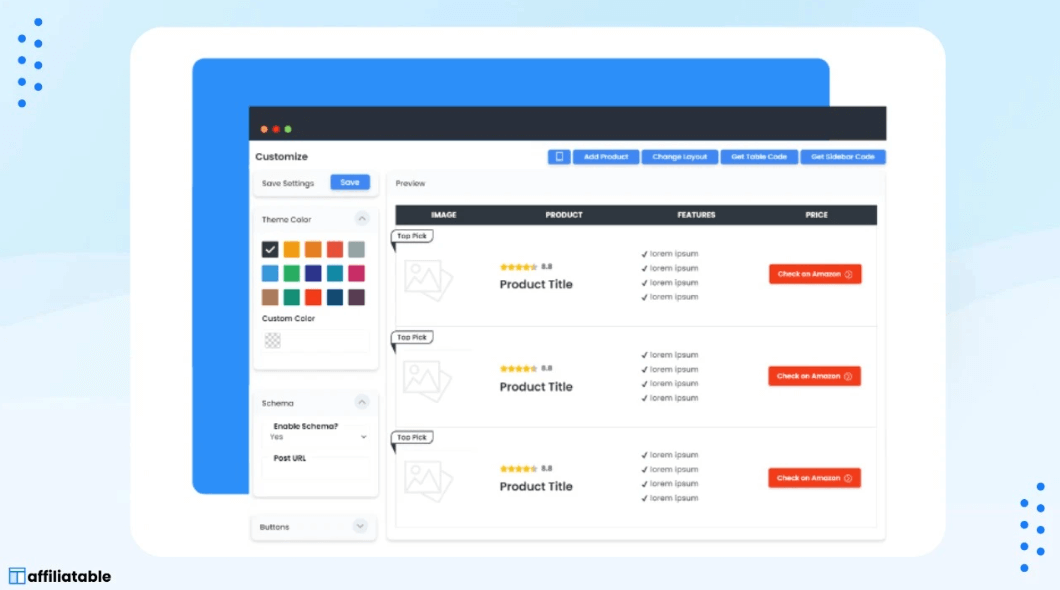 Affiliatable has a unique design that will reach out to your audience, create better communication channels between you and your customers and boost your sales and SEO rankings. The great thing is that this is a cloud-based web app, so you won't have to install any of the plugins that might affect the performance of your website.
Also, you won't have any problems with compatibility because it works perfectly with various page builders, such as Gutenberg, Oxygen, Elementor, Beaver, and with custom-built sites, as well.
What are the features of Affiliatable?
As already mentioned, creating beautiful and useful product boxes and comparison tables has never been easier with Affiliatable. It offers full customization when it comes to the design of boxes and tables, so everything will be in accordance with your website and your brand. This tool is extremely easy to use and keeps all in one place, so it is easy to configure the tables and boxes.
This tool is a perfect alternative to Lasso, AAWP, or AmaLinks Pro, which offer similar features. With this tool, you can work on one website at a time and make 150 posts. Some of the cool features we haven't mentioned yet are a geotargeting feature, replacing tracking ID, copy function, custom categories, and many more. It has available Amazon API Integration, so you can directly use it for your products on Amazon.
How to create comparison tables and product boxes?
In order to create comparison tables and product boxes, you won't need much. Affiliatable offers numerous premium templates for your website, but if you are not fully satisfied with the chosen one, you can tailor it to suit your wishes.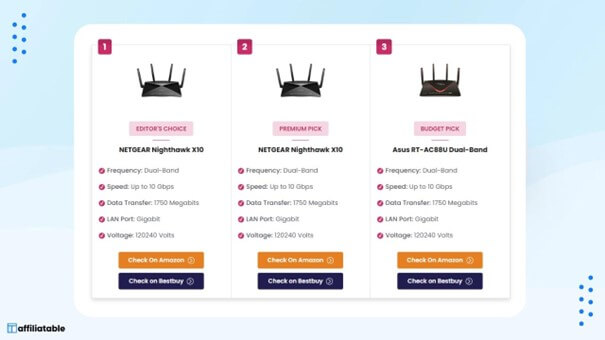 There are multiple options for creating amazing boxes and tables that allow you to change the text format, colors, and even CTA of your pages. The best thing is that you can be done with creating your boxes and comparison tables in only a few minutes. These high-converting pre-designed templates can become unique for your website by adjusting their main substances.
You can also add external links to your website and see their analytics of them. Another useful option that Affiliatable will provide you with is the ability to have a preview check in mobile, tablet, or desktop versions so that you can see the final results before going public. Of course, there is no coding required for this tool, so pretty much everyone can use it without any problems or difficulties. There will also be no unwanted scripts, so you can be relaxed.
To give you some visual evidence, here are some screenshots of the product boxes and comparison tables created with Affiliatable. Firstly, this is a Top 3 box, which allows your customers to see and compare the highest-rated products in a particular category.
Furthermore, you will be able to create such a product box for the review of one product only, with added CTA and a custom rating option. You can display all the important product data, such as material, battery, weight, etc.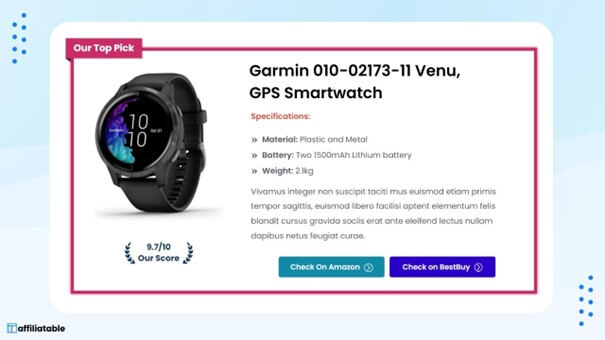 Conclusion
Stop wasting time thinking about the way to finally increase your sales and turn a new page with Affiliatable. Create amazing comparison tables and product boxes, tailor them to fit your website, and attract your customers by helping them make their decision regarding the purchase.
They will love and appreciate the favor you are doing to them and regard you with multiple purchases and satisfying reviews of your products. Follow this link and get started with Affiliatable and increasing your sales: https://appsumo.8odi.net/doYavW.