Choosing a web hosting between BlueHost & GoDaddy for your website can be difficult. We will compare their features, price, customer support and everything related to these web hosting.
You want to select the best web host for your needs so that you can specify ranges according to the type of website you want to host. We will check them out for you so that you can choose the best web hosting provider.
Affiliate link disclosures : We are using affiliate link on our website that results in a commission. We get commission from both companies but it's our duty to show you which web hosting provider is better as per our experience.
Here's my comparison of  BlueHost vs. GoDaddy
Performance: BlueHost VS GoDaddy
Let's start with the performance as it's a great way to know the capability of the host. After all, in terms of speed, reliability, and availability you want your website to perform well. If your website doesn't work well, then it's better to move from that host. However, you didn't have to go through this headache as we have already tested everything on almost all top notch hosting providers. So we will tell you a direct report which will make easy for you to choose between these two web hosting providers.
Loading Time
Firstly, let us check the loading time of each web hosting company. The fastest way of obtaining these results is to run a speed test through a range of websites using pingdom, which lets you perform analysis from various locations to get the most accomplished results.
BlueHost
Testing showed some impressive results; the fastest loading time of BlueHost was about 1.3 seconds and average load time was 2.9 seconds. Average load time of less than 4 seconds is considered good but if your website doesn't load fast and within a time frame of less than 4 seconds then you can lose traffic.
GoDaddy
The fastest loading time of Godaddy was 3.9 seconds while as worst being 19 seconds which is quite bad for any website. The audience doesn't like to wait much, and as per research with huge load time, you can lose almost more than 70% of traffic.
Winner: BlueHost
Sign up for BlueHost (Discount added into the link)
Customer Support: BlueHost VS GoDaddy
Customer support plays a vital role while choosing a web hosting service. Usually, small as well as big companies, provide expert customer support. If anything goes wrong with your website, you can get customer support through chat, email, phone, and tickets. The experience of different people in the same business can often vary. So we compared the support options of BlueHost vs. GoDaddy.
BlueHost
Bluehost offers a wide range of support options and provide an entire authority to customers, whichever way they like to connect with them. Bluehost offers 24/7 telephone support, chat, email and 99% of time problems are solved and if not then you create a ticket. They are always available and ready to support.
A Bluehost expert team has excellent knowledge and always provides expert advice to solve the issues. Whenever you connect with them, you don't need to wait for long as there is still someone ready to help.
GoDaddy
Like Bluehost, you can connect to Godaddy through live chat, email, phone and via ticket system. They offer global support, so there is no need to worry about paying a premium price on the phone to get in touch.
Their telephone support is genuinely excellent, probably one of the best we have experienced, although their knowledge seems to lack somewhat when it comes to web hosting support. We have tested them in some areas and the expertise and time needed for an answer have always been an average — neither too bad nor an Excellent.
Winner: Bluehost
Ease of Use: BlueHost VS GoDaddy
A Control Panel is the most crucial factor which decides the ease of use and Customer Experience. A user needs a simple and easy to use UI interface where they can start a blog and install WordPress on a single click with ease.  It should be easy to navigate and simple, but at the same time, a control panel should be feature rich.
BlueHost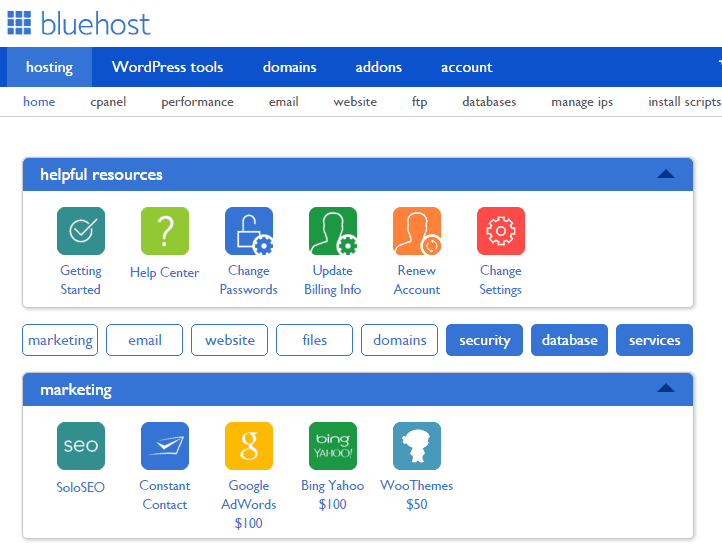 BlueHost has a user-friendly user interface, making it extremely easy to use even for beginners. The UI of your cPanel is intuitive, and you can see that when you will use it. The cPanel of BlueHost is integrated with WordPress which makes its customers set up WordPress on a single click.
Godaddy
GoDaddy also offers user-friendly cPanel, making it easy to use for customers. Their domain panel caught our attention. They are popularly known for domain registration service, and it might be a reason for their clean, easy to navigate domain interface. However, their hosting panel was little disorganized, and we don't think it was better than Bluehost.
Winner: Bluehost
Features, Plans & Pricing: BlueHost VS GoDaddy
Now let's take pricing into account and check which one is cheap. One thing I want to mention is renewals. Also, try to hosting for more than one year because every web hosting renewal costs are higher but if you buy for more than a year like 3 years. You will save a lot of money.
Bluehost
BlueHost provides 1 site, 50 GB storage, 5 e-mail accounts and 100 MB of storage per e-mail account for $ 3.95 per month. It also includes a free domain and free SSL certificate.
If you plan to buy their "Choice plan" then you can host unlimited websites with unlimited storage at $5.95 per month. This plan also includes marketing offers worth $ 200  and spam expert.
Godaddy
Prices for Godaddy start with $ 2.99 per month with an option to add one website and 100 GB storage. It also provides a free domain, but they didn't offer free SSL certificate.
Both web hosting provides very similar features compared to one another for approximately the same cost. This is common in shared web hosting spaces, although BlueHost always comes out as a winner when we think of ease of use and the features provided by each web hosting plan.
Winner: Bluehost
Conclusion
Bluehost is reputable and is recommended by WordPress. Its web hosting plans offer a wide range of features at a low price, including one-click WordPress installations, making it a perfect choice for beginners as well as experts. Bluehost has excellent features and an easy to use really cPanel.
GoDaddy offers the same price, but BlueHost wins in every category like website speed, usability and customer support.
Sign up for BlueHost (Discount added into the link)