Cloud hosting is faster and more reliable than any other type of hosting.
When it comes to affordable and best Cloud Hosting, Hostgator is a name that pops up in mind. Their new cloud service is entirely different and affordable.
For some time now, we have been testing HostGator's cloud servers. And it's pretty great what we're seeing. It is also extremely fast and offers great response and uptime.
Now as we said it's incredibly affordable through our discount link which provides HostGator Cloud Hosting at 45% off. The starter package cost  $ 4.95/month only.
Click here to grab a discount of HostGator.
HostGator Cloud Best Features
We will discuss each of these factors but first of all if you wonder why "cloud hosting" is different from other types of hosting. Then let me explain in easy words.
What is Cloud Hosting?
Its new type of hosting as compared to shared, VPS and Dedicated. It's fast, reliable and affordable.
How is it so reliable?
This is simply because the cloud hosting is not dependent on a single server. It's spread over many servers and if one server gets down then still your website will remain live as it's shared on other servers too.
Now let's jump and see HostGator Cloud Best Features.
HostGator Cloud Packages
HostGator offers three kinds of plans depending on your needs. The three plans: Hatchling Cloud, Baby Cloud, and Business Cloud.
All plans include unlimited bandwidth, storage, and cache, but check the differences below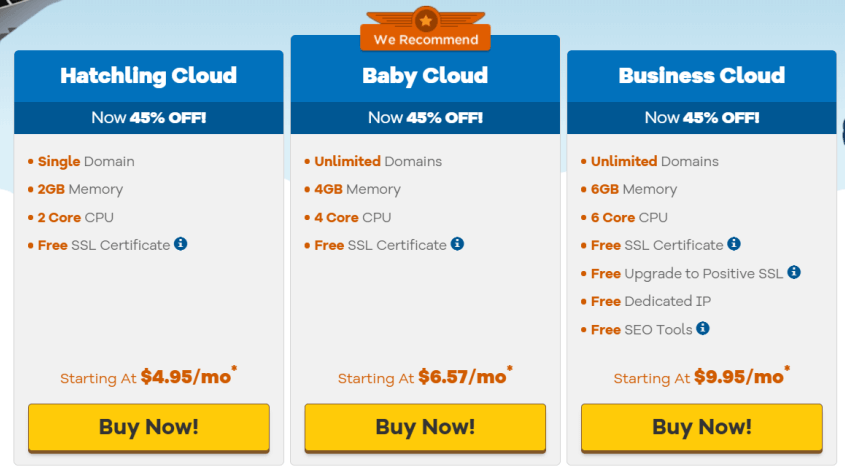 In the Hatchling Cloud Plan, you can host only one domain. It is powered with 2GB memory, 2 core CPU and free SSL.
Baby Cloud is the most recommended plan. You can host unlimited domains. It offers 4 GB Memory, 4 core CPU and Free SSL.
Business Cloud plan is the top rated plan in HostGator. It comes with 6GB Memory, 6 Core CPU, Free SSL Certificate, Free Upgrade to Positive SSL, Free Dedicated IP, Free SEO Tools and you can host unlimited domains in it.
Speed
The most important thing you should look in hosting is speed. We checked the speed of a website loaded on Hostgator and from all locations, it's response time worldwide was 144 ms. You should know 50% of website traffic drops if it doesn't load within 3 seconds.
Reliability and uptime
Uptime looks similar as most of the hosting promises more than 98 % uptime. But let's dig little deep. If we calculate, then it means your site will be down for 7 days in a year, which is not good.
We always recommend that when considering a web host you look for 99.7 % or higher.
When we tested uptime of HostGator continuously for the month, it remained at 100 %. Which proves it provides excellent uptime.
Wrapping up
HostGator Cloud is super fast, reliable and cost-effective. This is an opportunity for website owners paid a fortune for cloud hosting.
Meanwhile, through our link, you can get a 45% discount.

Click here to grab a discount of HostGator.