Using videos as marketing tools have become very popular in the last few years. And, of course, describing a certain product or service is best done using videos. Let's be honest, you will have a better view of a certain product after seeing a video about it than reading a long, boring text. Seeing things with our own eyes and seeing how they work is the most trustworthy thing.
If you are in need and want to create these kinds of videos, you need appropriate tools.
In today's article, we would like to present you with a few of them that will help you create one and leave you with an amazing-looking video. So if you are ready, let us take a look at these tools.
Adobe Spark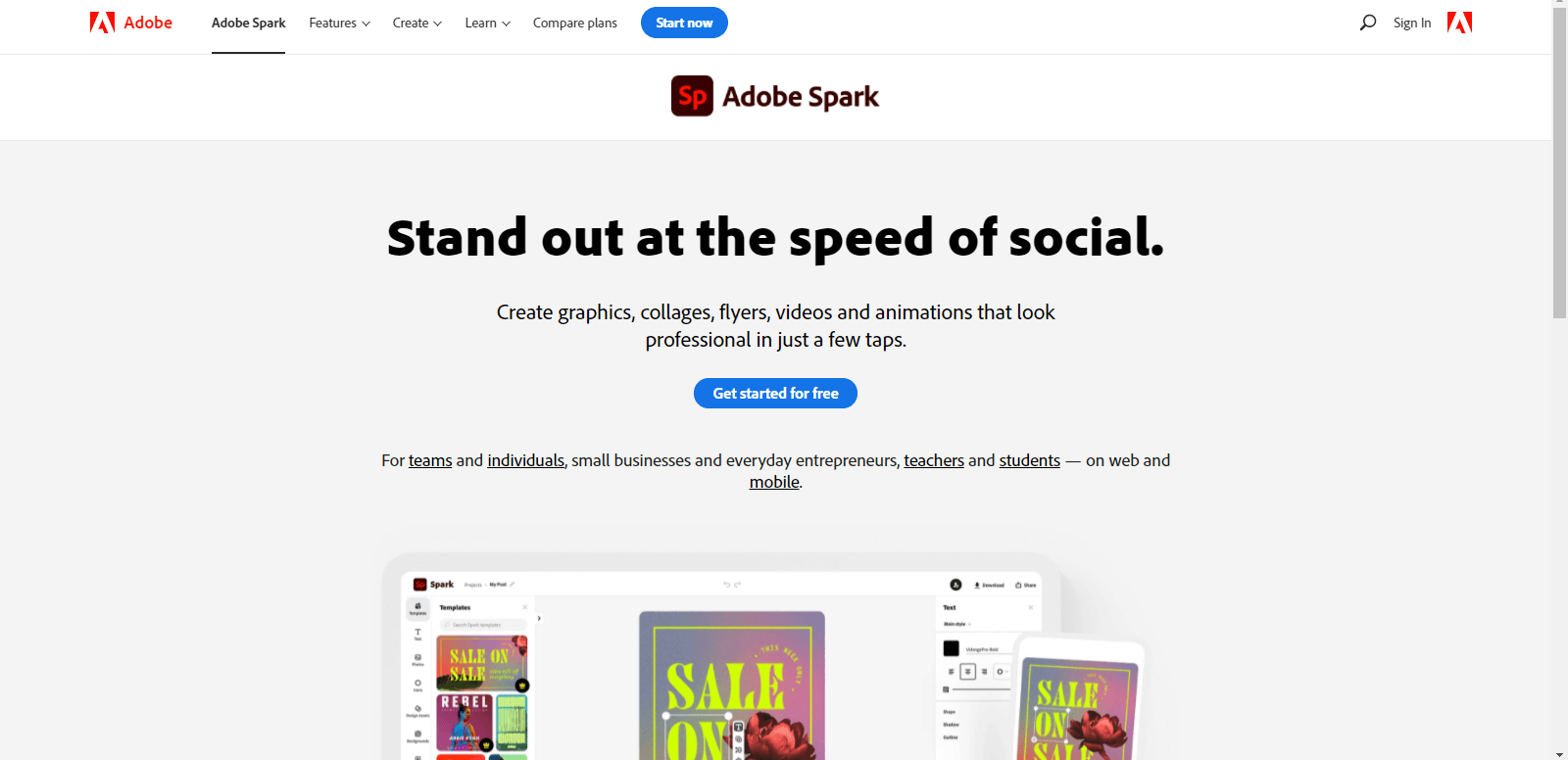 Adobe Spark is one of the best web video-making tools out there. It allows you to create amazing-looking videos in just a few clicks, thanks to their great templates. You do not require professional equipment to present your product/service in the best way possible.
It offers tons of fonts, images, themes, and templates. This means you can create pretty much everything and make your videos look professional and unique compared to the competition. In addition, with only one click, you can simply remove the watermark, which most other tools do not offer.
They offer three price plans, the first one being free. The second plan is "Individual" and is also free for the first 30 days, and after you are paying only $9.99/month. And the third and biggest plan is "Team" and costs $20/month. You can check all of the features and compare them in the plans on their website given above. If you are a beginner in this whole topic, this tool might be a bit confusing, but there are many videos online explaining all of the possibilities and tools inside of this tool.
Animaker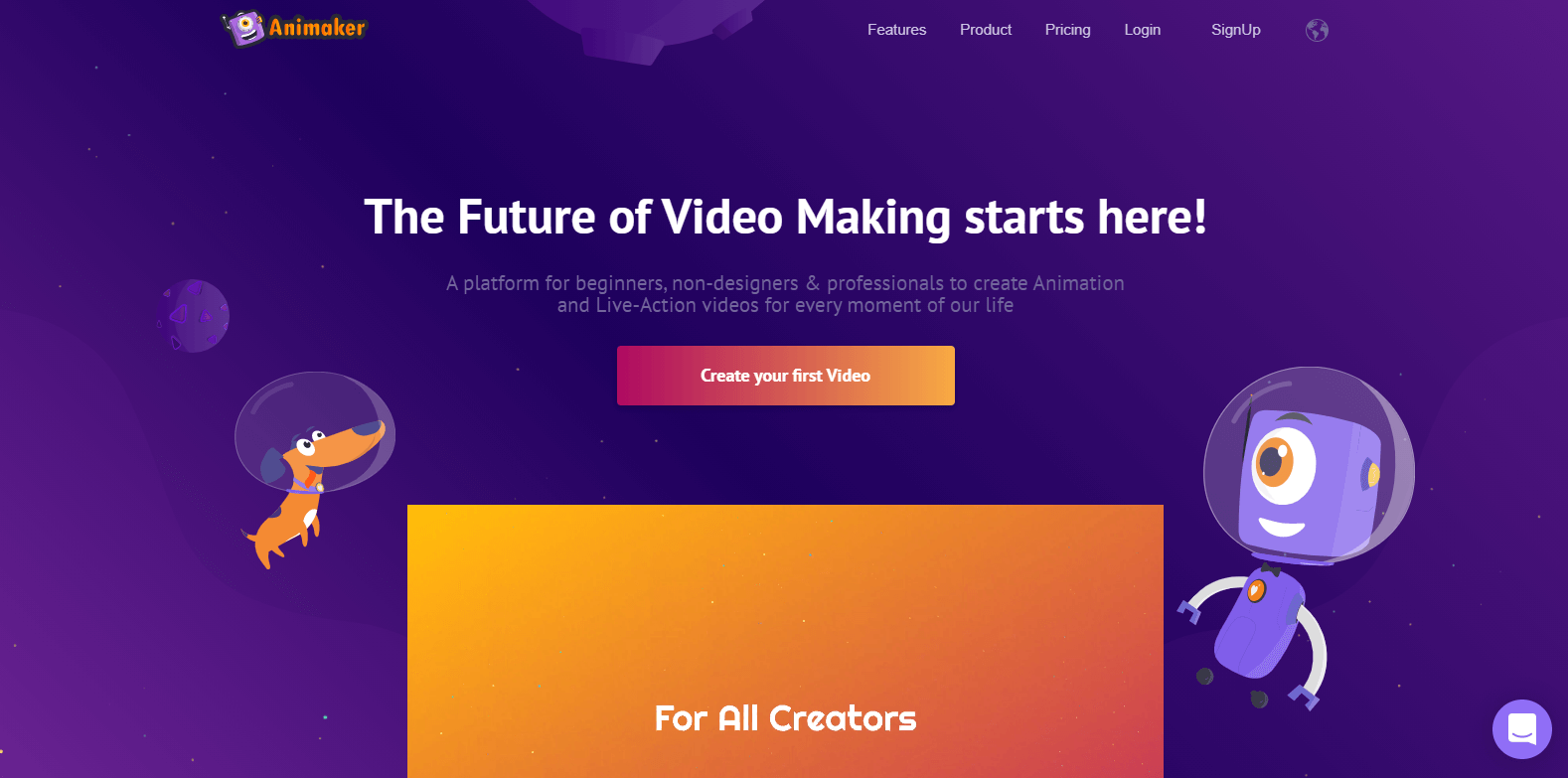 Fun animated videos always get our attention because they are fun, and a lot can be said in a short video. This is a perfect tool for creating just that, whether you are a beginner or a pro video maker. It is used by many famous companies like Amazon, Nokia, HP, Siemens, Bosch, and many more.  Amazing animations can be created with only a few clicks.
It also does offer templates that you can use; you can also insert all kinds of icons, maps, charts, and more. You can create almost anything, from fun-looking characters, putting them in a fun environment using backgrounds and bring all of it to life by adding facial expressions, lip-syncing to certain music, or marketing text that you have written yourself. We guarantee this is the best tool on the market for creating animated videos in the simplest way possible.
When it comes to pricing, they offer four plans starting at $10/month and ending with the enterprise plan, which does not have a defined price.
Moovly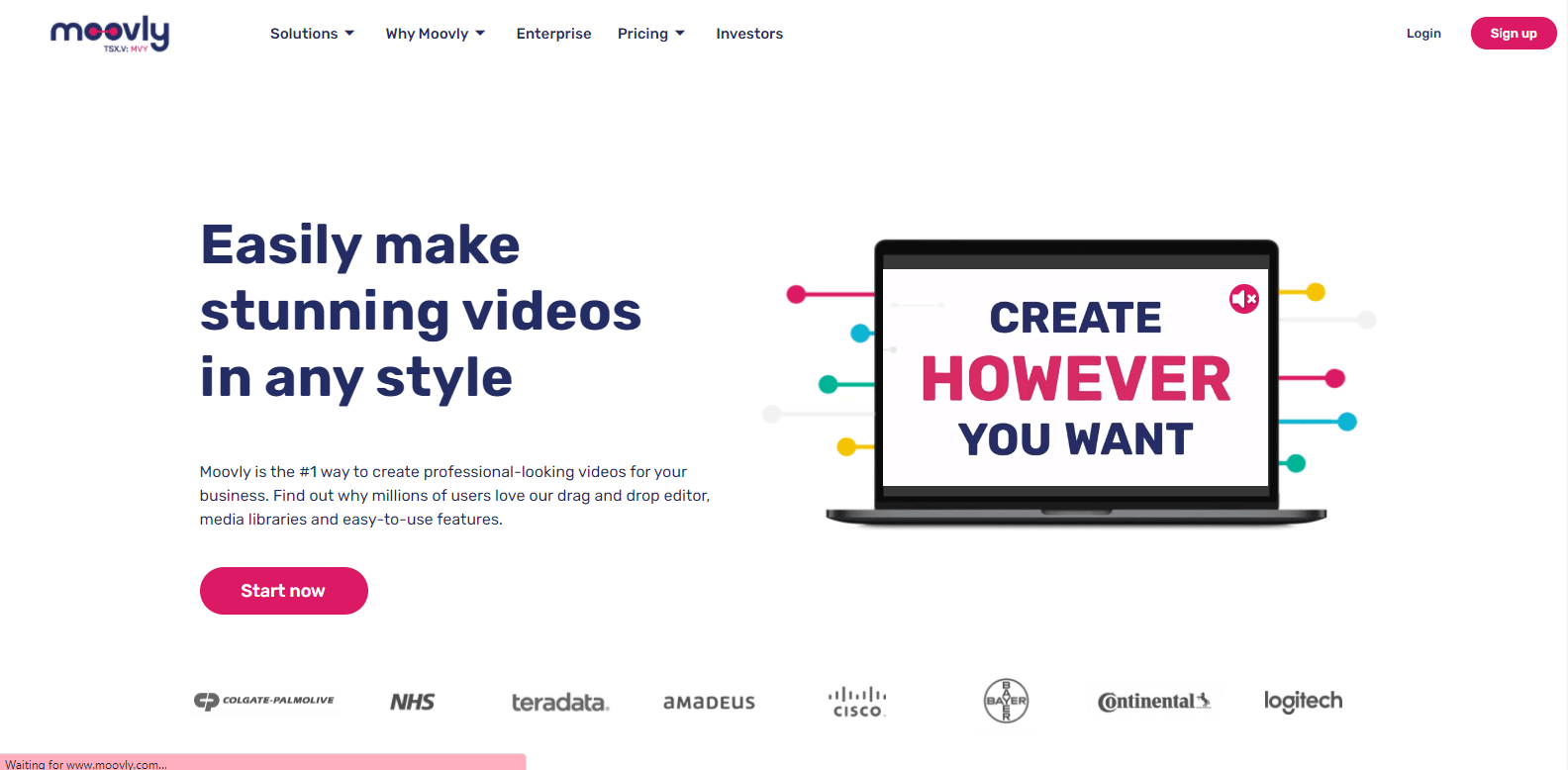 Moovly is a perfect tool for creating short, professional videos for your business. It is mostly used to make videos for educational purposes, promo videos, explaining videos, and similar videos. They offer tons of templates that you can use and personalize your videos after, making you stand out next to the competition. Used by many famous names like Logitech, Colgate, Continentals, and much more, it is safe to say this tool works well.
No matter your experience in making videos like this, Moovly offers tons of professional features simplified for everyone. Some of the best features include customization tools like fonts and colors, subtitles, text-to-speech features, free sound, and images you can include in your videos, and they also offer a great mobile app.
The pricing starts with a free plan, and the biggest plan costs $50/month. The plans mostly differ in the number of uploads and downloads. Check their website for any additional information.
Animoto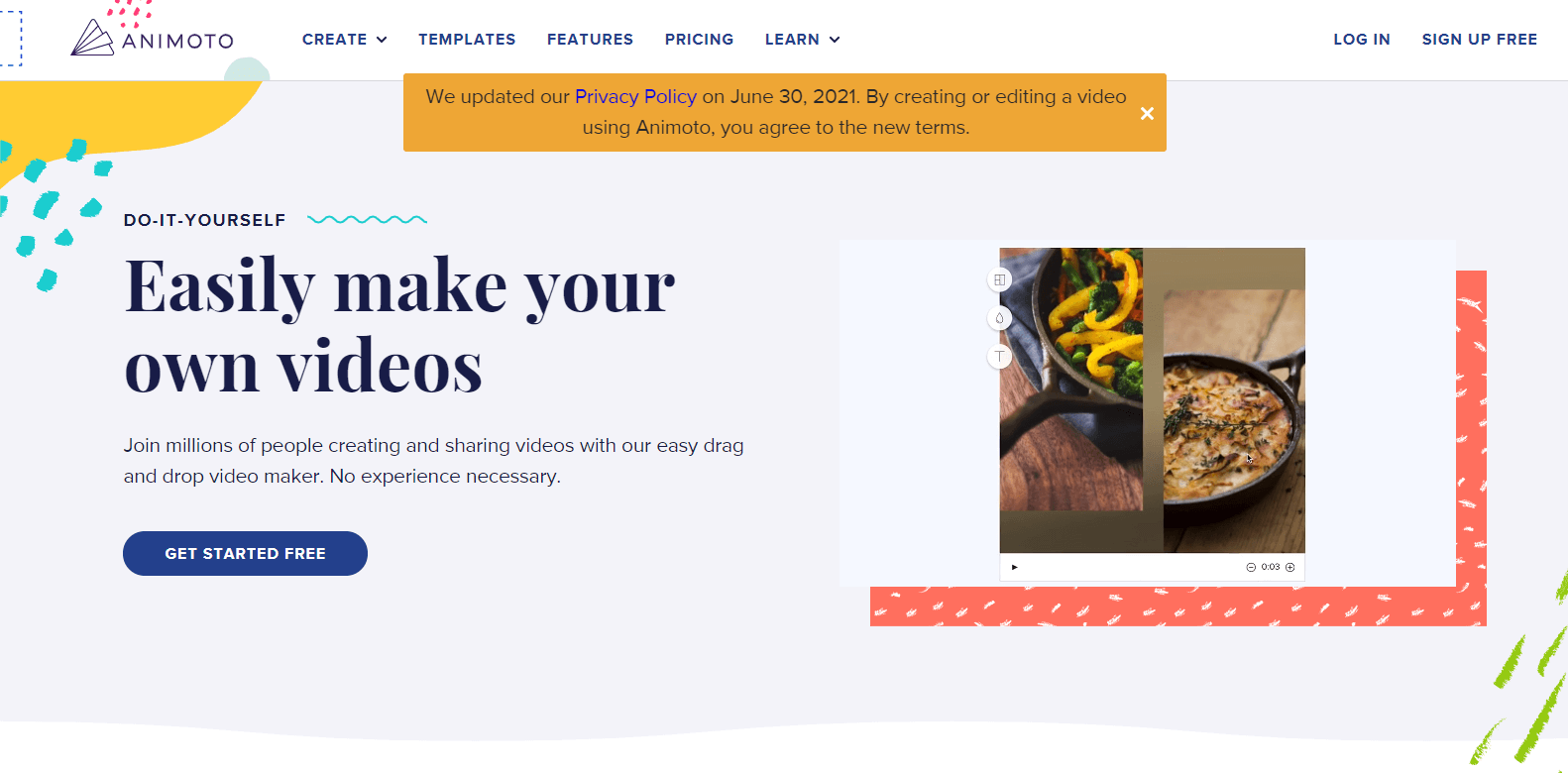 Thanks to their drag and drop function, a tool that allows you to create videos in the easiest way possible. Next to cool videos, you can also create interesting slideshows by only dropping certain images in whichever order you desire, then adding music, and that is all of it. You can edit it even further by adding animations. You can even use their animations if you desire, and their big music library is at your service as well. You can create your videos using both your PC, as well as your phone. And the best part of it: it does not limit you in the number of videos you create. You can even add your watermark to your videos, making them look a bit professional. Animoto also allows you to save all of your colors, templates, and fonts for them to be only one click away for your next videos.
Biteable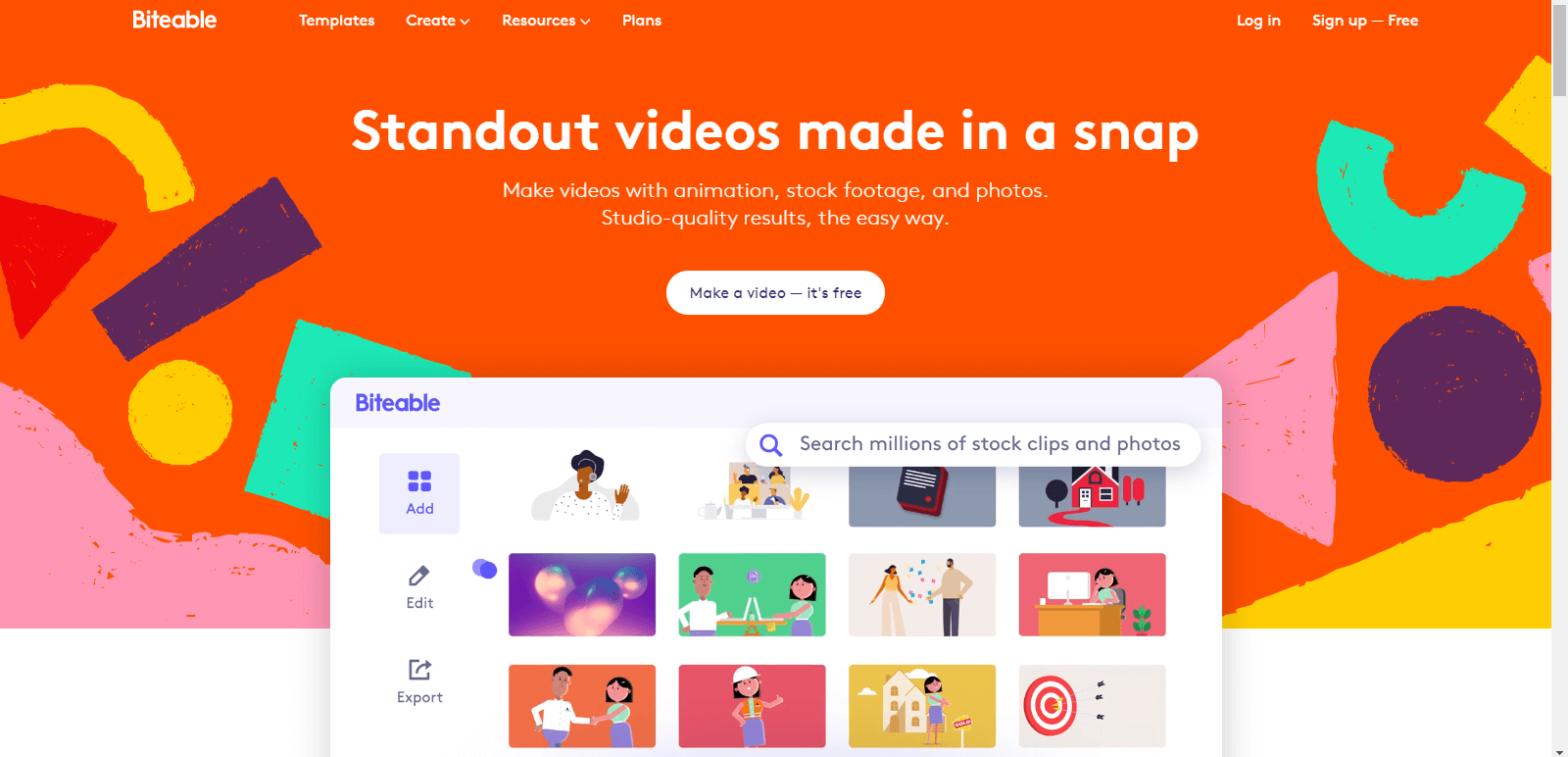 Biteable advertises itself as the easiest to use video maker. They guarantee you studio-quality videos that you can create by yourself. It is used by tons of companies worldwide,  including Disney, Google, Microsoft, and many more. They offer you tons of templates that you can use in the beginning and tons of customization tools to match your brand in the best way possible. Thanks to its drag and drop function, adding any kind of elements into your videos are effortless, just like the big audio library that you can use to insert any kind of audio into your videos.
They offer three price plans. The smallest one is free, the second is "Plus," which costs $19/month, and the last is "Ultimate," which costs $49/month. If this tool is something that has got your attention, feel free to visit their website and give it a try. It does not cost a thing.
Visme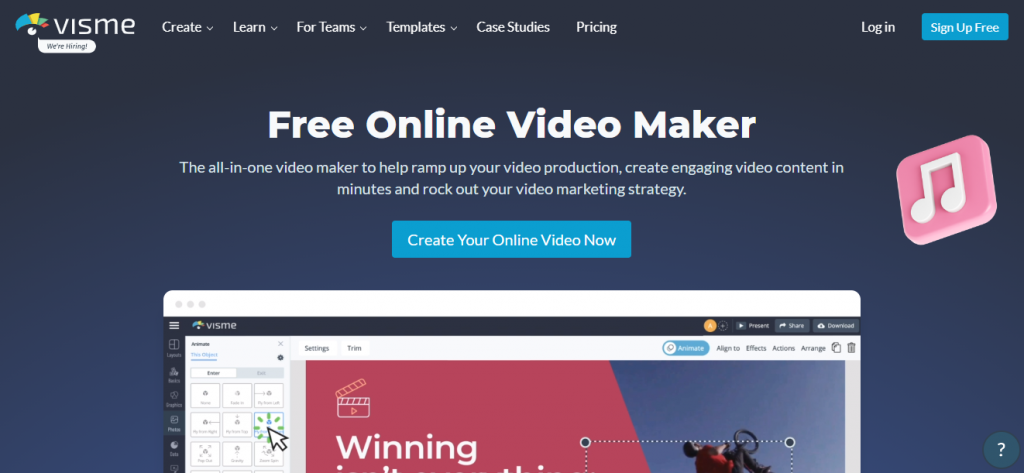 Visme is an ultimate online design tool that helps you create all kinds of visuals – social media posts, presentations, infographics, charts, and graphs.
Visme video maker is a simple virtual workshop for creating professional-looking videos and having fun in the process. Start your process by choosing the template and customize colors, design elements, animations, and effects. You can choose from a really large library of icons, vectors, stock images, and animated graphics. Visme also allows you to add voiceover to your tutorials and explanatory videos, as well as music tracks.
You can save your video online and share it as a link or download it in MP4 or even as a GIF. Templates are available in three different sizes (16:9, 1:1, 9:16), are easy to customize, and incorporate your personal branding.
Visme is available for free, but the paid plans (Standard, Business, and Enterprise) are offering a lot more in terms of download formats, access to a bigger stock library, and special animation effects.
Conclusion
We hope this article was helpful and that we have given you a few options that you will consider. All of the tools mentioned above will certainly give you amazing-looking results, and most of them offer a free plan, so they won´t cost you a thing.