Who wouldn't be excited by the prospect of being able to work whenever they want, no matter where they are in the world? The most successful affiliate marketers don't have to daydream about living this kind of lifestyle since they already have the opportunity to do so. People are ditching the 9 to 5 lifestyle in favor of the option to be their own boss, and as a result, affiliate marketing is getting increasingly popular daily. The one and only drawback to this idea is that it is not an easy task to become successful as an affiliate marketer.
Building a successful affiliate marketing firm is becoming increasingly challenging as the adoption of digital marketing strategies becomes increasingly widespread.
Affiliate email marketing is just one of many components that make up affiliate marketing. Promoting affiliate links in emails that are carefully prepared and sent to very specific audiences is an example of one strategy that is used in affiliate marketing. These types of letters are written to get the attention of your subscribers, which will increase the number of people who buy from you and visit your site.
How exactly does one construct a profitable business based on affiliate marketing? You have to begin with the appropriate tool.
We have compiled a list of the top five affiliate marketing tools you should utilize, which you can find here.
1. WordPress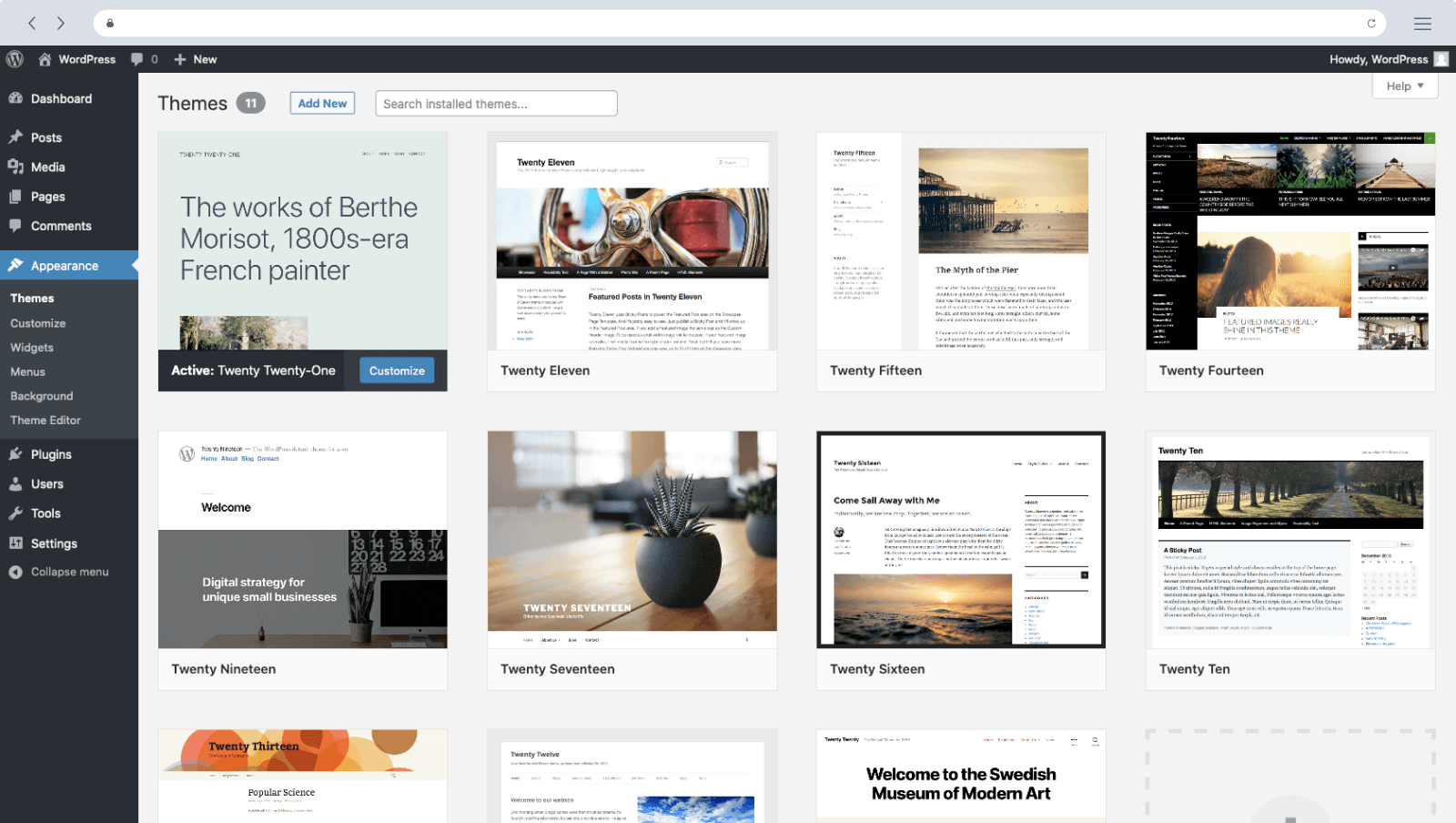 To get started on the path to building a prosperous affiliate marketing campaign, you will first require a website. WordPress is the content management system (CMS) that we advise using, despite the fact that there are many other CMSs available.
WordPress is the most popular content management system (CMS) on the internet right now. It is also straightforward to use. It also has a large amount of useful documentation that you can use to get started if you are new to the process of establishing a website.
Because it is available for free download, this platform has exceptionally minimal initial capital requirements. In addition, WordPress provides a plethora of choices for customization. In addition, there are dozens of plugins that you can use to extend the functionality of your website in order to develop your marketing program.
2. SEMrush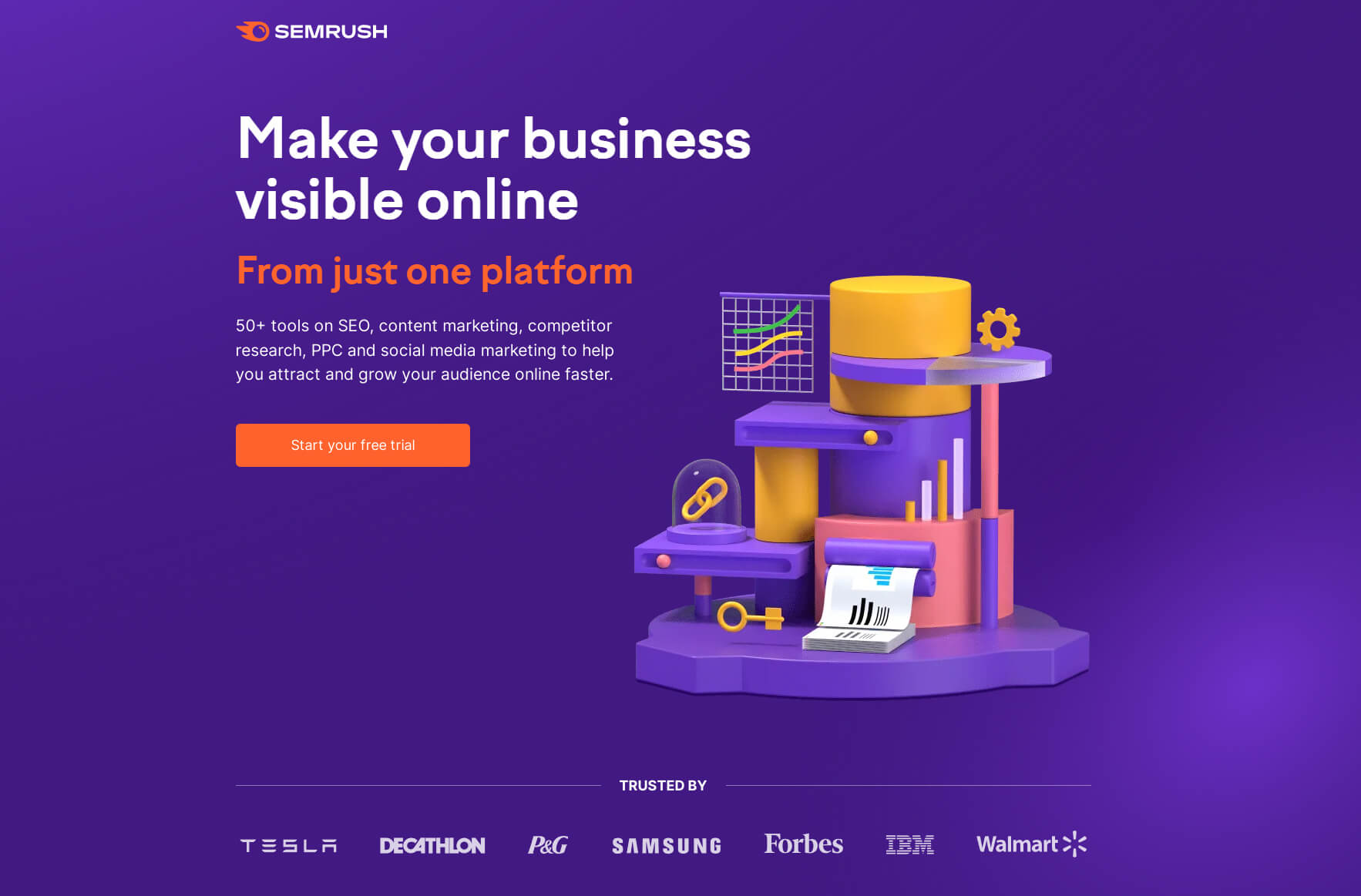 When you are just starting out in affiliate marketing, it is essential to educate yourself on those who are in your industry. That is something that SEMrush can assist with:
Using this digital marketing research tool, you can gain valuable insight into other organizations' paid advertising efforts. Find out what the important trends and patterns are in your market. This will help you improve your own marketing and give you ideas for how to write SEO-friendly content.
The fact that using this tool requires a paid subscription doesn't change the fact that the information obtained from it is well worth the cost. You are able to put it to use for:
Research on various keywords
Finding Backlink outreach
Analysis of the competition
Lead generation
Metrics related to SEO and more
3. MailChimp

The use of email as a marketing tool is still one of the most widespread practices. If a dependable email marketing tool could not be provided, then this post would be lacking something important. MailChimp is an all-encompassing platform for email marketing that is helpful to all different kinds of businesses. Affiliate marketers can start their email marketing campaigns effectively with the help of this useful tool. With this marketing tool, users can send emails to sell products, talk to specific target markets, and turn leads into sales.
You are able to create newsletters with MailChimp, as well as set up ad campaigns, organize subscriber accounts, track who opens your emails, and implement social networking. In addition, it has built-in analytics and a framework for re-posting.
In addition, MailChimp makes newsletter design a breeze by providing marketers with pre-designed models to use as well as a drag-and-drop builder to customize their newsletters. In conclusion, if you are an affiliate marketer, there are more advanced features of MailChimp that you absolutely need to have. This comprises A/B Testing, Advanced Segmentation, Marketing Automation, and Performance Tracking, among other related services.
4. Google Analytics
Whether you're running a website or a store in the health industry, you should always keep your target demographic in mind. Affiliate marketers will find Google Analytics to be the most feature-rich and user-friendly analytics solution. This is the most common method employed by affiliate marketers for monitoring site traffic. Incredibly versatile dimensional operations are now within their grasp thanks to this superb instrument. If you're an affiliate marketer, you can see how visitors interact with your site by conducting split tests, monitoring clicks and sales, and gauging their habits.
Google Analytics's ability to track revenue and conversions as well as analyze your site's details in great depth can help you plot out a course for your site's future success.
Google Analytics is used by almost all affiliate marketers today to measure how well their SEO activities and goals are working.
Understanding the specifics of people's interactions, how long they typically stay on your webpage when they visit, and which articles they visit less or more often on your site is essential for keeping track of the big picture and hitting your goals on your website.
5. Flippa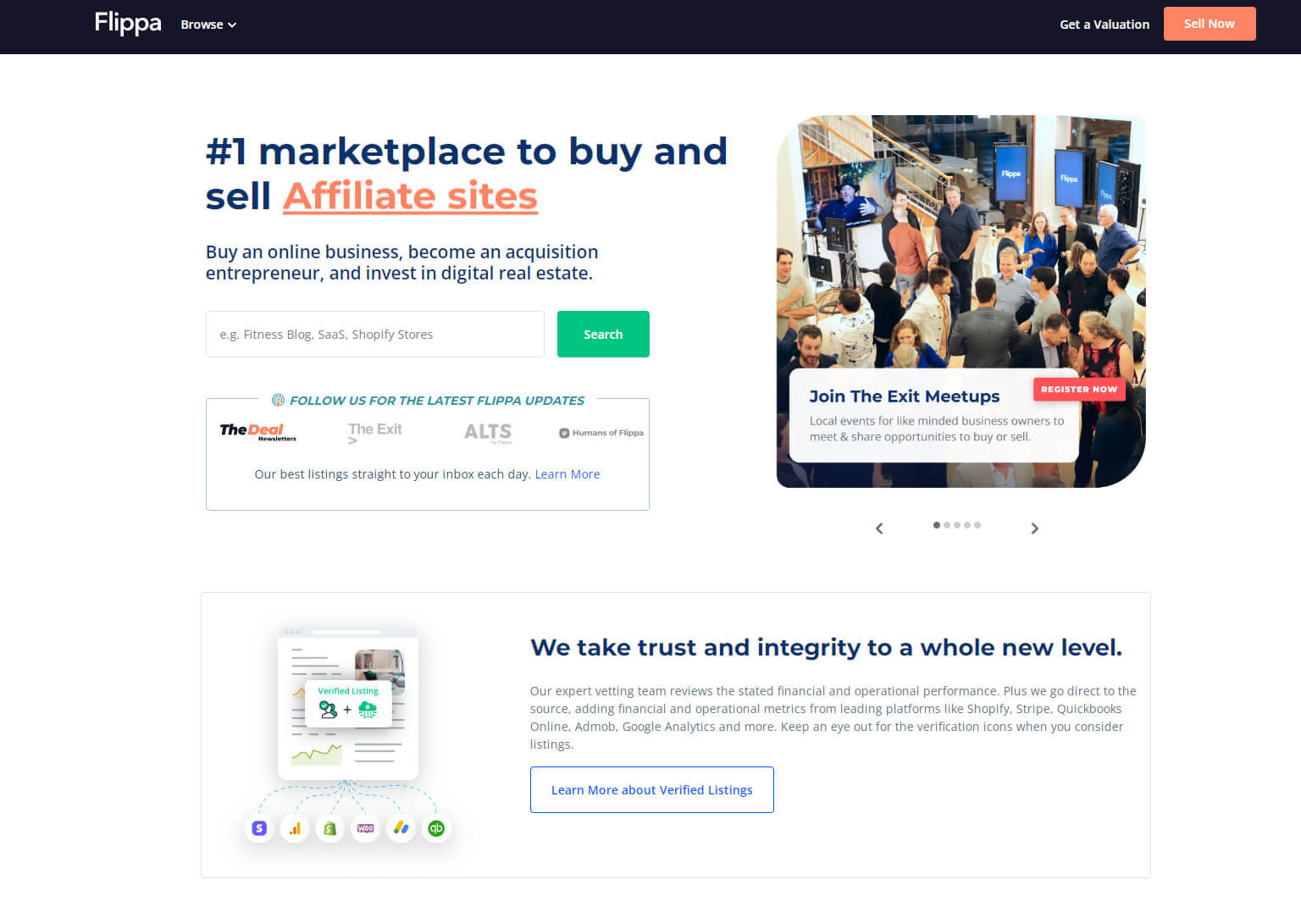 Flippa is essentially a market where websites can be bought and sold for profit. It's possible that this forum could be helpful for people who would rather not start from scratch when building an affiliate site. Through Flippa, you can locate a tried-and-true website catering to your specific niche.
This is a great starting point for those who want to go it alone in the world of affiliate marketing. Similar to eBay, affiliate marketers can place a bid on a website on Flippa.
Additionally, affiliate marketers can use Flippa to acquire affiliate-based websites that have already established a solid backlink profile. You should check the domain's backlinks before purchasing it. This prevents the domain's rankings from artificially increasing through spammy SEO methods.
After doing your research, you should only buy from marketplaces that you can trust.
Conclusion
When starting out in affiliate marketing, there are several options to consider. Identifying your niche and perfecting a winning marketing approach can take some time. Having access to adequate materials, however, simplifies the process considerably. We sincerely hope that our assistance was useful. Best wishes!