Selling on Amazon makes it easier than ever to start a webshop, as Amazon does a lot of the heavy lifting. But this low entrance barrier also means that the competition is sky high, and you'll have to try damn hard to get products noticed. As a seller, one must consider so many factors: what products to source, how much are you willing to pay for them, the bottom line, running adverts, and how much to spend on them; the list goes forever on.
That's why Amazon seller tools exist. They can do a lot of the work for you and make your job at least a tad bit easier. Sure, these are not mandatory, and you can do without them. But you can also build an IKEA shelf with no tools or instruction, it's just a lot harder, and more mistakes are made along the way. The somewhat passé saying " work smarter and not harder" still rings true, especially when it comes to running an online business.
So, let's take a quick look at the best Amazon seller tools.
Helium 10
The most important thing you have as a seller is well – your product, aka the inventory. Helium 10 offers one of the best inventory management software money can buy. The logistic of your business is very time-consuming, but Helium 10 can make it faster and more efficient. This software will handle everything from completing supplier orders and sending inventory to Amazon all the way to automatic quantity updates.
Every store is different, and so an inventory management system has to be customizable. Having access to customizable presets that allow the user to adjust the reorder frequency, lead time, and shipment speeds is a welcome addition that in turn helps avoid both stock-outs and over-stocking. In addition, purchasing orders and managing the stock – no matter if you have a warehouse or are shipping directly to Amazon – can be done in one single step. No more knots and tangles.
If all of this sounds appealing to you, Helium 10 also offers a whole suite of Amazon seller tools that can be bought together. By purchasing the suite, you get more and pay less.
Amazon Product Research Tool by IO Scout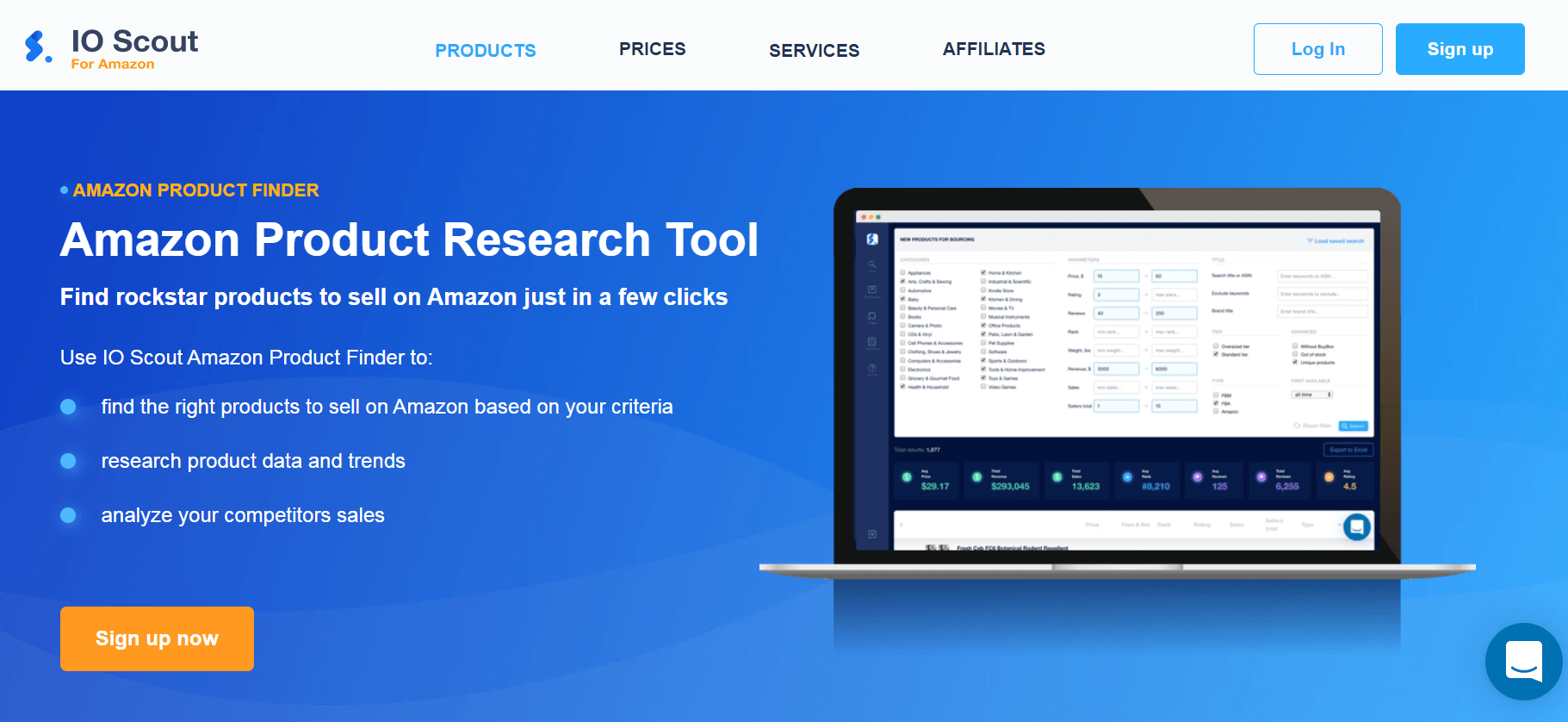 Much like our previous recommendation, IO Scout offers a vast array of Amazon tools that help manage your e-commerce business. They are, however, most famous for their Amazon Product Research Tool.
This tool helps sellers find products with low competition but high margins. This allows you to organically stand out, as the searches won't be overflowing with products similar or identical to yours. In addition, selling products with high-profit margins means you'll be making more profit from every sale.
You can easily explore different niches when trying to expand, or stick to your guns, and find products that already fit the brand by including relevant keywords you're already bidding for in the product search. However, if you're feeling up to exploring other options, Amazon Product Research Tool offers plenty of filters to help find the perfect products. You can filter by product ratings, the number of reviews, revenue, sellers, and a whole lot more.
When doing your research, there's a chance you might not be sold on a product straight away. And it's always beneficial to curate things and add new products only when you're 100% sure about wanting to sell them. With this tool, you can both bookmark and save previous searches to ensure all of your ideas and potential products are ready to be added once the research stage is complete.
Feedvisor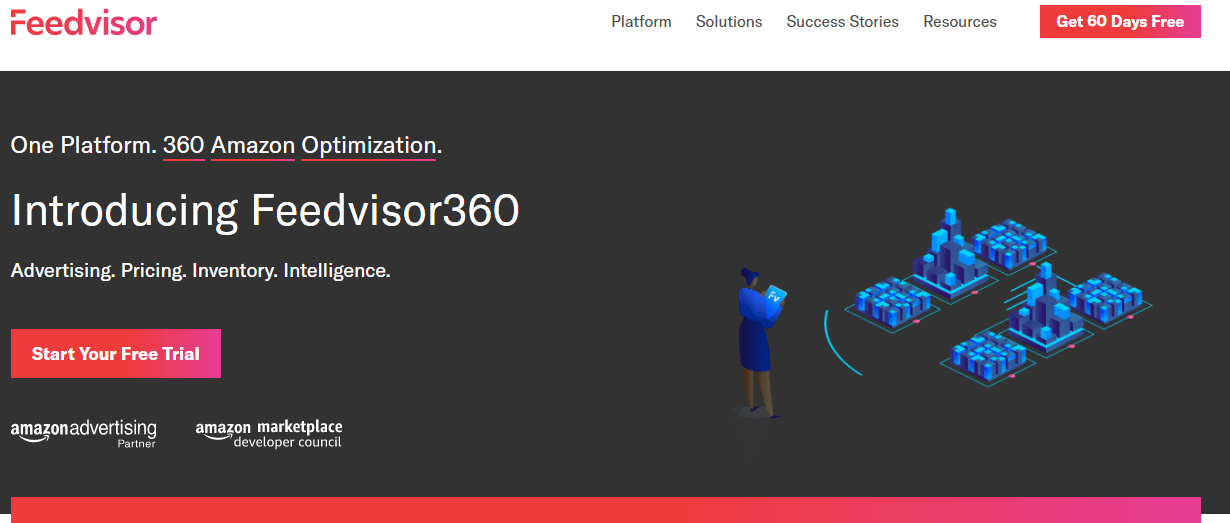 Feedvisor is an AI-based tool, but it is a bit more appropriate for long-standing sellers with some experience and substantial monthly sales under their belts. It's one of the top names in the game when it comes to adverting and advanced reporting, but it is, in all fairness, a bit of an all-in-one. To cement its place as the best Amazon advertising tool, it uses technologies such as automated keyword harvesting and deep-learning bid optimization. The Buy Box also becomes a lot more accessible as Feedvisor makes sure you get that much-coveted spot at an optimal price.
The tool also comes with its fair share of data and analytics tools. You can use it to spy on the competition, receive real-time KPIs, and monitor the market share trajectory. As if that wasn't so much by itself, Feedvisor will also help you optimize content, increase shopper engagement, drive conversions and boost both organic as well as paid traffic.
Pixelfy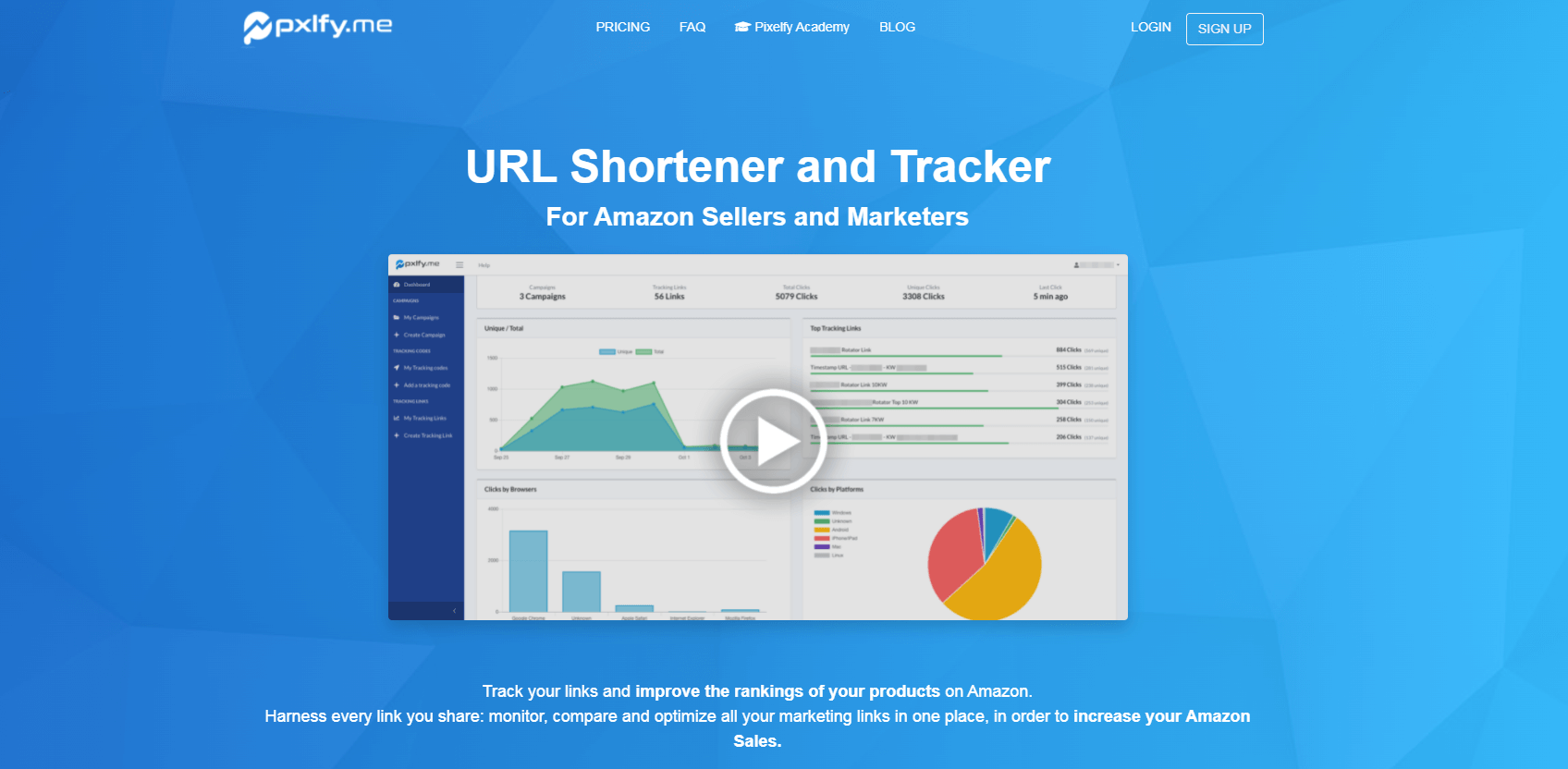 Pixelfy is primarily a URL shortener, but it offers so much more than that. The system can take your Amazon link and turn it into virtually anything you'd like. But beyond that, it also allows the user to add a retargeting pixel to each one. In case you're unfamiliar, a retargeting pixel is a small piece of code that makes a note of who visited the page on the website. This can be great for advertising, as you can then take the information obtained by the retargeting pixel to locate the people you should advertise to.
Any and all links shortened by PixelfyMe can be shared on social media platforms or put into your campaigns. And by adding a retargeting pixel to each of them, you stand a great chance of seriously boosting your revenue as well as spending less money on inefficient advertising.
Tools for Long Term Growth
As a business owner, it's necessary for you to have an arsenal of robust tools to help improve and run your business. No matter how well-curated and priced your product selection might be, you won't go far without the aid of proper seller software.
That's why it's important to differentiate simple light tools that can help along the way and those that can truly transform the way a business operates. We only recommend four tools today, but we recommend tools that could transform your whole business. So, when it comes to choosing software like this, do your research and make the right call – after all, your store and income depend on it.