WordPress is the world's biggest CMS and blogging platform. Anyone who wants to use WordPress as a web portal knows the significance and online functionality. You know that WordPress is so quick and easy to use, that in a matter of days you can post any kind of article.
At any point in time, your WordPress website can get huge traffic spikes. The configuration and optimization of the whole CMS are required for high traffic. In that situation, the scalability of the WordPress website comes in to play. 
why scalability is vital for your WordPress website
A Spike in traffic will make your web site sluggish and slow. This is where you need scalability for your WordPress web site.
Many WordPress web pages will operate normally on a moderate traffic stream. But the servers you use may be accentuated by an unexpected increase in traffic. This data congestion is known as bottlenecking. It can slow down your website, making it unreliable and hence drive your visitors away.
In order to avoid overloading of servers, you need scalable WordPress. We will talk about it later. Including that you should have an excellent web caching system, so you don't have to refresh your cached copies. When a user wants to access your page a caching system will make it available fast. Now let's talk about a company that provides reliable and scalable WordPress.
About CLOUDJIFFY
CLOUDJIFFY is the Next Generation cloud services provider that combines PaaS and Containers. Its key locations and branches around the globe are spread in such a manner that makes customer satisfaction more stimulating. Their branches are located in India and the USA. 
They provide a number of solutions like CDN, Kubernetes Cluster, Magento Cluster, WordPress Cluster, Rocket chat, and Jitsi. Here we will review their WordPress Cluster Solution. 
WORDPRESS IN CLOUDJIFFY
The WordPress cluster / standalone framework is widely accessible with CloudJiffy and is a ready-to-go prototype that can be enabled automatically with one click. In addition to their auto-scaling features, which include built-in monitoring and load alerting features, you can manage your WordPress site without difficulty.
With every cluster you get :

LiteSpeed ADC or NGINX load balancer for distributing the incoming traffic

LiteSpeed Web Server or NGINX PHP servers with preconfigured automatic scaling

Highly-available MariaDB Galera Cluster or MySQL master-slave replication

Redis caching and Shared Storage

Let's Encrypt SSL pre-installed as an add-on

Premium CDN integration for lightning-fast static assets loading

Web Application Firewall in LiteSpeed Web Server

Layer-7 Anti-DDoS Filtering for protection against botnet traffic

WordPress Multisite Networking
Installing WordPress in CloudJiffy:

Hosting Plans :
CloudJiffy provides two Managed WordPress Hosting kits, depending on your experience, automation affordability and expected traffic and
Standalone WordPress Hosting Kit
Standalone WordPress is an optimized package and is packed with the best application servers and a range of advanced features to run websites and blogs. It is deployed as a lightweight standalone container with minimum designated resources for cost-efficiency.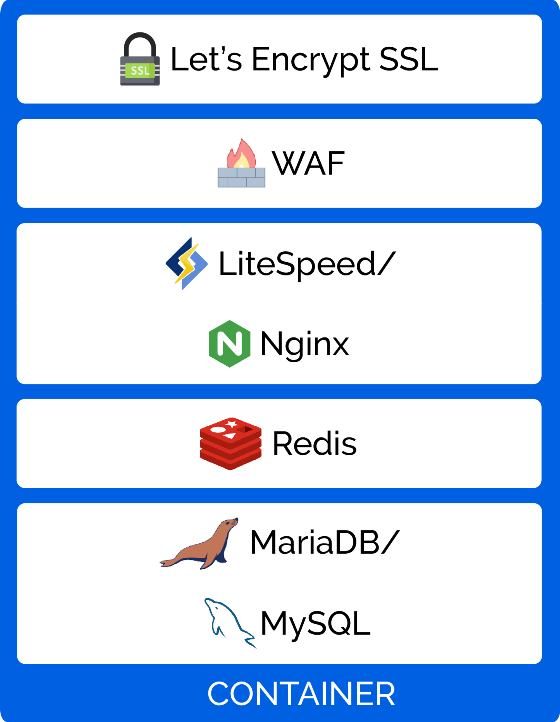 Auto-Scalable WordPress Cluster
WordPress Cluster Built-in package is packed for high-loaded projects with optimized servers, clusters, and scaling modes. The kit offers highly autoscaled integration and open production and manufacturing environments. Clustered topology guarantees effective heavy workload handling.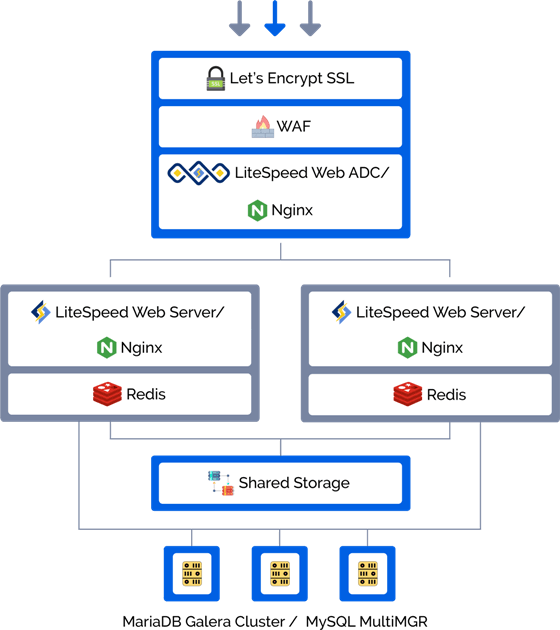 Cloudjiffy Security :
Web Application Firewall
Powerful Automation
Free DDoS Protection
Free SSL Certificate & Auto-Renewal
WordPress Brute Force Attack Protection
Tier 4 compliant Data Centers
Pricing : 
Pay-per-use Pricing for cost efficiency with WordPress
CloudJiffy provides a unique automatic scaling process with payment based on actual consumption but not the server size
The system measures hourly how much RAM and CPU are consumed within each container and requires payment only for the resources used but not for the limitations. For each container you can set a maximum Scaling Limit, so the resources will still be available in case of load spikes or other changes in consumption. No matter how high the threshold – payment will only be dependent on actual usage. The rest of the resources allocated will just wait in the pool for the application to request them, and it's absolutely safe.
Support :
Their support is so fast. You can contact them through email and you will get instant replies from their support team. If you have signed up for an account then you can chat with them and they will reply to you instantly.
Conclusion :
It's one of the best WordPress Cluster Hosting available online. It's is feature-rich and is packed with a lot of applications. Support is really great as well as the price is also cheap. I strongly recommend it. 
Click below on a link for 14 days free trail | No Credit Card Required 

Cloudjiffy WordPress Cluster