Flywheel is a web hosting company that offers managed WordPress hosting to bloggers, eCommerce, web developers and creative agencies. Managed WordPress hosting provides a far better experience than shared platforms.
Flywheel is one of the most popular managed WordPress hosting and it is easy to find out why. They offer reliable service and rapid performance necessary to guarantee the smooth running of your website but are they a good choice for your unique needs?
To help you out Check our Flywheel review for WordPress
1. Background
Launched in 2012 as a leading WordPress hosting company, Flywheel Hosting Company continues to grow in the vast web development sector. The company was established to offer reliable and quality Web hosting services to WordPress designers and developers worldwide.
It not only offers hosting services but provides a tool for the creation of a web site from scratch with a one-click installation process from its free demo sites. Flywheel Hosting has a well-designed interface with a dashboard that is easy to use. It is built on an enhanced, balanced, speedy and safe network structure.
Since Flywheel's inception, both developers and designers have provided positive reviews. They concentrate on WordPress hosting and provide WordPress dedicated hosting services, guaranteeing high quality and reliability for users.
Check out Flywheel hosting
2. Plans and Pricing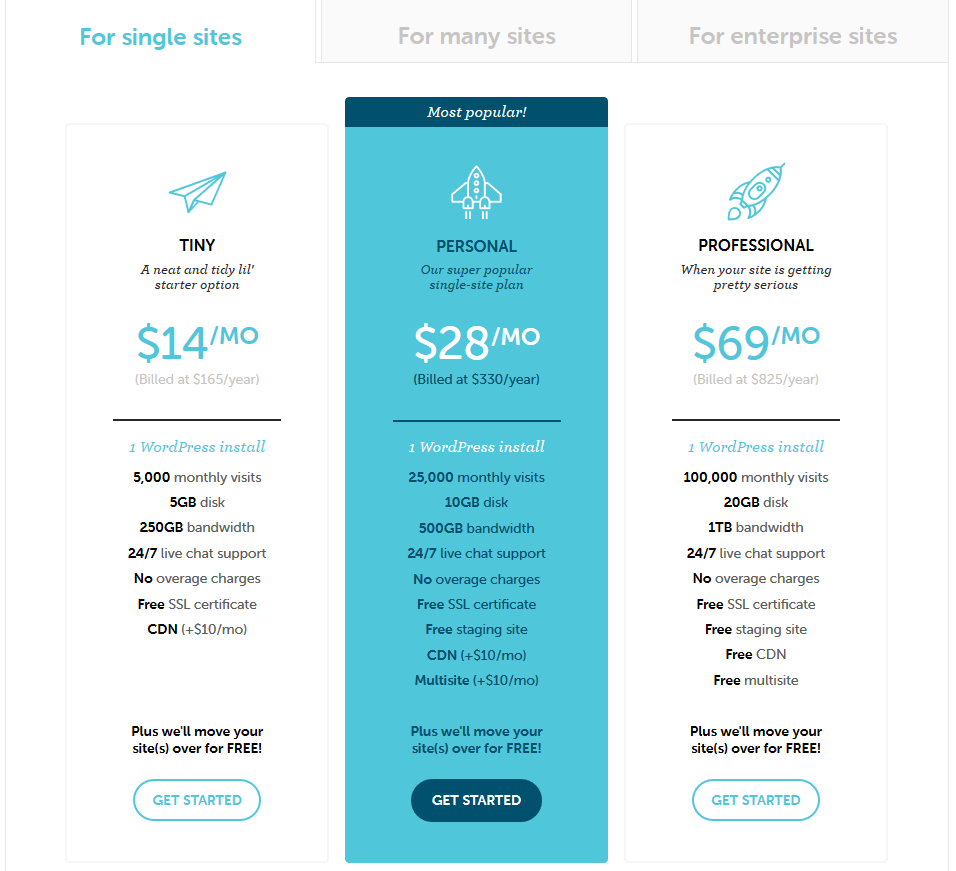 Flywheel offers 5 hosting plans and an option for customized hosting for users. It also offers an enterprise plan for a highly reputed company. Hosting plans for a single site plan are priced between $ 14 to $ 69 per month and for a bulk plan hosting costs $ 91 and $ 229 per month.
The single site plan allows you to host only one website ( one WordPress install), but the bulk plan allows you to host more websites. If the bulk scheme isn't enough, you can use the customized Flywheel solution to receive a quote for a hosting scheme that best suits your requirements.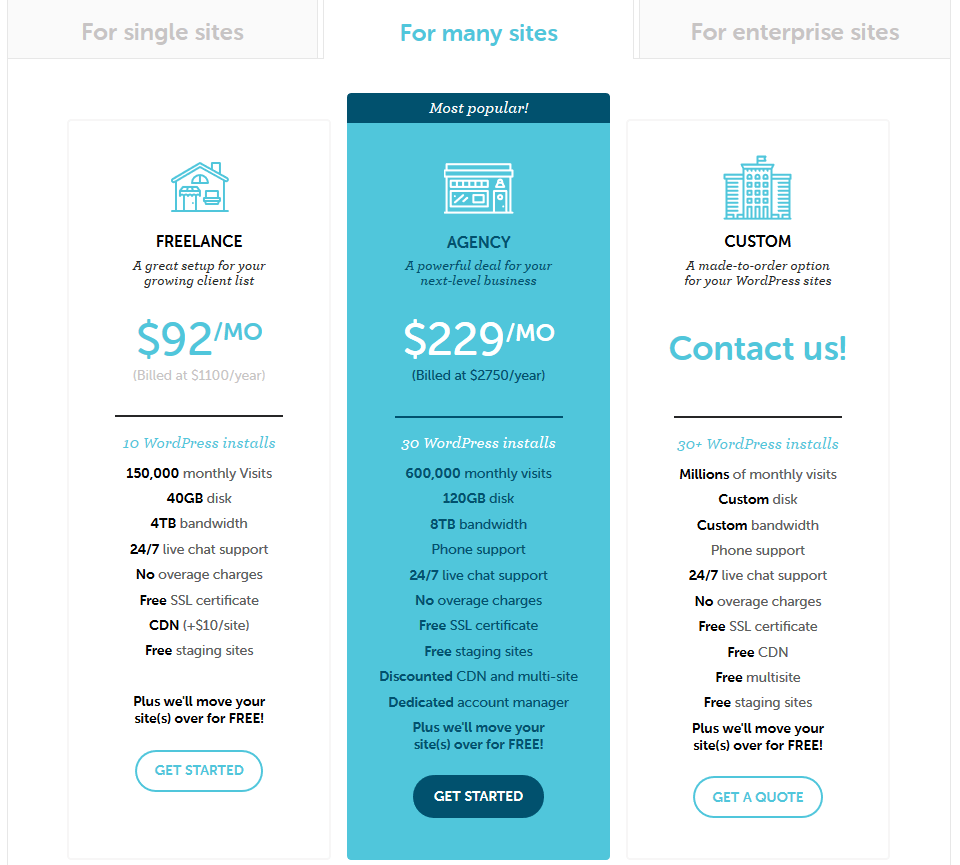 The main difference among hosting plans is the features offered by Flywheel. A single site plan offers monthly visits from 5000 to 100000. It offers you a disk space of 5 GB-20 GB and a bandwidth of 250 GB-1 TB.
Flywheel offers a free SSL certificate in these hosting plan and no overhead charges are paid. There is an additional charge for the CDN feature.
3. Flywheel Features
Let's check various features that make Flywheel an outstanding hosting service for WordPress. 
Demo Sites:
You can create free demo sites and only pay for the sites, once they go live. You can thus see what your website looks like and correct any errors that you encounter on the websites before going live. 
Free migrations:
Flywheel offers free website migration. You don't have to worry if you want to migrate your website to Flywheel from your existing hosting company. Flywheel will help you move your website without any hindrance or prolonged downtimes.
CDN:  
CDN(Content Delivery Network) is a distribution structure for content which distributes your content simultaneously in various places. CDN helps to improve the speed of your load page, spam block, bad bots and scrapers. It also handles high traffic on your website without crashing.
Collaborators:
Collaborators feature is available in Flywheel, where you can add your collaborators. It's an easy and fast process to add collaborators.
Some more Flywheel features include:
Site Cloning
Password Protection
Create and Restore Backups
Enable or Disable the Cache
High Security
Check out Flywheel hosting
4. Uptime
Good uptime is one of the most important features you should look at a web hosting while purchasing it. Uptime is the time a web host has to maintain while running live web sites. It is not possible to get a web host with 100% uptime, but a good web host should preferably be able to offer you a relatively good 99% uptime.
Flywheel doesn't guarantee you uptime, but most of the customers who use Flywheel hosting for WordPress websites tend to commend it for its superb uptime. Flywheel offers approximately 99.99 per cent of uptime, according to most customers. This means your site is live for 99.99% of the time.
At different stages and in post-caching, the Average loading time of the website is less than 2, something that is rather striking. Flywheel also offers a superb server response time of under 400 ms, even during extremely high traffic periods.
5. Flywheel's Performance and Speed
The web page load time and the server speed is an important factor to consider while selecting a web host. The server speed is important not only for your users but also for SEO and lead conversions. It's important your website host should provide you with high server speeds.
In order to be sure of the server speed and the performance, a new WordPress site can run some speed tests without changing the settings, without adding plugins or anything else than the default theme.
The front page loading time should be 0.3-0.6 seconds while doing a test. Flywheel uses Varnish caching engine so that every part of your WordPress website can be optimized. This provides a significant boost to your website's load speed.
6. Support
Flywheel offers its customers reliable support to make sure they face no technical problem with the hosting service.
Flywheel support team is available from 9 a.m. to 7 p.m. CDT. You can communicate with them through live chat. There are additional ways to contact them like submitting a support ticket through email or calling them directly.
7. Money Back Guarantee
Flywheel offers a generous 30-day money-back guarantee. If you are not satisfied with their web hosting service. You are eligible for a refund for 30 days after purchasing or renewing a yearly plan.
8. Conclusion
Flywheel is a solid web hosting option. It's packed with high-quality features and user-friendly interface with extras like backups, setup, the ability to add free SSL certificates, the multisite compatibility and optional CDN makes it a great option.
Flywheel also offers one of the least intrusive methods of establishing domains and DNS, which is a good sign.
Overall as per our tests and research we think Flywheel provides high quality managed WordPress hosting service that makes it worth to buy. Try yourself and let us know your experience
Check out Flywheel hosting