A new website symbolizes many things. It's you taking control of your situation, an opportunity to learn new skills, and possibly a new revenue stream.
In fact, many people start websites with the idea that it'll help them earn an extra source of income but don't realize how long it can take.
You need a sizeable amount of traffic or ninja skills with conversion rate optimization if you want to make a large income.
But, there's nothing stopping you from quickly making a few hundred dollars a month and growing from there.
This guide will show you multiple ways to quickly monetize your website even if you don't have tons of traffic.
Email courses with affiliate links
You may be thinking that you need a large email list to make money. That's simply not the case. What you need is a sound strategy. If you have that, even a tiny list will produce regular income.
That's why email marketing courses are so powerful. People sign up to get help with a specific problem they're experiencing. You deliver a solution and, along the way, recommend products and services that'll make their job easier.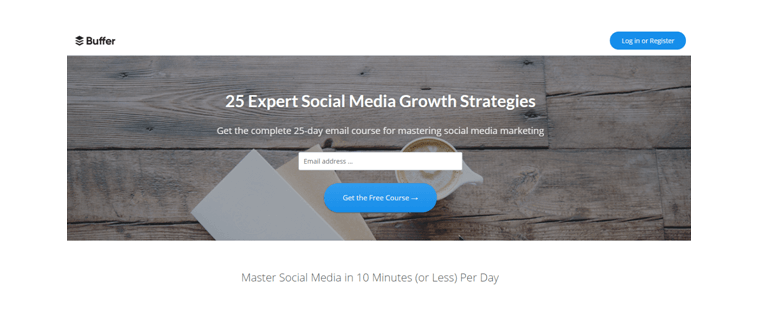 The key is to create a course around something that can be solved within a few lessons but is directly tied to your niche and the products you want to recommend. This is where most people go wrong. They create an awesome email course but the products they're pitching aren't relevant enough.
Avoid this by choosing the topic you want to cover then look for products that are related to it. If you can't find a product that's closely related then go with another topic. Whatever you do, don't fall in love with the topic.
After you've gotten the right topic and a few relevant products, create an email course that spans about seven lessons. If you make it much shorter, people won't feel like they've gotten value from it. If you make it much longer then attention will fade.
After you've created everything, loaded it into your email marketing service, and tested it, add it to your homepage. As a new WordPress website, this will likely be the place where you get most of your traffic. Also add it to strategic places on your website like the blog homepage, your about page, and even in the top menu.
Webinars
Webinars sometimes get a bad reputation because of the way they've been used in the past. The host will promise to teach a lesson but will spend half of the presentation talking about why they're awesome and the other half selling something.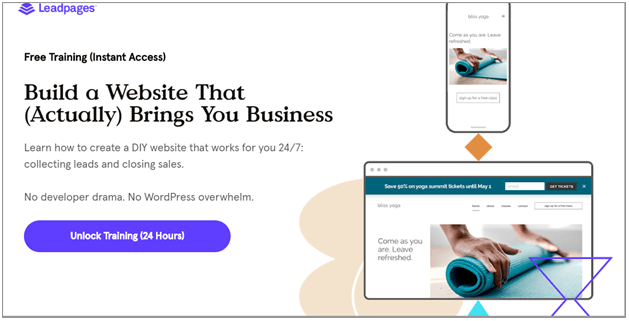 It's important to establish why people should listen to you but if you do it the wrong way then people won't buy what you're selling. Here are a few things to consider when you're using webinars.
Choose a platform that allows you to host an almost unlimited number of people and is proven to be reliable like WebinarJam or Demio
Spend 10 minutes or less talking about yourself. Only reveal enough to answer the question – Why should I be listening to you?
Focus on delivering value for the majority of the presentation but don't go too deep into your secrets or tips. Give them the ability to achieve one or two small wins as a preview of your premium content you want to sell later
When you're presenting your offer, say it multiple times and stack the offer. That means present the offer then add a few bonuses then present the offer again with the bonuses. Repeat that process over and over again.
This is the skeleton of the most successful webinars in the world. If you're serious about going this route, I suggest you look up The Perfect Webinar by Russel Brunsen. Through it all, be sure to collect data about the kind of people that sign up, offers that are resonating, and your conversion rate over time. That way you can constantly improve your presentation.
Consulting/coaching
Consulting is one of the fastest ways to produce a sizeable income. Small businesses will pay you thousands of dollars if you can perform an important service for them like email marketing, social media marketing, interesting infographic design. The best example is Adseo. They have done great job in providing SEO service.
You may be wondering why?
Because it's cheaper than hiring a dedicated staff member that may not know what they're doing. The key is choosing the right kind of consulting. Just because social media marketing is the most popular doesn't mean it's right for you.
Think about what you already do at your day job or that your friends and family always come to you for.
Val Geisler does email marketing consulting but only for software companies and charges a pretty penny for it.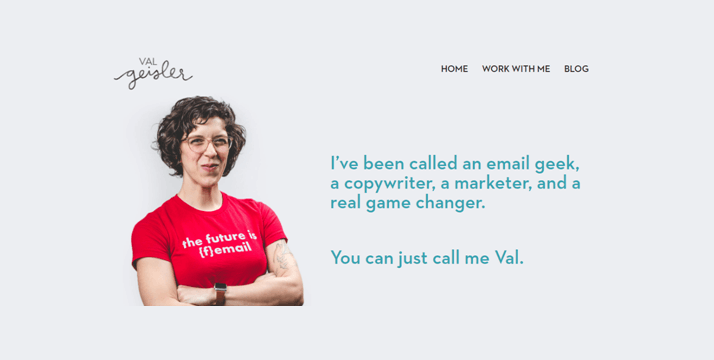 The team at AM navigator offers affiliate marketing management services for their clients as well as training services.
What about design and branding – can you tap into the latest design trends and create unique ideas for infographics, brochures, or company branding? There are countless services businesses will pay you for. You just have to think a little outside the box to find opportunities that don't have too much competition.
Once you've decided on what you want to focus on with your consulting, create a booking page on your website. You can also use Calendly or one of its competitors to get the job done. Ensure it's in a prominent place so the traffic you get is able to see it. If your website isn't yet generating traffic then consider using paid ads.
Monetizing low competition content
This strategy is based on affiliate marketing but with a twist. The most lucrative content are reviews of popular brands as well as "best of" articles. Things like Nike Air Max Review or Best running shoes 2019 have a lot of buyer intent and, in many cases, traffic.
Since they can be so profitable, they also have a lot of competition. Instead of going head to head with the largest entrenched players in your niche, focus on related but uncompetitive articles.
For example, instead of creating an article called "best running shoes" create an article about best running shoes for people over forty or how to stretch before a long run. In the second article, it's not directly tied to the running shoes article but you can still recommend a few pairs for your audience.
You have the opportunity to rank for those search terms without even building direct links. With that being said, you should still promote the content so it can get that initial surge in traffic and social proof.
From there, funnel users to money pages or direct them to affiliate links.
Membership platforms
The final strategy on our list is creating a membership site. The beauty of this strategy is that you don't need too much content to get started because the draw is in getting access to an ever growing library. You also don't need too many people to make a good side income.
Just a hundred members at $20/m is $2,000 in monthly recurring revenue. Yes, that's money that comes in every single month as long as people stay subscribed.
The key with a membership site is to start with a clearly defined niche. If it's just "online business" or "fitness" then you'll have a hard time attracting customers. There are entrenched players that may be able to deliver content for that better than you.
Instead, focus on a narrower topic area that you can position yourself as the go to expert. The dieting expert for new mothers instead of the dieting expert for everyone.
There are many online course platforms that allow you to create different levels of membership. You can give the higher tier users more direct access to you or personalized support. You can also set up a free trial period so prospects can check out the amazing content you've created before turning into a paying member.
Of course, it'll still be hard work but you'll start to see the traction sooner rather than later.
Conclusion
Making a steady income with a new WordPress website doesn't' have to be a five year project. You can use any of the strategies outlined here to get started on the right foot.
Don't use them all at once. Choose one and stick with it long enough to test out whether or not it works for you. Once it's producing income, you can start to add different revenue streams and grow your site even more quickly.
Let me know how you're monetizing your website in the comments, how long it took you, and what you would change if you were starting from scratch. Don't forget to share.