Maintenance mode plugins enable you to display a more user-friendly message rather than a broken website. It provides a risk-free environment under which you may perform maintenance on your website while assuring that users can still access the site. At the same time, it's critical to ensure the security of your website with plugins such as WP Force SSL for secure data transmission, and WP Login Lockdown to protect against brute force attacks, thus ensuring a seamless and safe user experience throughout the maintenance process.
In this piece, we will discuss WP Maintenance, which, in our opinion, is the most effective maintenance plugin currently available on the market.
Let's plunge in!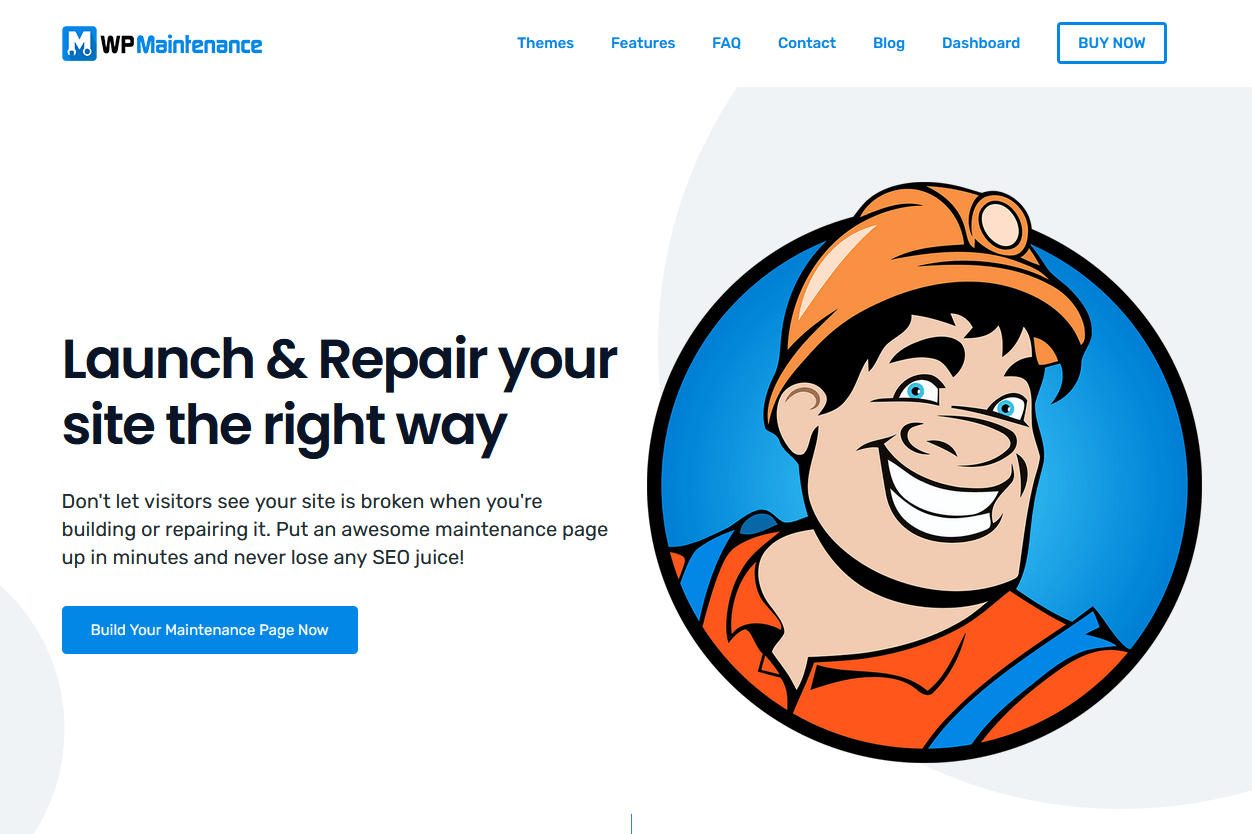 WP Maintenance enables you to build a maintenance page, coming soon page, landing page, sales page, or under-construction page without editing coding. People who do not have coding or design abilities and do not want to spend a lot of time modifying their page were taken into consideration when the plugin was built.
Beneficiaries include proprietors of locally owned businesses, bloggers, designers, developers, photographers, and internet retailers and webinar hosts. It is fantastic for web administrators that work for agencies or independently on their own websites. WP Maintenance will function properly if your server is capable of running WordPress.
Primary characteristics:
More than thirty distinct themes span from online seminars to mom-and-pop shops.
Setting up SEO requires you to consider SEO before developing your website. Even a website with only one paragraph can be optimized with the help of its built-in SEO tools.
Navigation that is user-friendly to customers during the development of the new website, only your customers and employees, should have access to the site. The secret access link simplifies this undertaking.
Complete Rebranding: If you want to wow your consumers, you may alter the name of the plugin, as well as its logo, colors, and content, immediately from the Dashboard.
Utilize the Dashboard to manage your purchases, licenses, brands, and sites effectively. Time is saved when all of the customer locations are consolidated into one location.
Support that is both prompt and friendly: You'll get first-rate assistance because the majority of support employees are themselves, plugin developers.
How does it work?
Toggle the Maintenance mode on/off:
Click the Maintenance PRO button in the WordPress admin.
Open settings page
Toggle the "Maintenance" button at the very top.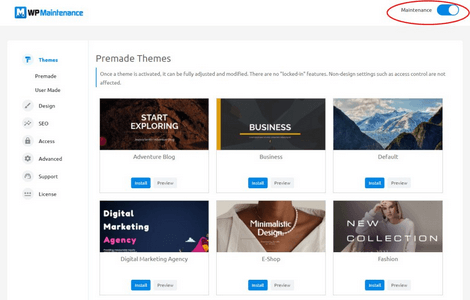 Put in some new licenses.
You are able to generate a new license for new sites by clicking the "Add New License" button.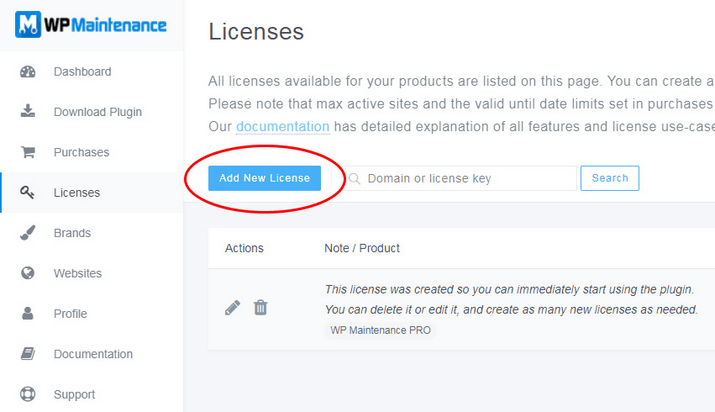 When you click, a new page with settings for the license will display. This page includes choices for adding licensing keys, adjusting the maximum number of active sites, extra features, additional information, and so forth.
Add a Theme?
When developing a new theme, it is customary to initiate a new page. It is significantly easier to access now that WP Maintenance is available.
Navigate to the Maintenance PRO section under admin,
Clicking the Layout button will get you started adding modules.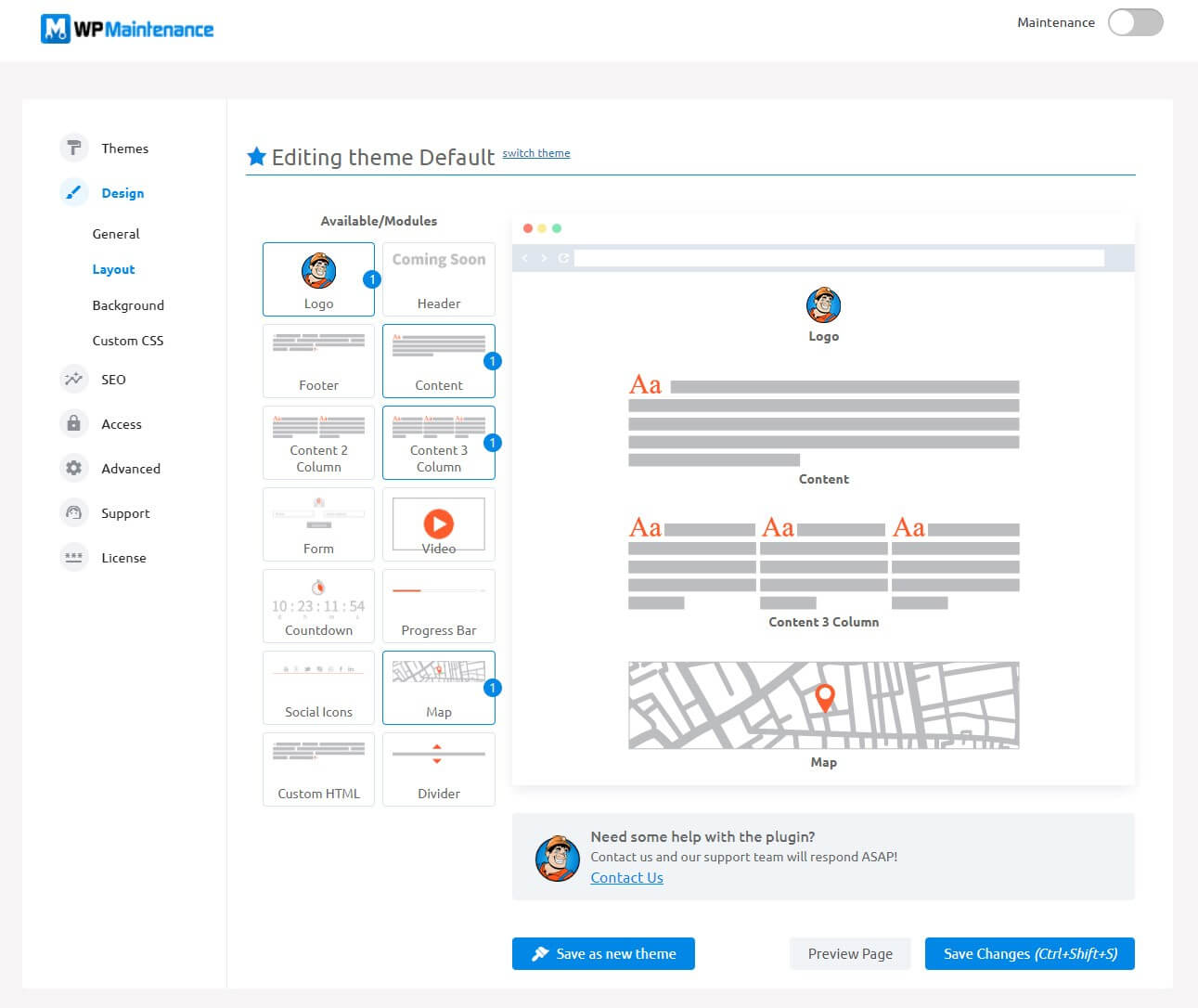 Modify visible modules,
To adjust how things look, go to the General tab and select "Save as New Theme."
Your freshly crafted theme is displayed under the Themes tab.
Be sure to save your themes. When modifications are saved, the currently selected theme is overwritten; however, a new theme can be created by saving changes as a new theme.
You can accomplish a great deal more with WP Maintenance!
Key Takeaways
Without having to change the code, WP Maintenance makes it possible for you to build a maintenance page, a coming soon page, a landing page, a sales page, or an under-construction page.
If you purchase an agency license, you will be able to put the software on client websites, rebrand it under your name, and charge whatever fee for using it.
What's going on? Install right now!