Videos are a way to enhance the user engagement of your website. Many people like to watch a video rather than reading a blog post. Many kinds of blogs are more dependent on videos like travel blogs or video blogger. However, every blog or website uses video once in a while. Videos can also help you distinguish your blog in the same niche from others.
Video hosting sites like YouTube, Vimeo, Facebook, Twitter and many others are super easily incorporated by WordPress. In this guide, we will show how to easily include video posts, pages and sidebar widgets in the WordPress blog.
1. The first option is simple and straightforward to embed a video in WordPress
From YouTube, check below the video and look for a button that says Share, right above the red Subscribe button.

Click on Share, and a new menu will pop up.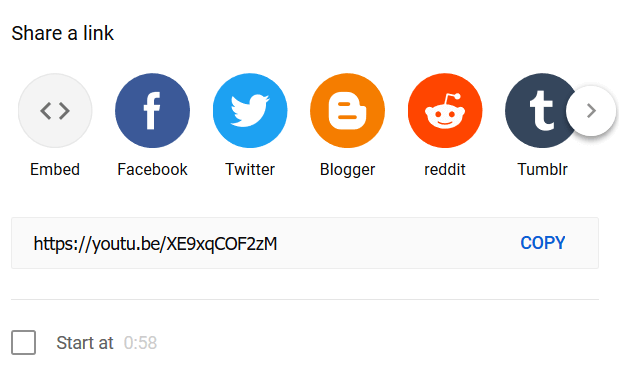 Now mark the URL (beginning with https://youtu.be), copy it and paste it into your blog post and this URL will immediately become a video
Below the link, there is an option "Start". You can tick start at check box. It allows you to start a video in a specific time frame).
2. The second option is embedding a video in WordPress through iframe code
This option allows you to change the size of the video. You can adjust the height and width of the video.
In this case, you don't need to click on a video. You need to click on option Embed. A new screen will pop up like the one shown below

The first line of the code shows width and height. You can edit it, and as per your choice, you can increase or decrease the size of a video. Now copy the code and paste it in a text box like shown below

This is it. Your video will be shown in the post.
WordPress can only do auto-embeds for white-listed video services. You're still going to have to get the embed code for other websites and then add it to your blog posts.
Here is a list of the video services listed in white for WordPress auto embeds:
Here is a list of white-listed video services for auto embeds in WordPress:
Vimeo
WordPress.tv
YouTube
Amazon
Animoto
Cloudup
CollegeHumor
Crowdsignal
Dailymotion
Facebook
Flickr
Hulu
Imgur
Instagram
Reddit
ReverbNation
Screencast
Scribd
Slideshare
SmugMug
Someecards
SoundCloud
Speaker Deck
Spotify
TED