Learning Management system or, in the short term, LMS is a software that companies use to develop or even track training for their clientele. To make it clearer to you, in a simpler form, LMS is an eLearning course where anyone can join in and learn. It helps you build online lessons and share them with the world.
There are two parts of a Learning Management System. The first one contains an admin interface, and the second one is a user interface. The difference between these two is that an admin interface is where a trainer performs some sort of task that can contribute to their company's learning programs, such as managing and creating courses. The meaning of a user interface is simply logical; it is what runs inside your browser, which your learners can see.
A common question that occurs is who uses an LMS? LMS is for anyone trying to deliver eLearning courses, from small businesses to large corporations, even government organizations. It can serve in different aspects; it is all about your needs.
There are plenty of benefits that LMS offers, so why not get in the core of the best LMS plugins for WordPress.
LearnDash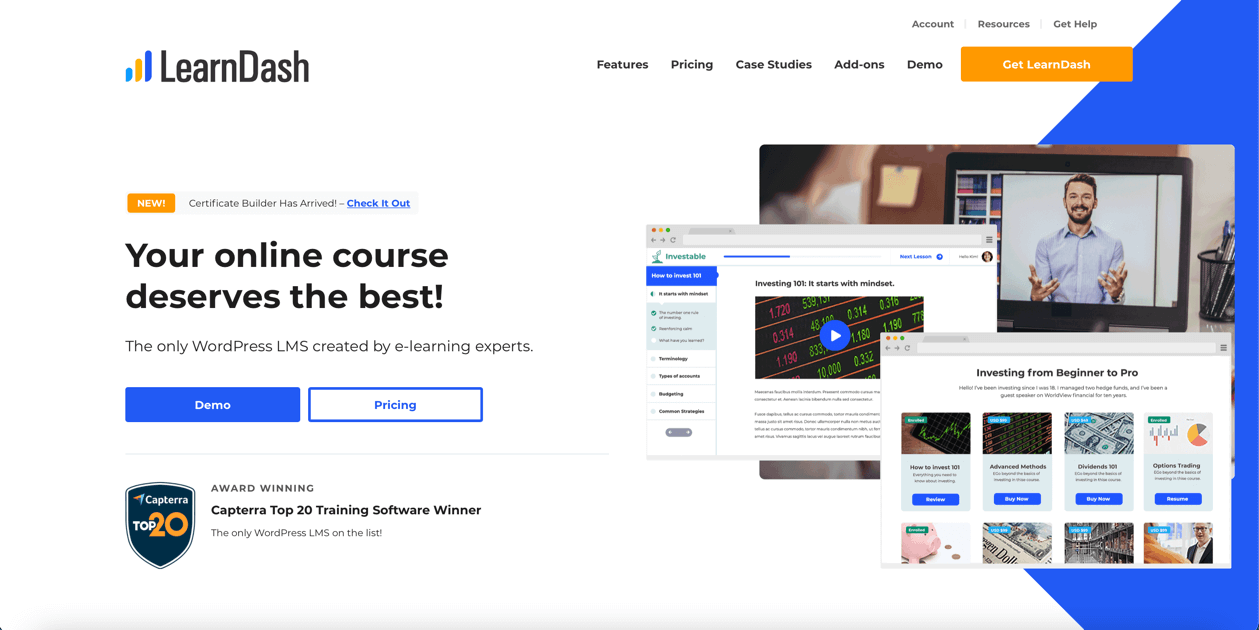 LearnDash is the most trustworthy tool out there. It is specially created by professionals and e-learning experts. This gadget is used by many universities overall because of the speed and an impressively designed course. When talking about universities, the best feature is that it can reward users for their hard work and dedication. They have amazing features such as:
Creating multiple courses and breaking them down where you can have different lessons and quizzes alongside.
You can create a timer so that every person experiences and puts the same amount of time.
It consists of a grade book that is available to everyone at any given time
It gives you an option to create your very own course using their premium feature that is called the Front-end Course Creation add-on
The pricing is fair for their offerings. It goes from about 159$ on the first year of usage, with all of the features. They give an offer for their users where you can get your money back in the first 30 days of using it if it doesn't suit your criteria. You can pay it in any way you like, such as PayPal, Stripe, 2Checkout, etc.
Tutor LMS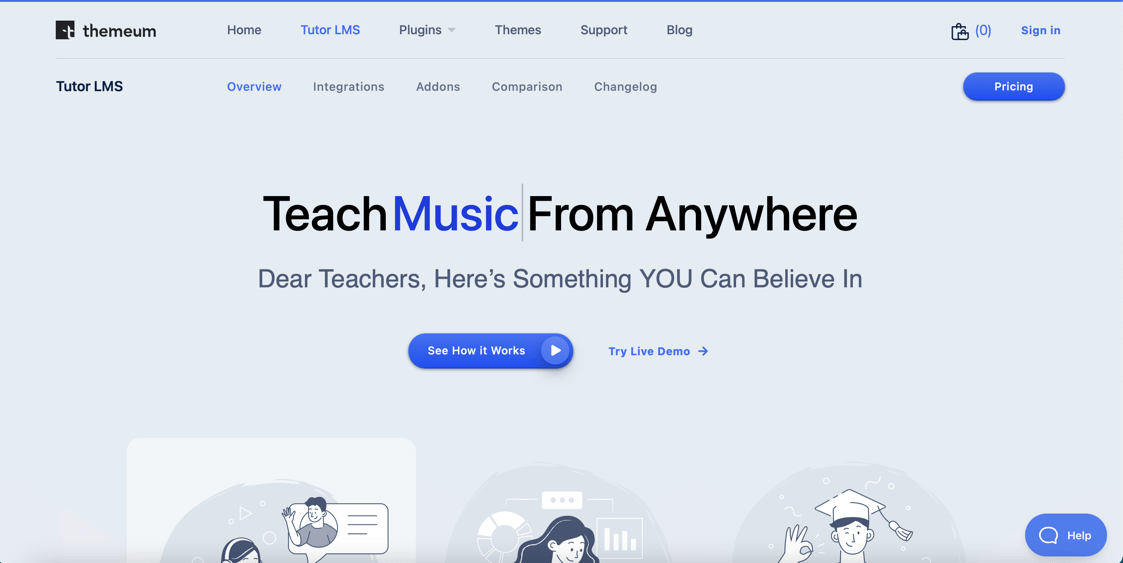 The specific feature of this plugin is that it has a special drag and drop system, so it creates resourceful courses. It is effortless to use and can be managed by anyone and everyone. You have the ability to pick any theme that suits you best. You can sell it away for a fair price or even give it away for free. Full control is granted to you over your learning platform.
When you create your course, you can have a community where everyone can get in touch with anyone, including professors. The best thing about this is that you can set it up in less than 4 minutes. If you feel skeptical about this plugin, it is worth saying that they have over 20,000+ users. The pricing for this plugin is free. But if you would like to invest more, you have a package that starts from 149$ for one single site license. With this premium package, you can get access to the frontend course builder. It also contains Q/A for each and every course. All monetization plans are supported.
WP Courseware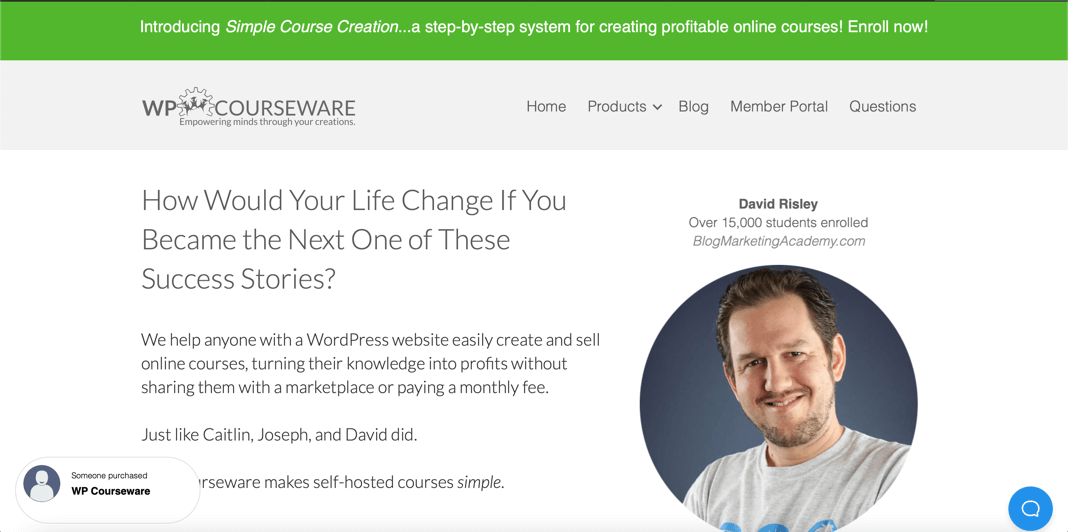 WP Courseware is considered to be one of the most promising plugins. The reason behind this statement is that this gadget is used by one of the top universities in the world. You can also find this course on training sites, such as CNN.
You can create video courses with a customizable look and style. You can view the grade books and see how your students are doing. The best thing about this plugin is that it is affordable, where the starting price is only 99$ per year, considering that the others we mentioned are not below 130$.
Good LMS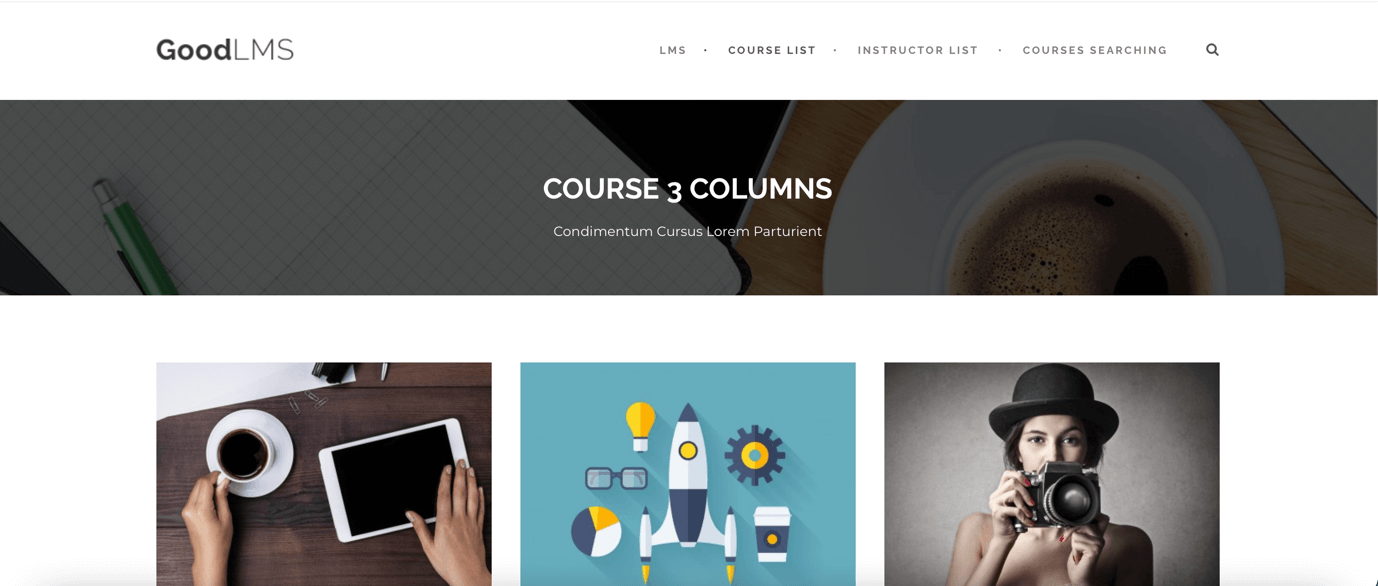 As the other plugin, this one also contains the option to create and sell courses, where you can also implement quizzes and give out certificates. Their pricing is the most suitable, starting from only 32$ on 12 months. About the payment process, the learner or student can choose to pay by Paypal, Stripe, Paymill or Authorized.net, etc.
Namaste! LMS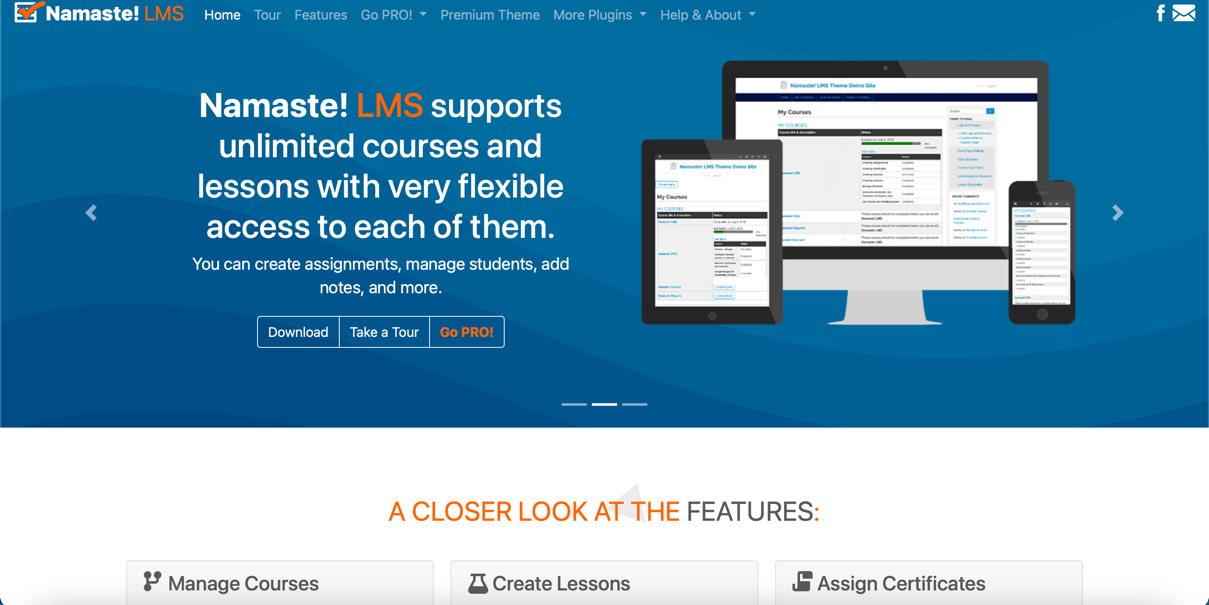 This is a learning management system that is a popular plugin as the other ones, but it offers similar features. You can download the core plugin for free; however, the premium version is $47.
Students earn certificates when completing courses.
MemberPress Courses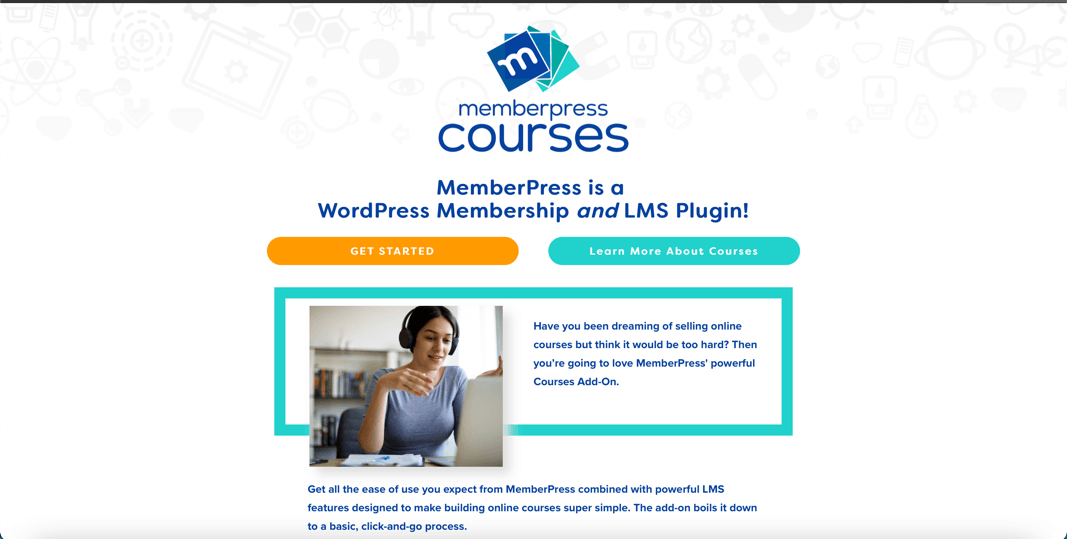 This plugin is considered to be at the top of its game. Even if it sounds similar to the other ones, considering that all of them are learning systems, it differs in many aspects. One of them being the feature of a special Classroom Mode. You don't have to spend a lifetime trying to design your online classroom; it does the work for you.
It has a similar feature as the Tutor LMS, the drag and drop option, where you can build your course as to how you like. Adding lessons, topics, videos, images, and many more. It had special security, where you can spot and manage everyone to be at the place they need to be, granting specific access. MemberPress prices go from 149% for one site license for a full year. You can connect MP with all of the email marketing services.
Sensei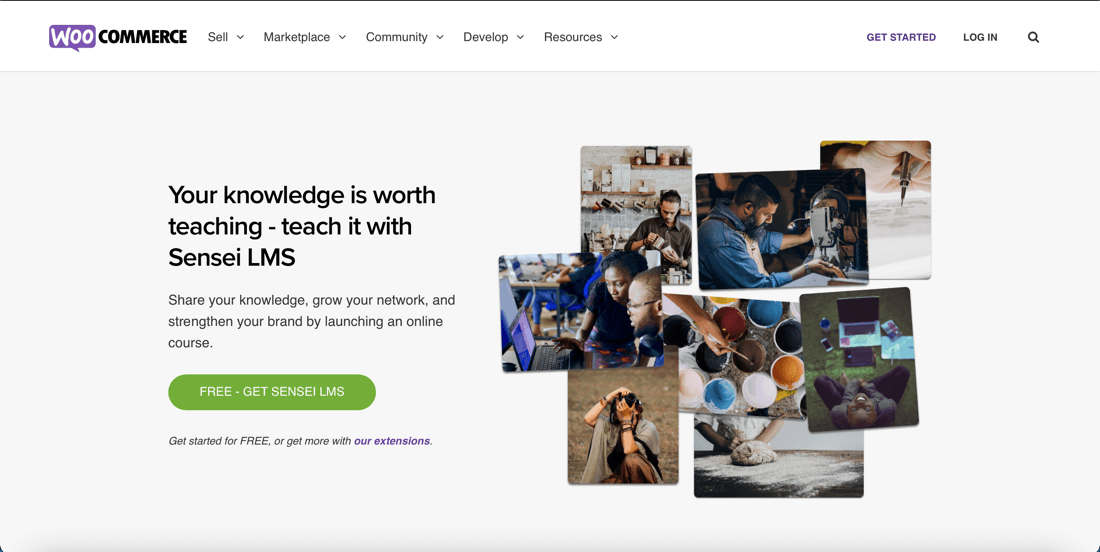 The builders behind this plugin are WooCommerce. So, in case you want to sell your courses, you will need to use WooCommerce. The pricing starts from 129$ for a single site.
There is no coding required when using this plugin. I mean, who has the time to spend learning how to code? You can invest in a good plugin and spend your spare time working on ideas. Share your knowledge and grow your network.
MasterStudy LMS

MasterStudy LMS is a free plugin. With this plugin, you can easily create and customize online lessons. It has 3 types of lessons to offer, such as videos, text, and slideshow. There is a real timer to provide you with the best experience when taking quizzes, as like being in the classroom in college. By completing the course, you are given a certificate. Their prices range from 69$ as you wish to persuade with the premium package.
LifterLMS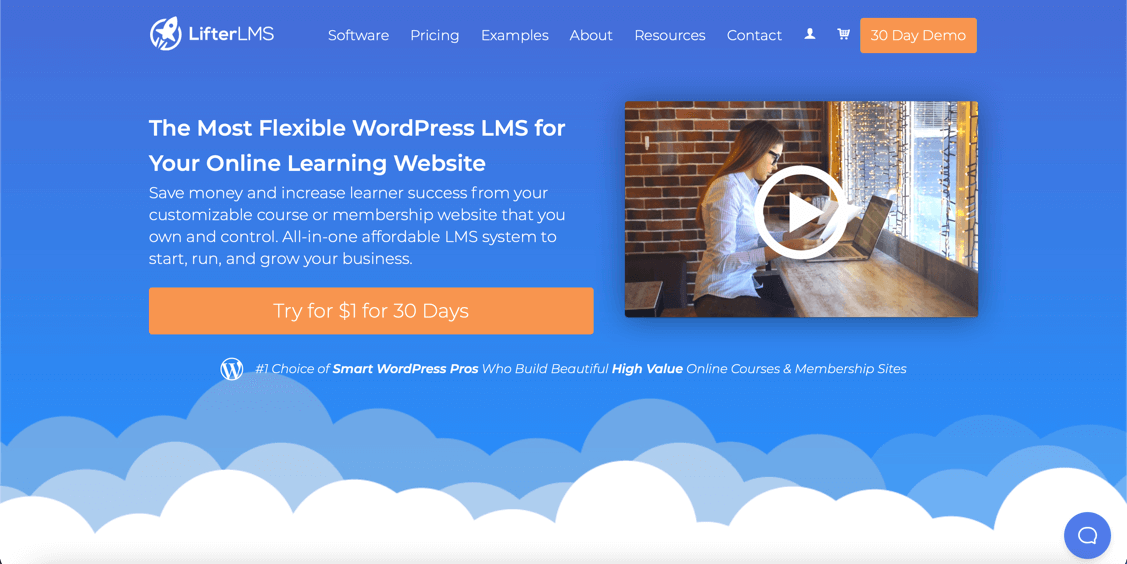 LifterLMS is another powerful LMS plugin for WordPress. It makes selling and creating courses fun because of the easy management. Its functionality can be expanded by using extensions including Stripe, PayPal, and many others.
Their prices vary from 120$ per year, but the amazing news is that LifterLMS offers to experience their plugin for 30 days for a single dollar. If you are not sure about this plugin, it is best to check reviews.
We will take a look at the experience of Nick Usborne. He teaches conversational copywriting online.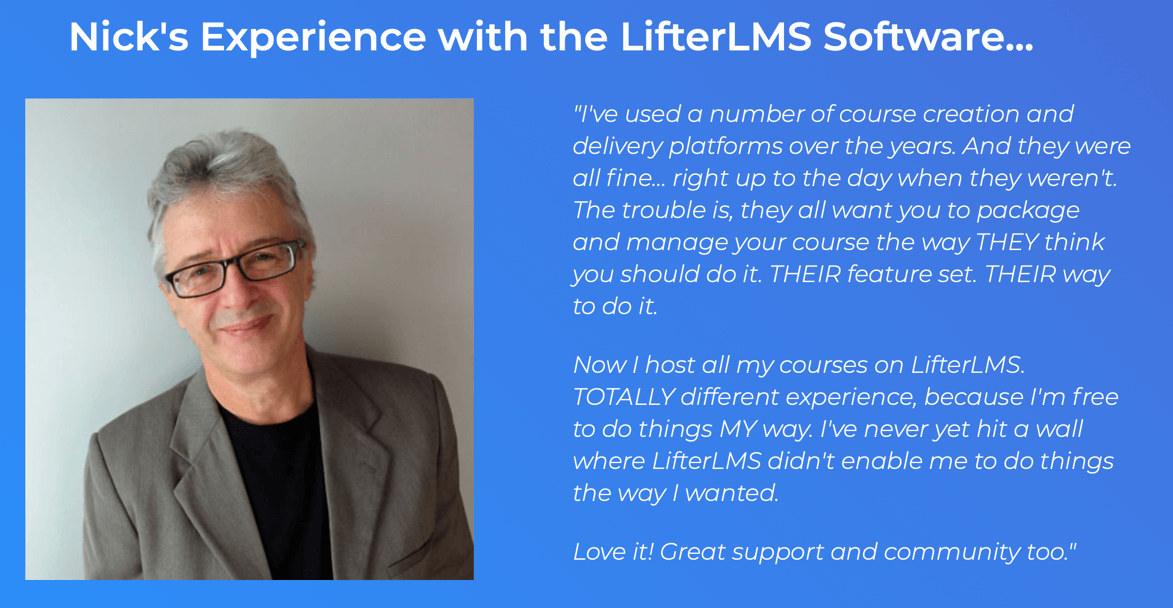 Conclusion
As we can see, LMS is a great way of sharing your knowledge with others, with the power of the internet and online courses. You can get certificates, degrees and experience something new and different. In this article, you were given some of the best plugins with their prices and offerings.