Would you not like your website to load super fast? Loading your website for your visitors in an instant? Naturally, most of us want our websites to quickly load and navigate to our visitors. You only need web hosting which offers super fast web hosting.
Now you have designed a good-looking website with quality content to attract the maximum amount of visitors and traffic. Then A2 Hosting is the answer to your question. The A2 Hosting has changed the view of webmasters on shared hosting services as A2 Hosting offers amazing speed and reliability even in shared hosting.
Well, this doesn't mean that you purchase web hosting depending on only speed. You will find that a special hosting provider fits better than others, depending on your needs. Therefore it is not always sensible to go to Google's first search result page for the top hosting companies to select one for you, because web hosts are many but one will fit your needs.
In this article, let us briefly review A2 hosting. This will help you to figure out if the A2 hosting provider fits you or not.
Click here to get 51% Discount on A2 Hosting
A2 Hosting Company Background
This web hosting company is older than you might think. This web hosting company was launched in 2001 with a name"Iniquinet". The company was based in Ann Arbor, MI and changed the name of the company to A2 in honour of its base location when the startup got success. This company is packed with the latest technology and that result in popularity and growing success.
For instance, A2 was one of the first providers of PHP5 web hosting in 2004. Solid State Drive (SSD) hosting was introduced by A2 in 2013 to support its Swift Server platform. A2 also managed to speed up shared hosting through its SSD drives.
At the end of 2014, this company then started using turbo servers which makes page load speeds much faster than many other web hosts. A2 has become a reliable and fast-moving web-hosting business.
Further validation of its trustworthiness comes from the fact that A2 has received a rating of "A+" (on a scale of A+ to F, with A+ being the highest) from the Better Business Bureau (BBB).
Click here to get 51% Discount on A2 Hosting
Plans and Pricing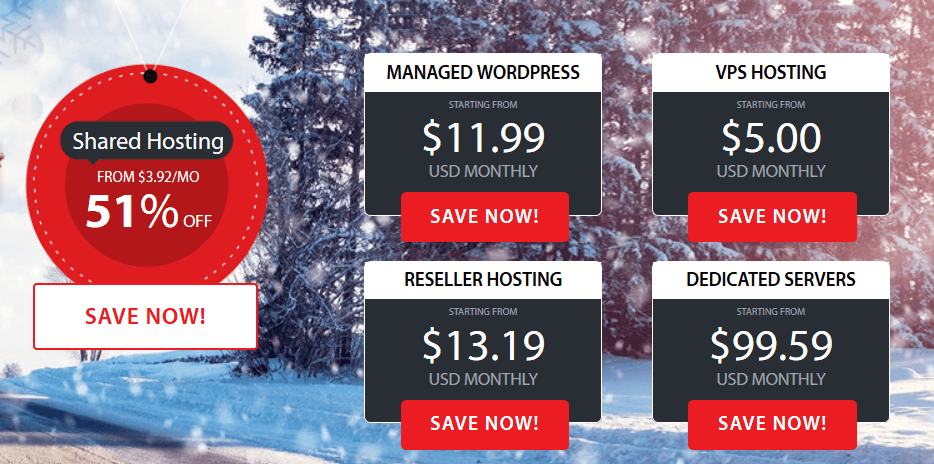 A2 offers a range that is apparent in the hosting plans it offers like share hosting, Managed hosting, VPS hosting, Reseller Hosting, Dedicated Hosting. You can select a hosting plan which best suits your needs, based on your requirements.
Shared Hosting
There are both Linux and Windows server packages available for shared hosting.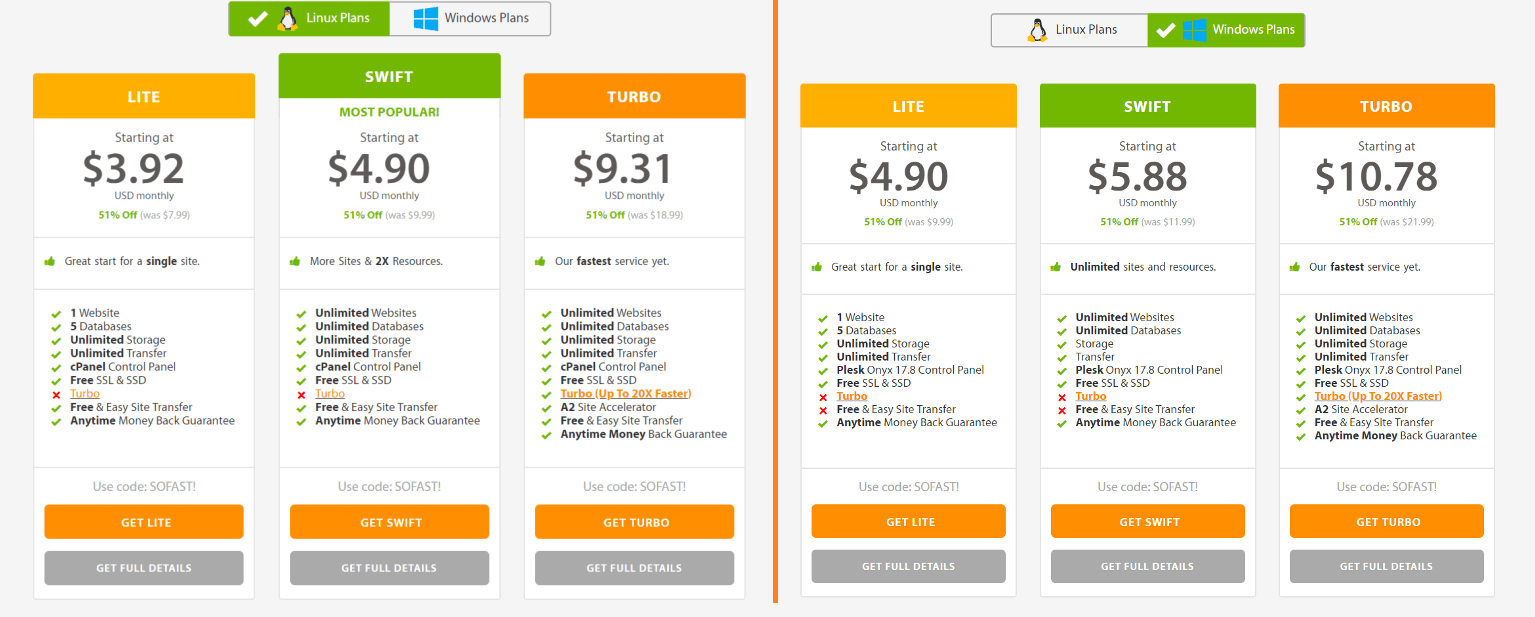 All the A2 shared hosting plans offer the following common features:
Unlimited RAID 10 storage
Unlimited transfer
A2 optimised software
SSD speed boost
Free Cloudflare CDN
Free site migration
Patchman security tool
WordPress features
There is little difference between the Linux – based solution offer and Windows – based solution. (check above pic)
cPanel is different
Price is different
 A2 Hosting Features
Now you are aware of the history and development of the company, it is time to look at the different hosting features offered by A2 Hosting. Whenever you purchase a web hosting from any company, you should check the features that matter most to you.
Performance – Speed and Uptime
One of the main reason to focus while choosing a web host is uptime. Regardless of the type of your website or business, you would definitely prefer to have your site available to your visitors 24×7.
A2 provides a 99.9% uptime guarantee as confirmed by most existing customers. In fact, our tests show a 100 % uptime (during a period of last six months)
One way to maximize uptime is through measures to limit people on a shared server. A2 Hosting ensures that uptime is maximized. The caching process is enhanced to store data in browsers so that information on your website cannot be pulled each time they visit which will result in a fast speed of a webpage.
Data Centres
A2's data centres are SSAE16 certified.  A2 Hosting lets you select from any of its data centers in the world. When you place your order, that step begins so you wisely choose in advance! I think it's great for those who target website traffic from particular countries or areas
Data Center Options
USA – Michigan
USA – Arizona
Europe – Amsterdam
Asia – Singapore
Money Back Guarantee
A2 Hosting provides a 30-day money back guarantee, if you're disappointed by the purchase then you can cancel the order and get back the money. A2 promise to be "Risk-Free, Hassle Free, Worry-free.
I found that A2 Hosting does good on their money back guarantees. In case of change, you can still get the company's prorated refund on unused services after the lapse of the 30-day period.
Customer Support
A2 has experienced customer support team. They are extremely good, since they do not outsource support to save money, but instead provide you with "in-house" expertise.
Their in-house team has the best specialists with good technical expertise. The A2 support team can easily respond to your basic questions and advanced technical questions easily.
You can connect with them through chat, telephone calls, email or create a ticket. Their response time is impressively fast in comparison to other hosts.
Click here to get 51% Discount on A2 Hosting