Shopify is designed for big businesses and small ones who have aspirations to grow. Its analytical and management tools helps you to keep track of everything.
Read my 6 step Shopify review
1. What is Shopify?
Shopify is an eCommerce platform that enables you to create your own online shopping store. It offers a wide range of templates, which can be adapted to meet the needs of individual users and allows the sale of physical or digital products.
One of Shopify's main benefits is that users without much technical or design expertise can create a shop without contacting or purchasing a service of an ecommerce website design agency or a web developer. Shopify is so easy to use and with its friendly dashboard, you can create a product or service within a few clicks. However, people who know HTML and CSS are happy to discover that Shopify allows you to edit both, giving you a lot of control about templates ' design.
You don't need to worry about buying web hosting or installing software as Shopify is a hosted solution. They will take care of hosting, designing, or almost everything you need to build and run your store. You can even customize a Shopify store to meet more individual requirements by adding apps.
Shopify is a software as a service ('Saas') tool – this means, instead of owning it, you pay a monthly charge for using it. You can manage your store from anywhere, as long as there is access to a Web browser and internet.

2. How many people use Shopify ?
According to Shopify- It is powering more than 600,000 businesses in 175 countries and more than 1.2 million people are actively using the Shopify backend platform. Shopify has generated over $82 billion in sales.
Shopify is one of the most successful and trusted e-commerce platforms in the world. Company reputation is an important part while choosing an e-commerce platform because you place a great deal of trust in the company while choosing a host solution for building an online store.
In the past, similar services have been closed in–Magento Go is an example–causing all manner of problems to users (who had to migrate their online shops to another platform in a short period).
The strong market position and the large user base of Shopify should make the company less likely to have financial difficulties, which in turn will make the prospect of the company (with which you are hosting ) suddenly less likely to disappear.

3. Shopify Pricing and Plans
Shopify has different subscription plans, deciding which plan to choose can sometimes become difficult. Think carefully about your business ' e-commerce needs and study all the features in various plans before you choose the right one. Different price plans for Shopify ranges from beginners to enterprises and are available for any business.
Shopify Lite's most basic plan begins at $9 a month. You can start selling on Facebook or add a "Buy Now" button to the website or blog already in existence. Good for those that do not need a fully functional online shop and have limited products.
Basic Shopify's plan costs $29 a month. It is the best choice for small businesses and newcomers to online sales. Once your company grows, you can upgrade plans to access more features.
Shopify plan costs $79 a month to access features such as discontinued cart restoration to notify customers who did not shop. For special promotions, you can also create physical and digital gift cards.
Advanced Shopify Costs  $299 a month and is packed with more advanced features.
Shopify offers a corporate eCommerce solution though their Shopify plus plans for large-scale companies and brands. To use this platform, you must contact Shopify. The gold shop is used by companies such as L'oreal, Royal Enfield and Raymonds.
Get 14 days of free trial without providing any payment details before you purchase the package of your choice. You can cancel your account at any point of time if you are not satisfied. Just select the plan after the trial and opt for monthly or yearly payment plans according to your needs.
Shopify offers a free domain name and a free SSL certificate with all plans ( yourstore.myshopify.com ). On Shopify, you can also purchase your own domain name. If you have one already, after a few simple steps, you can link it to your shop.

4. Key differences between Shopify plans
The key differences in plans to watch out for (so that you will not end up in buying the wrong plan) are:
Staff accounts
You can provide a different authorization ( to restrict access to sensitive data) to different team members; you will get  2 staff accounts in 'Basic' plan, 5 in the 'Shopify' plan and 15 in the 'Advanced Shopify plan'
Reporting
Professional reporting is only available on $79 'Shop' plans and up
Updated report builder
Advanced reporting tools (which enable you to create custom reports) are only provided in 'Advanced' and 'Shop Plus' plans.
Gift cards
These are only available on the $79 'Shopify' plans and up
Real-time carrier shipping
It's is only available on the most expensive 'Advanced Shopify' plan
Point of sale functionality
You will be allowed to use point of sale features ( Shopify POS app, Register shifts, Hardware peripheral support, Unlimited Shopify POS staff PINs, Third-party POS apps ) in " Shopify" and " Advanced Shopify plan" while as in " Basic plan " you will not be allowed to use Register shifts and Unlimited Shopify POS staff PINs.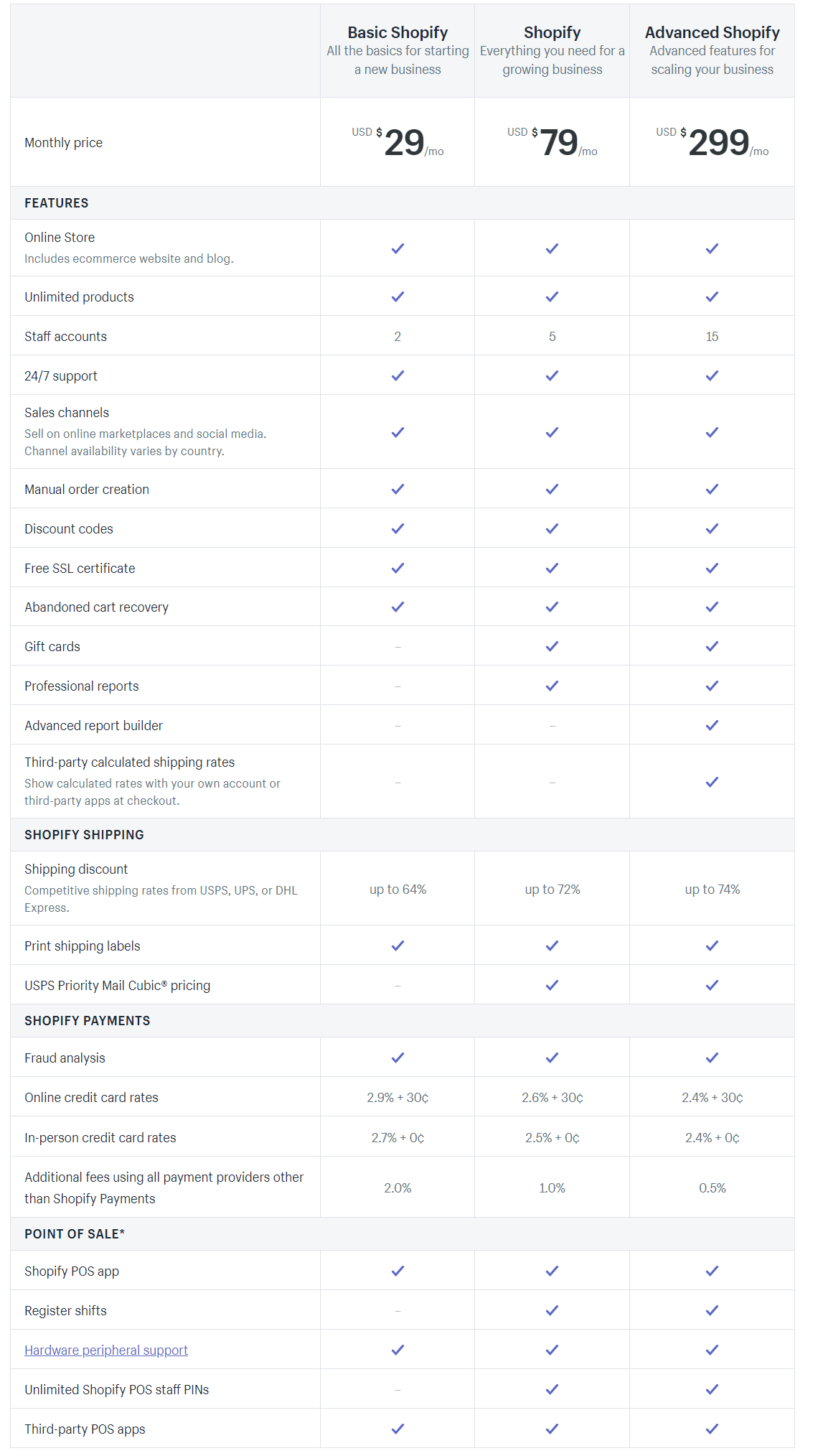 5. Features of Shopify
As mentioned above, Shopify's features vary on different plans depending on the plan you choose.
All Shopify plans from $29 ('Basic Shopify') and up provide:
blogging functionality
abandoned cart functionality
import/export of customer data
content management (CMS) functionality
search engine optimisation (SEO) functionality
discount codes
the ability to edit your store's CSS and HTML
Ability to sell in different categories you select to sell physical or digital goods and using shipping rates/methods
a wide range of themes (free and paid) to choose from
credit card processing via Shopify Payments or a third party payment gateway
a 'buy now' button that you can use to sell goods on another blog or site
access to a point-of-sale app
The option to create multiple staff accounts (as discussed above, how many you can create depends on the plan you're on).
the option to integrate your store with 100+ payment gateways
the ability to print labels for product shipping
discounts from couriers on shipping fees (depending on country)
integration with Paypal
If you choose the 'Shopify' plan, you will also get:
gift cards
professional reports
full point of sale functionality
In addition to all of the above features, if you're on the plan ' Advanced Shopify ' plan you will get access to advanced features like
advanced report building
real-time carrier shipping
Finally, Shopify Plus: this is a business – grade Shopify version that offers features such as
dedicated SSL / IP address
advanced security features.
guaranteed server uptime
API support
'White glove' level of support via a dedicated 'Merchant Success Manager'
6. Pros and Cons
Pros:
Quick and easy to setup
Secure and Reliable
Speed and security
Mobile Friendly
Access to Themes
Marketing
App Store
Cons:
Box Out: Despite pricing Shopify is still considered best eCommerce platform
Conclusion:
After a brief review of Shopify, I can say, Shopify is the superb feature rich packed platform that provides you with stunning options for eCommerce. It allows you to build a world-class online shop.

It has many features, tools and options, which can help you attract customers, increase your sales volume and achieve multiple eCommerce targets. This system also offers a wide range of services.
There is no problem at all to promote Shopify internet stores. So you shouldn't worry about this if you lack SEO and web design skills. Shopify has a powerful SEO engine that enables you to automatically complete meta tags and adjust the required SEO parameters to ensure that your newly developed eCommerce website is promoted effectively.
Shopify deserves the title of the best software for eCommerce. The online shops that have been established here are functional and well structured. The navigation is intuitive and leads to high levels of customer commitment and retention.
Shopify definitely is worth trying, if you have long-term eCommerce targets. I strongly recommend that you check to try it for 14 days and you don't need to provide credit card details either.