The author's bio box is a popular yet frequently forgotten feature on many WordPress websites. The author box, which is usually located at the end of a blog post, increases the likability of your website, as well as its reputation and authenticity. Super Admin, Administrator, Editor, Author, Contributor, and Subscriber are the six predefined positions or roles on WordPress. Each role is granted access to a series of tasks known as Capabilities. In WordPress, someone who can write and maintain their own posts is referred to as an author.
The author can delete, edit, read, publish posts, as well as create, read, edit and delete Reusable Blocks. If you want to learn about the technical aspect of how WordPress handles authors, check out this link.
We will go through few author box plugins for WordPress in this article. You can use any of these plugins to add an author box to your blog. Most allow you to customize the interface, while a few are specifically designed for the marketing.
Simple Author Box, an amazing and really easy-to-use WordPress author box plugin by WebFactory Ltd, is the first plugin we will talk about. At the end of your messages, the plugin introduces a sensitive author box. The author's name, username, overview, and social media accounts can all be shown. This is a great way to say a little more about who you are and connect with a reader.
To use this plugin, of course, you need to install it first by visiting the WordPress plugin tab and typing "Simple Author Box." After the successful installation and activation, it is time to configure it to fit your theme and needs.
First, on your left menu, there should be a new tab named "Simple Author", go to the same-named sub-menu.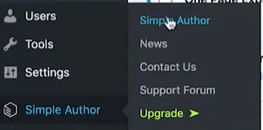 By visiting it, you will see an overview of what you can do with it. This is how it looks like: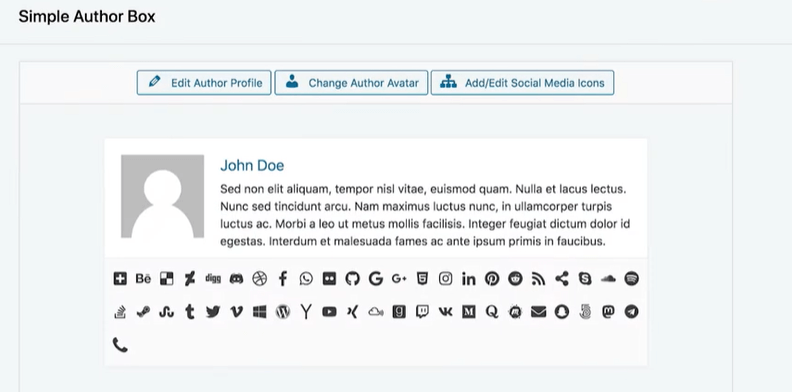 As you can see, you have many options to add and customize your author's box as you want.
For having a simple and basics layout and options, you can have this plugin for free, but if you want more premium options, you can buy the pro version. Extra features in the pro edition of the plugin include the ability to place the author box above the text, add a rotating effect on profile picture hover, and attach effects to social media icons.
For a trendy and consistent look, you can completely configure the plugin styles to fit your theme. Simple Author Box immediately adds an author box to your blogs. You can also manually insert the author box into your template files. RTL and AMP are supported.
This is an amazing plugin with an almost 5-star rating where you can add a guest author to any post without requiring the guest author to register as a user on your blog. It is modern compared to other systems, but it is a fundamental framework that does not take long to add a guest author's name and URL. It is one of the most user-friendly WordPress guest author plugins available.
As the plugin before, make sure that you install and activate it. Then you can change between "User" and "Guest."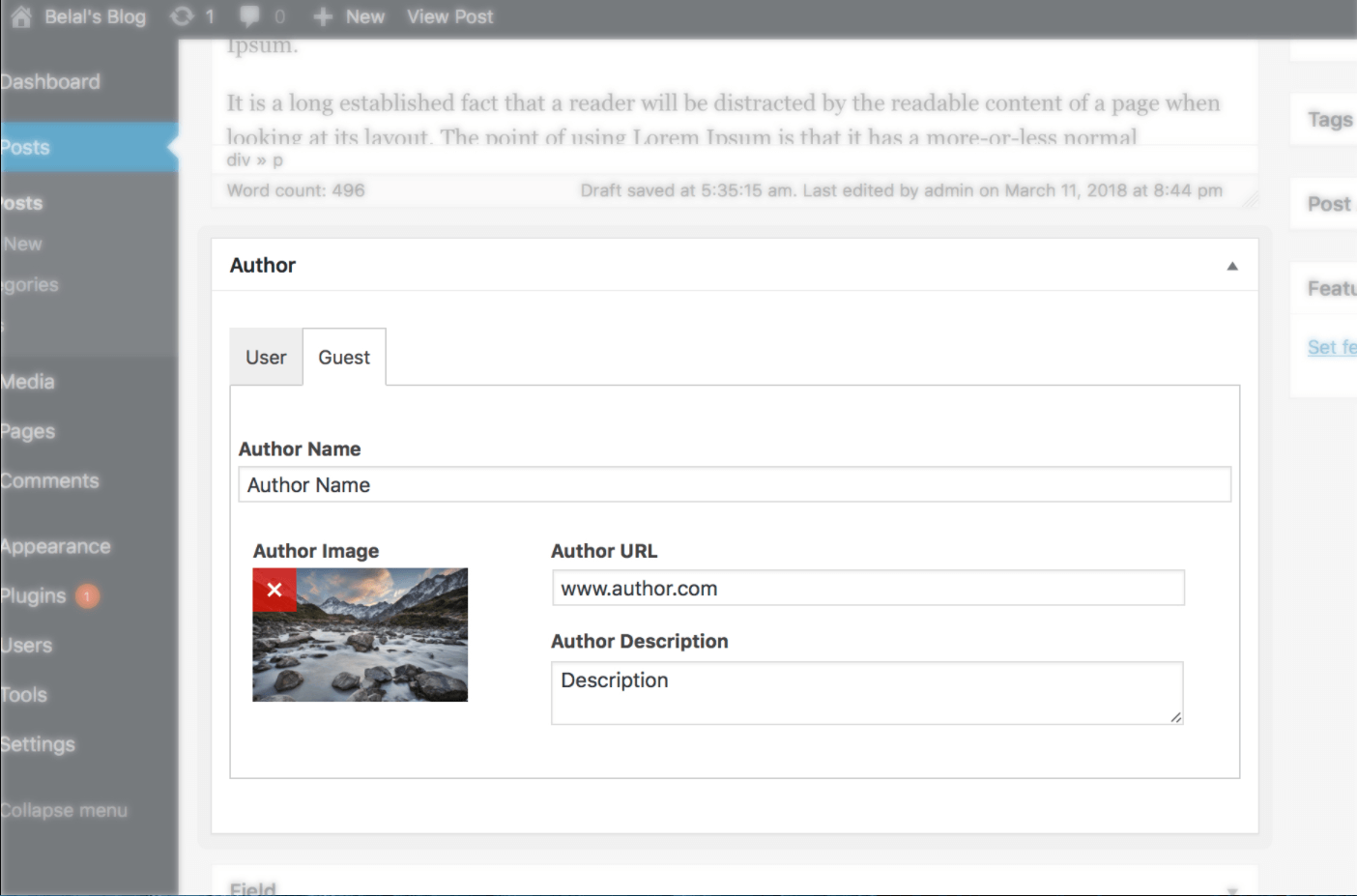 The features of this plugin are: acts as if the guest writers are frequent contributors, uploading your custom avatar image instead of Gravatar, a link to the guest author's own website, ideal for guest posts.
Only custom avatars imported by Gravatar are currently supported by WordPress. Any picture uploaded to your Media Library can be used as an avatar for WP User Avatar. This implies that you use the same uploader and library that you do with your entries. There are no additional directories or image editing functions needed.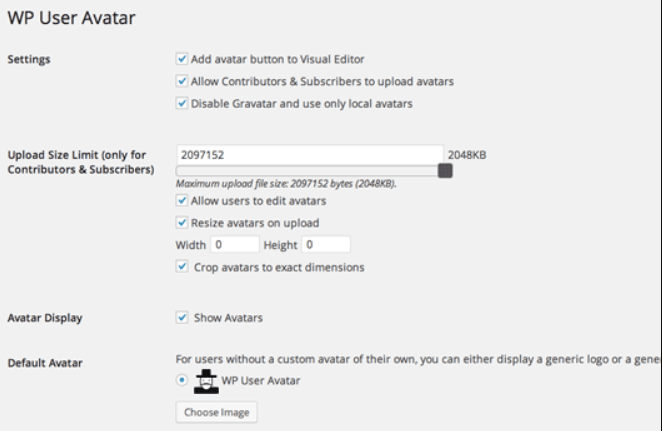 Some features of this plugin are:
In your WP User Avatar settings, upload your own Default Avatar
If the user does not have a WP User Avatar profile, display the user's Gravatar avatar or – Default Avatar
Use only local avatars instead of Gravatar avatars
To connect a standalone uploader to a front-page or widget, use the [avatar upload] shortcode. Just logged-in users have access to this uploader
In your posts, use the [avatar] shortcode. These shortcodes can fit any style, regardless of whether it supports avatars or not
With over 400,000 active installations, this is a great plugin to add to your WordPress website.
Edit Author Slug is a WordPress plugin that gives you complete control of all user permalinks. That means you can give all of your visitors and website writers whatever names and settings you want. You will be able to adjust both the author base portion and the author slug portion of the URL until it is installed.
As you will see in the steps below, the plugin is very straightforward and easy to use.
How to use Edit Author Slug Plugin:
Installation and Activation of the plugin
Going to the "All Users" page
Editing the Author Slug according to your desired style
Change Author Base by going to the "Edit Author Slug" tab under Settings
Instead of the regular WordPress author page, this plugin would allow you to use a custom URL for your author links. If you'd like to connect to your own Twitter, LinkedIn, or other social media page, this is a good option.
This plugin can be set up in two different ways:
The first one, go to WordPress Settings and look for the global settings site. Second, there is a tab for each user's profile. On their profile page, users will create their own unique URL that would only belong to them. If the "Override Individual Authors" setting is verified, the global admin setting will override this.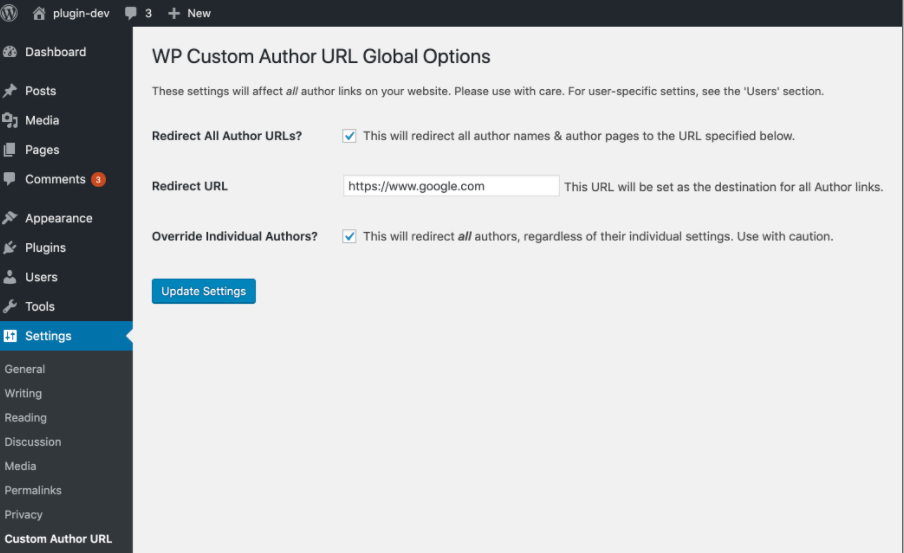 Molongui Authorship is a whole suite of author box features brought to you by Amitzy, a dedicated and reputable WordPress plugin creator. It adds fresh and exciting features to the regular WordPress author package.
Molongui Authorship includes all of the functionality you will need to better handle and credit all of your site's contributors. It consists of three main parts: Author Box, Co-authors, and Guest Authors. Author box displays author details, bio, social icons, and related posts in a customizable box on posts, websites, and everywhere you set it up. Co-authors give the ability to add several contributors where everyone is properly credited. The guest authors box allows you to assign posts to guest writers or one-time contributors.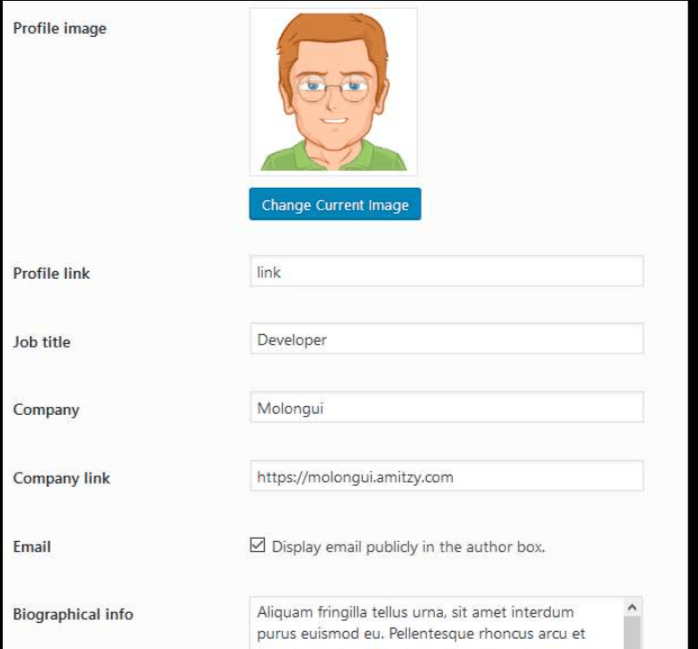 There are many options with a free version of this plugin, but you can always pay for those extra options if you want more premium features. Some of the premium features are: Custom Post Type, Conditional Display, adding as many author boxes as you want, duplication of Guest Author, REST API, SEO advantages, and so much more.
When writing a new post in WordPress, the slug is the part of your URL that you can alter. This plugin gives you the ability to change the part of your Author slug. This plugin is open-source software with an amazing rating and many satisfied users. The author slug is replaced with a sanitized variant of the user's show name by this plugin. It will deter hackers from discovering your user name through the author archive's URL, and it will work towards making your nice URLs with your show name.
FAQ
What is the best author box plugin?
There are many great plugins out there for your author box to add to your website. But by far, the one we would recommend is the Simple Author Box. It has the largest variety of free and paid features, including maximum styling options and functionality.
Can I have multiple authors for one article?
Of course, you can. Simple Author Box allows you to have more than one author for one article. With the premium version, you can add multiple users. Check out this link to find out more.
Conclusion
Since the author box is just a minor element, the competition is not as saturated as you would think. As a result, several plugins have not been upgraded in years, effectively disqualifying them from our selection.
Author boxes are not something most site owners think of, but they can also help to finish off the look of a single blog post website. Adding extra information about anyone who contributes to your site is also an easy way to make your blog look more professional.
Overall, an author box automates the process of increasing interaction on the WordPress blog. It allows your followers to meet and interact with your writers, as well as the blog as a whole. You have enough choices in the above list to include whatever kind of author box you like.