Look no further if you want to start a blog or set up your own site quickly and easily. The best part of it? You can get it to work in a matter of minutes.
This is the first step: Register with a web host and register your preferred domain name (if you do not have one yet).
I currently use Bluehost as a domain provider and web hosting service, as set out in the following example.
You can use any hosting provider of your choice, but I prefer Bluehost with WordPress for its simple usability, reliability and1-click installation. It makes it easier to integrate WordPress than I saw with any other web host.
It's just as simple if you already have a domain name. You can still use Bluehost as your hosting provider, even if your domain name is purchased from another provider, e.g. GoDaddy.
The registration process does not take more than five minutes from beginning to end. Once you have created an account with Bluehost, I will explain how you can use the Bluehost control panel to install WordPress.
Quick tip: You must have a domain name and a host when creating any website. You will not be able to create a website for users to view, browse or shop on without these.
Complete disclosure: I earn a commission if you buy Bluehost via my reference links in this guide. This helps me keep website configuration up to date and up to date. Thank you for your help.
To start with, go to www.Bluehost.com and click the button "start now." If you use this link, you can get a free domain for one year as well. This discount applies to all visitors Blogger Walk.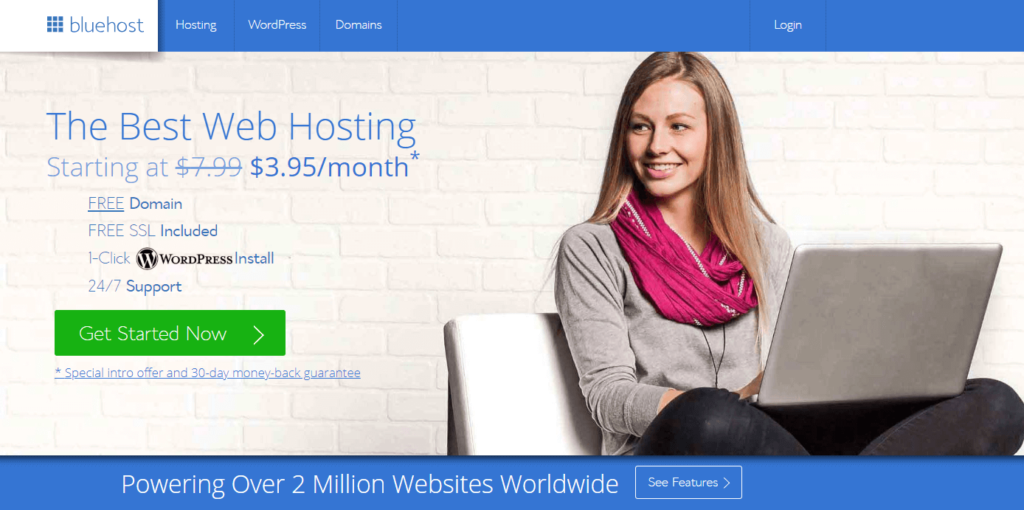 STEP 2: Choose a Website Hosting Plan
When you click "start now," you will be taken to a page where you can choose your hosting plan. I have the option "basic," which is an excellent choice for new websites. In addition, they currently have a special discount of $ 3.95/mo( usually $ 7.99/mo)
The "plus" and " Choice Plus" plans are great, but you really don't need all the extra whistles and bells that they offer unless millions of people flood your site every day. Save your hard- earned cash and get started with the cheapest package.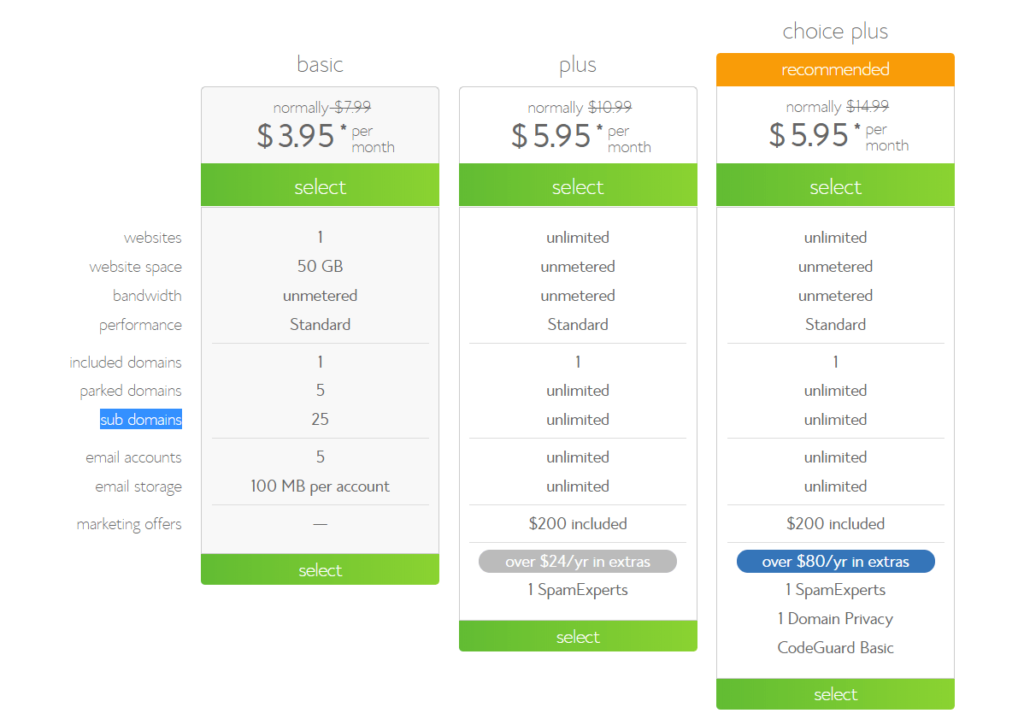 STEP 3: Secure a Domain Name
Your domain shouldn't end in .com. You can choose another site that ends if you want, e.g..net,.org,.us,.biz, and.info, if your domain is not available for the first choice. If you already have a domain name, simply enter it and click on " Next " in the form " I have a domain name. " If you are not prepared to select a domain right now, you can do so at a later stage in your website setup.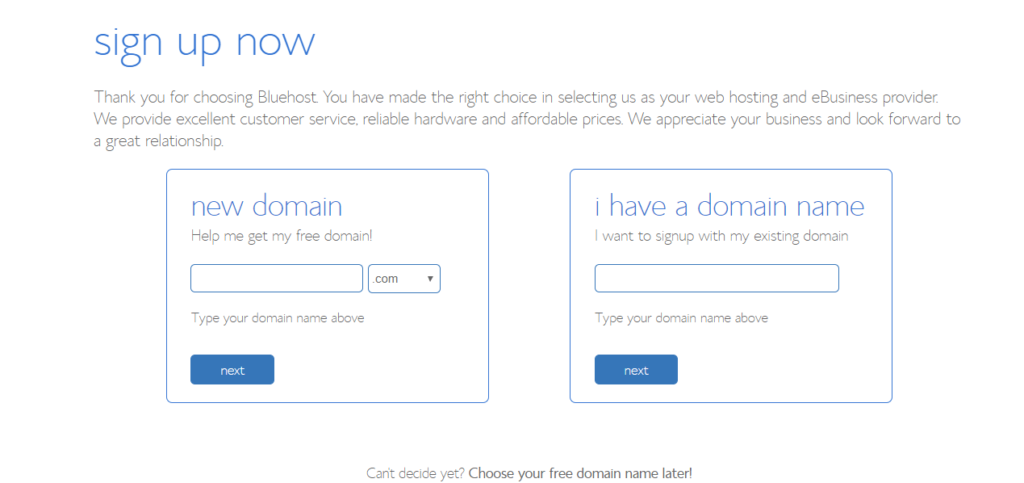 STEP 4: Fill In Your Details
 Simply enter your personal information on the "Create your account " page to create your account. You must include your first name, last name, country, street address, town, zip code, telephone number and e – mail address. Your receipt will be sent to your e – mail address. You can also add your company name in this form.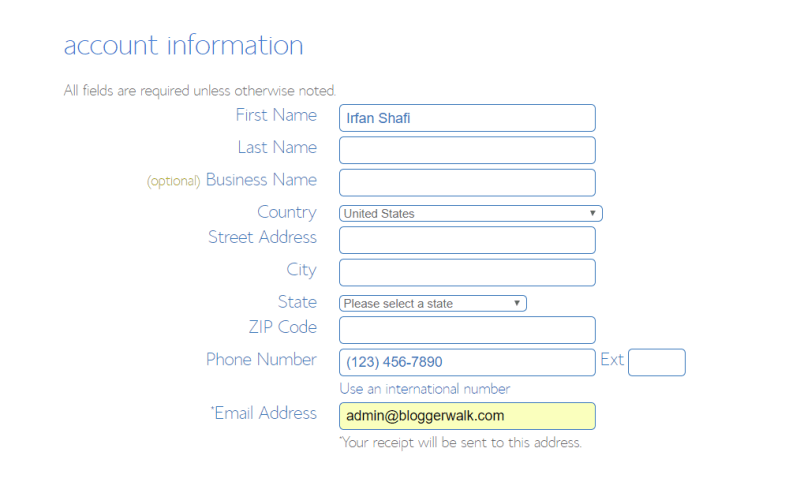 Finally, enter your payment details to proceed.
STEP 5: Check your "package information" and sign up
The next step is to select your plan and package when you register for a Bluehost account. These are the last steps you will take before your account is created. Pay attention to the additional options available, such as Domain Privacy.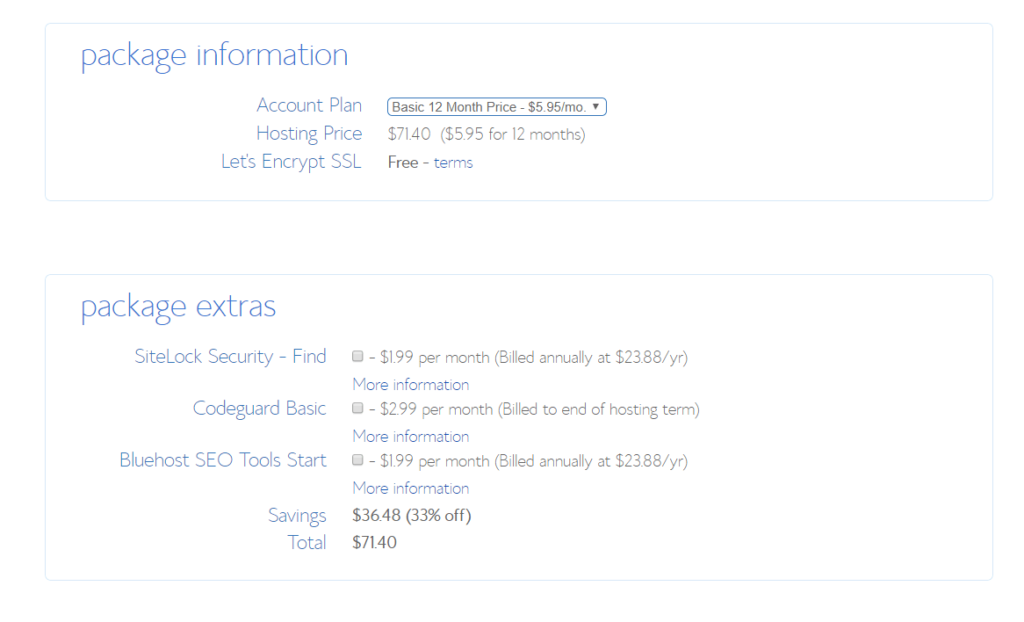 You will get SSL certificate free of cost. A SSL certificate protects the sensitive information of your customers –like passwords, usernames and credit card numbers–from malicious third parties. If you see the green lock icon on your browser, customers can see if your site is protected. SSL certificates are also one of the factors used by search engines such as Google to determine the location of a website in search results.
Consider these add-ons (optional)
Bluehost has tons of great add- ons available. Most of them are not necessary, but there are a number of add- ons to consider besides the protection of domain privacy.
Site Backup Pro: This gives your website extra security. WordPress is very secure, but this additional feature allows you to regularly back up your site. If you think you are going to use this feature, $ 2.99 per month or $ 35.88 per year is definitely worth it.
Search Engine Jumpstart: Bluehost says this tool can help you get rankings for the search engine. This feature is $ 2.99 a month or $ 35.88 a year, too.
SiteLock Security: This add- on checks your physical address, email address and telephone number. If you plan to sell a product or service on your site, this feature may be useful to demonstrate your customers ' credibility. This service is an additional $ 1.99 a month or $ 23.88 a year.
Once you have selected your add- ons and registered for a Bluehost account, you will all be able to create websites using your selected or existing domain name. Login to Bluehost and select your preferred website builder: WordPress