iPage is not only one of the Cheapest Hosting Service but stands as one of the greatest successes in hosting industry.
A little background :
In case you are not aware, iPage is owned and managed by a group of the experienced management team – the Endurance International Group (EIG). EIG has been around for more than 15 years and their hosting platform is currently holding more than 2 million domain names.
The group also owns some of the biggest names in the web hosting industry, including FatCow, BlueHost, HostMonster, JustHost, PowWeb, EasyCGI, StartLogic, Dot5 Hosting, VPS Link, and so on. I am not very sure on the exact numbers but I believe EIG is now the biggest web hosting/domain company on earth.
Anyway, this is just a background story that does not matter that much.
As a web hosting shoppers and users, who own the company is not our main concern. What's more important are:
What iPage has to offer?

Is iPage the right hosting for you?
One of the factors that make Ipage better than the rest is the cheapest Hosting service.
After testing and using more than 30 web hosting services, I spotted one thing essentially: Most budgets shared hosting providers actually offer more or less the same hosting options (unlimited hosting, free domain name, webmail, 24×7 supports, etc etc)
As we're getting the same hosting features eventually, the cheaper the deal the better (provide that the host comes with reliable server uptime and satisfying customer service), right?
You bet! This is why I think iPage is awesome. iPage hosting offers what most other shared hosting suppliers offer (in term of both high quality and features), however, it's 76% to 450% cheaper than the others.
For easy reference, here's the comparison chart below. Notice how much money you get to save with iPage.
Biggest Pros of IPage :
Extremely Cheap (iPage = Cheapest Shared Hosting!)
The page is extremely cheap. And not that only it is cheap; it's also reputable and reliable. So if you want a good host at an affordable price, iPage hosting is a go!
30 Day Money-Back Guarantee
It's always comforting to hear that there is a 30-day money back guarantee. Some web hosts play trickery and will not give your money back in full. Not iPage.
You can get your money back without a question being asked if you're not satisfied with there service for some reason.
In order to offset energy consumption by 200 per cent, iPage purchases enough Renewable Energy Certificate (REC). Which equals to 244 acres of trees being planted.
Support is cool, but what's even cooler is not having to contact support the first place. That's why network uptime is monitored 24/7. If anything goes bad, support can react immediately.
Get a FREE domain name of your choice for an iPage hosting schedule for one year.
Build an online shop, start a blog or establish a photo gallery. Every popular app is available on iPage.
Create unlimited email address on your domain, autoresponders and email forwarding.
Access to our state – of – the – art Website Editor immediately. Select a professional template of your choice out of thousands available.
Create your own online shop and sell online goods with superb eCommerce capabilities.
Get FREE ad credits worth $ 200 for search engines like Google and Bing.
Monitor and track the performance of your web site with your hosting account's analytics tool.
Now you can host unlimited domains within your iPage hosting account.
iPage provides unlimited space, MySQL databases and the abilities to keep unlimited websites with unlimited bandwidth for people with applications or CMS programs that need communication with MySQL. iPage.com has comprehensive functions.
The uptime diagram below can be seen. 100% is a big score for 30 days! Their objective is to reach 99.99%. About two months ago, I remember inactivity. It lasted a minute.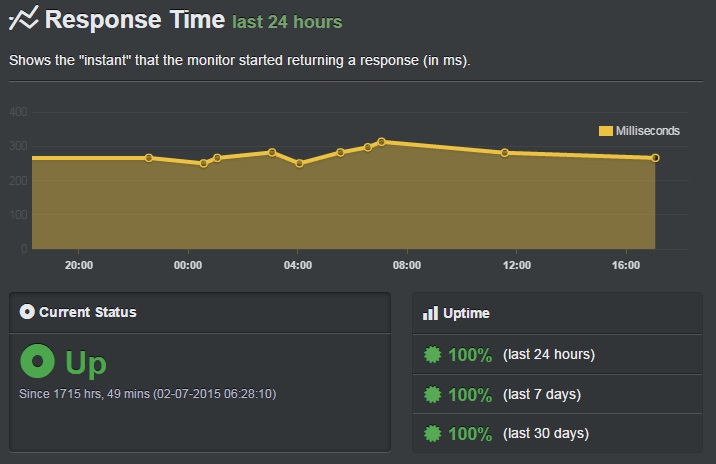 Let's take a detailed look at uptime. When this review was written, iPage had 100% uptime for the last 24 hours, 7 day and 30 days. If you ask me, that's a great score. My installation of WordPress loads with no issue and is fast enough, as usual.
However, this is only a short picture. As one of the cheapest web hosting provider companies, iPage has consistently developed trust and reputation as an online hosting company in business.
If you've ever dealt with a hosting service in your life, you probably know that live chat is like support on the first line. They fix the simple things, change the settings and point you in the right direction.
In case there is a problem requiring an advanced set of skills. They create a ticket and refer it to second line.
Second line support usually does its job within 24 hours on the basis of my experience. You won't have to wait that long in the case of server outages.
We highly recommend Ipage for both small and large businesses that need quick, protected, and reliable web hosting.
Click here to get iPage Hosting