It is essential for you to choose the right Web host for your website or blog if you want to be successful. The choice of the wrong web host can influence your business badly in many ways. I have written below two main reasons.
A loss of sales can occur, if your website goes down. If you have an eCommerce website, then you can lose business and sales. Your audience will no longer be able to reach your site.
SEO of your website will be affected. Your objective should be to increase your website's position in the search results to enable potential customers to contact you.
We received a lot of feedback from our readers after the latest comparison between SiteGround Vs. Bluehost. As we have experience with it, we decided to share it.
Affiliate link disclosures: We are using an affiliate link on our website that results in a commission. We get a commission from both companies, but we must show you which web hosting provider is better as per our experience.
So let's dig deep and compare popular web hosting companies SiteGround vs. HostGator.
SiteGround was founded in 2004. They host more than 1,800,000 domains and have a client base of more than 250000 customers. WordPress recommends them on their page. With its open source software support SiteGround adopts a different approach. They support WordPress, Magento and Joomla programs that are tailored to host websites.
HostGator was founded in 2002 and came under the umbrella of EIG. If you have a problem with any EIG company, then you can face the same problem on HostGator. HostGator hosts over 9 million domains and have a client base of 400,000 customers worldwide.
Uptime
One of the most important factors to consider is uptime provided by web hosting companies. In simple words, uptime can be defined as website operational and running time. Downtime is precisely the other way round. As a startup, make sure you choose the best web host providing excellent uptime.
SiteGround provides 99.99% guaranteed uptime, which means your website has only a 0.01% chance to go down. Uptime is the prime factor that makes SiteGround best web hosting provider. There all plans are powered with the same uptime. You don't need to worry if you are buying their shared plans.
HostGator guarantees the same 99.99 % uptime. Again, the same applies to all the plans offered by them.
Note: SiteGround has performed remarkably well and has provided 100% uptime. This is one of the reasons many big names in the industry have moved from WpEngine to SiteGround.
Hosting Speed
Both these web hosting companies provide good speed. It could be hard for people to select from both, but based on our experiences we can recommend SiteGround. SiteGround is ranked first in our list of the best web hosting for small business.
To maximize speed, both companies took different approaches. SiteGround uses the Super cache process to keep the site fast, HostGator uses a hardware-based approach to add more devices and service layers.
As per our different test SiteGround provides average page speed of 1.10 seconds to load a web page. On HostGator, the average page speed is 1.30 seconds.
SiteGround has improved a lot with its caching system, which stands out in comparison to HostGator.
Server Response Times
Most of the companies show their response time test based on their dedicated servers which are irrelevant as more than 60 % of people use shared hosting. We used a different approach and examined response time on shared hosting. We found average response time for SiteGround is 180 ms while as the server response time of HostGator was around 225 ms.
However, different kind of hosting packages shows a different type of response time. Response time also depends on the location of servers. If it located near your audience, then the test will show less response time.
Our tests have shown that SiteGround handles high server loads faster than HostGator.
Data Center
SiteGround has 3 data centers situated in Chicago, Amsterdam, and Singapore and implemented with high-end hardware. These data centers are highly secured, so you don't need to worry about security.
SiteGround powers websites to deliver faster processing based on the location of these data centers. It also offers free CDN, adding 23 locations worldwide to boost your website performance. SiteGround has an excellent infrastructure to provide better hosting services, without any doubt.
HostGator has two U.S based data centers located at Houston, Texas and Provo, Utah. Their servers are incredibly safe and are equipped with up-to-date technology.
Price and Plans
SiteGround web hosting offers three shared plans, which can be upgraded if needed. The monthly visits are limited to 10000 to 100000 per month which works well for bloggers, small business and marketing companies.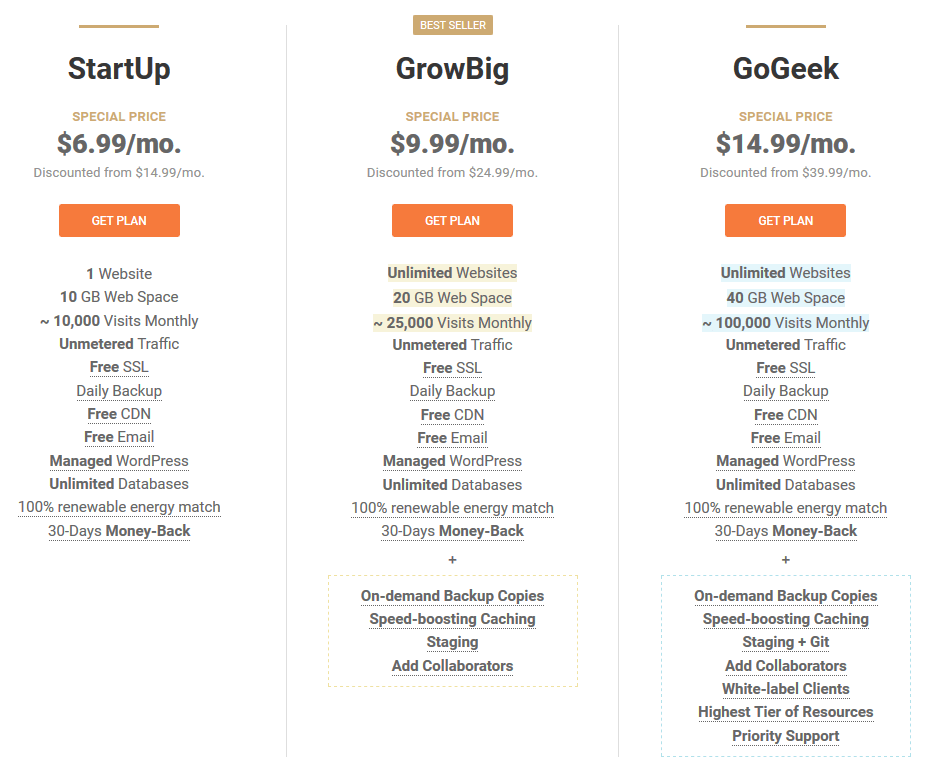 Like SiteGround, HostGator also offers three types of shared web hosting plans. The price begins at just $ 6.99 a month with unlimited disk space and bandwidth.
Both companies offer comparable features at almost the same price but the best thing I like is SiteGround is their straight forward policies. There is no company in the hosting industry that provides unlimited storage. If you will upload large files or your traffic is increased then your website might get slow or get down.
Technical Support
Both web hosting provider offers excellent technical support, including 24/7 phone support, live chat and if the problem is still not solved, then you can take advantage of ticket support.
Our experience with SiteGround compared to different companies remained positive. They offer the best support and exceed any service provider in the market.
Wrapping up
SiteGround and HostGator can easily beat many other hosting service providers. However, as per our experience, we recommend SiteGround to our readers. Even as per many Facebook and twitter pools, SiteGround has come out as a winner. We have put these pools in our SiteGround review.
Sign up for SiteGround  (Discount added into the link)
Sign up for HostGator (Discount added into the link)