SiteGround is one of the most popular WordPress hosts and is very well recognized in the WordPress community. They are recommended by WordPress.They provide unique in-house WordPress speed and security solutions to make your site fast and secure.
Siteground is the best choice for both average users and web savvy users seeking many options and tools. However, they are a leading innovator in the hosting space from custom software solutions to premier customer support. They offer the full range of web hosting features, Cloudflare CDN, cPanel with SSH access, and unlimited MySQL databases, bandwidth and much more.
Sign up for SiteGround  (Discount added into the link)
What other peoples are saying about SiteGround Hosting
If you want to speed up your #website, move to #SiteGround hosting here -> https://t.co/5NEKFbXGGPhttps://t.co/xVq57nRv3M pic.twitter.com/a46Y6agXT7

— Whitelam Media (@p_whitelam) March 5, 2017
SiteGround vs Godaddy (Facebook Polls)
SiteGround was rated #1 host of WordPress in a recent Facebook poll while Godaddy was 13th. I know that hosting reviews are infamous for being biased, that's why I have included a reference link. You just need to click a screenshot to check original Facebook poll. This was taken from the Facebook Group "hosting WordPress".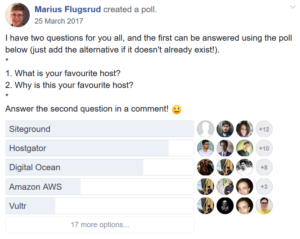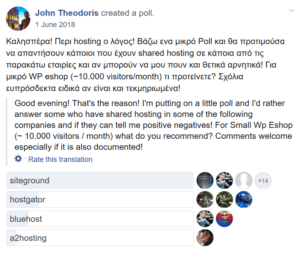 Below are some twitter results of website and testimonies of people who migrated their websites to SiteGround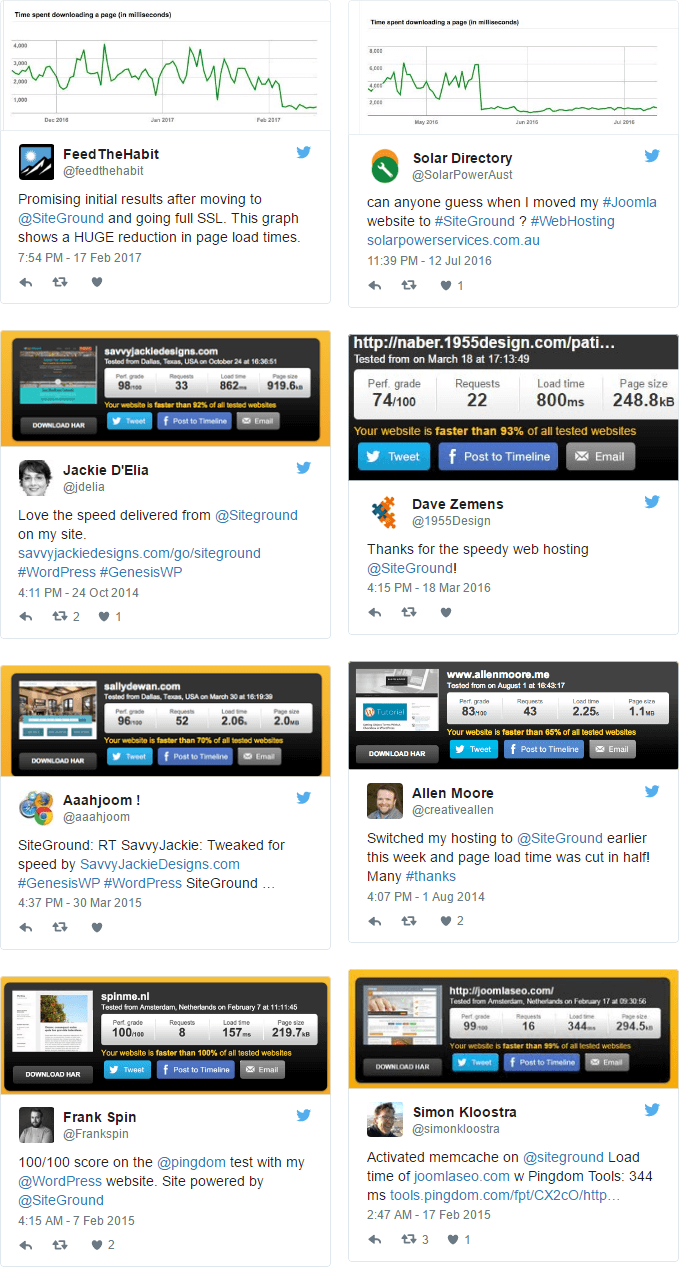 Shared Web Hosting Packages :
SiteGround doesn't exactly offer month-to-month Web hosting options. What it offers, instead, is a one-month trial with a one-time  setup fee. During our testing, SiteGround was running a promotion under which we were able to get the month trial for $ 19.99.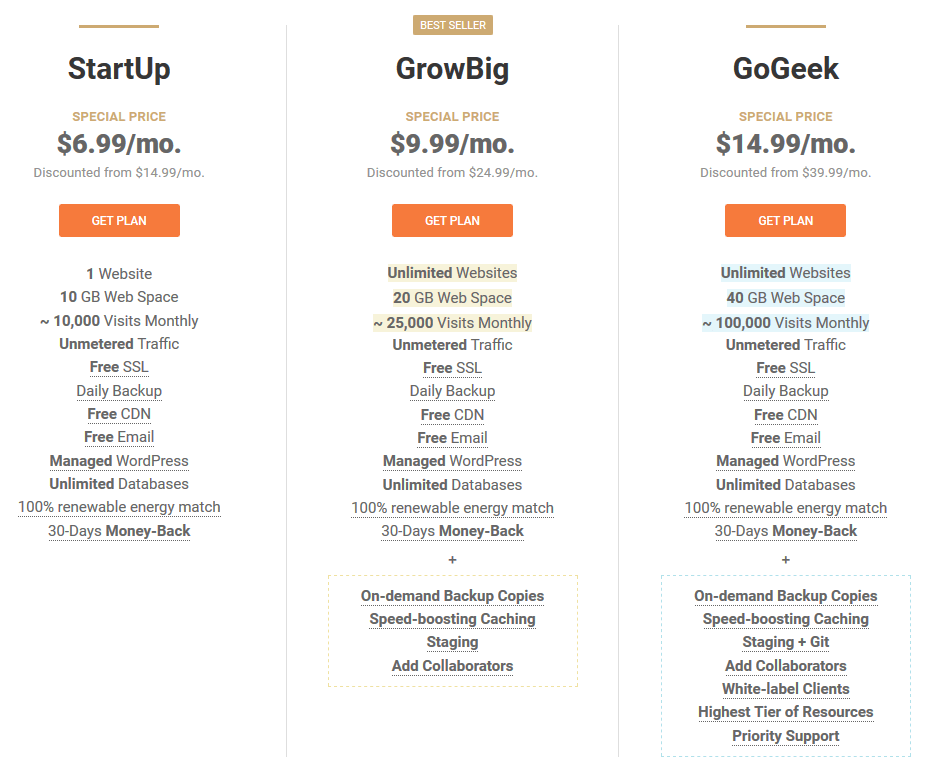 SiteGround plans are straight forward. There are no hidden charges. If your website is getting 10,000 monthly views then startup plan will be good for you but if you are a pro and your website gets higher traffic you can purchase grow big or go geek plan. In most of the cases for newbies grow big plan works better.
Kindly note through our link you will get a huge discount but it will be applicable for the first invoice only. So it would be better to choose a 36-month plan. Though which you can save a huge amount of money on SiteGround.
Sign up for SiteGround  (Discount added into the link)
Data Centers :
SiteGround allows you to choose data center of your choice to host website. They have 5 data centers : Chicago (USA), Iowa (USA), London (Uk), Amesterdam (NL) and Singapore (SG). If you are concerned about data privacy or retention laws, you can choose to use a European data center.
On step 3rd of purchase information, you can change the data center, price as well as you can also change the plan if you intend to use a different plan.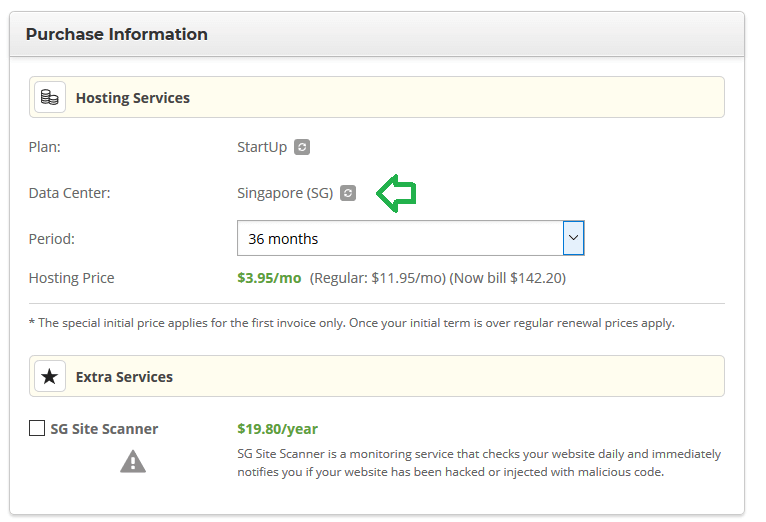 Biggest Pros of SiteGround Hosting :
Hosting Speed:
On Hosting Speed Speed is definitely one of the major advantages of SiteGround. Thanks to incredibly well-configured servers and static caching using Super Cache, Memcached, and Super Cacher, websites hosted by SiteGround load quickly and efficiently.
Security:
On-Site Security Not only does SiteGround continuously develop innovative ways to both stop and prevent security beaches but they also send a weekly "Hack Alert." They want to keep you in the know about potential threats to your security, as well as let you know what you can do to counteract these threats. This weekly alert is a huge bonus, as about 90% of hosts simply don't provide this kind of service.
Customer Support:
Their Customer support is by far one of the best we know. The live chat is staffed with people who actually know technical stuff. They have solved DKIM, SPF, Joomla and WordPress problems right on the spot without having to escalate it to a trouble ticket. It's such a relief to be able to get an immediate solution to issues.
You'll get the most out of SiteGround with a bit of technical knowledge (it's not fully managed, after all), but you don't have to be a genius, and the support is truly second to none.
Flexibility and Scalability:
Basically, you can scale SiteGround services to perfectly meet your needs. It's easy to upgrade and there is plenty of room to grow. The company also provides cloud and dedicated hosting, which provides much greater server specs if needed.
Uptime:
Our test site on SiteGround had an average uptime of 99.96%, well over the 99.90% industry average. Few months ruined the perfect uptime which would have been 99.99%.
Money Back Guarantee :
For all of SiteGround's shared hosting plans, they have a 30-day money-back guarantee. There cash back guarantee ensures you rest assured that there services meet your expectations. The money back guarantee is your sole and exclusive right to the fullest extent applicable under national law and without affecting your consumer rights
Is SiteGround right for you :
SiteGround hosting is a best hosting provider when it comes to customer service and tech solutions or even starting a gaming site like Connect Words. SiteGround is a dominant leader in web hosting, across the board. Currently, their pricing is also on par with many other web hosts. So it's the perfect time to act and take advantage.
Whether you're looking for shared, dedicated, Enterprise or cloud hosting. SiteGround is prepared to meet your needs with top-tier features and an incredibly responsive and polite approach.
Sign up for SiteGround  (Discount added into the link)