We all know how valuable our websites are to us. We spent countless hours designing and optimizing them, so picking the correct host is a pretty big deal. We need to make sure our the server can cater to our website's needs regarding Speed and Security and, at the same time, not break the bank.
This type of service is what HostArmada's promises to deliver! Quality web hosting service at an affordable price incorporating everything a customer needs to achieve his online endeavors without worrying about the technical-related server-side affairs.
Despite being new on the market, HostArmada shines bright with the number of features it provides to clients, and in this article, we will attempt to capture all of them so that you can get an idea of what is to come if you decide to pick them as the home for your website!
Who is HostArmada?
HostArmada is a brand new hosting provider that emerged in 2019, looking to rippled across the web hosting industry and raise itself to the top! They offer cloud web hosting services that they finely tuned, promising a Stable, Reliable, Speedy, and Safe environment for their clients.
The team behind this company's launch has many years of experience working for other popular brands in the industry. At one point in time, they realized that the direction the traditional hosting providers were heading did not match their vision. This moment was when they decided to step aside and start a new company from scratch, which will capture all their innovative ideas that they believe web hosting consumers wanted.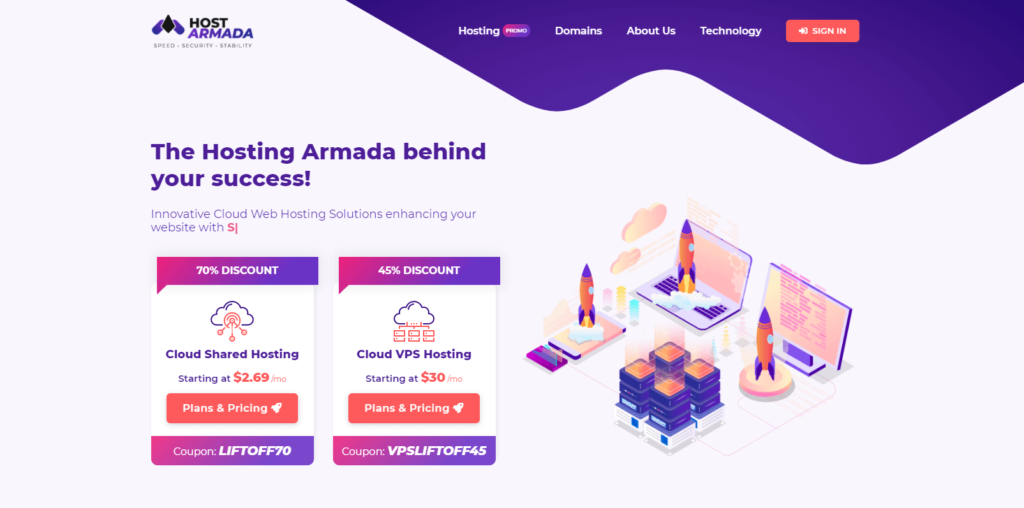 After reviewing their services, we can safely say that they are not far from realizing their goal. The brand is steadily building its name and believes that people will start flocking as soon as they spread the word.
Plans & Pricing
As they want to provide a flexible array of services, HostArmada created three types of plans for their customers: Shared cloud SSD hosting, VPS Cloud SSD hosting, and Dedicated CPU SSD hosting plans. They have structured their packages in such a way so that you can start completely fresh and seamlessly grow your business without worrying about expanding, should you need more resources. HostAramda custom tailored each plan so that every client can find a home for their business or personal site, based on their necessities. Their lowest plan starts at the price of $2.69 per month – one of the market's lowest prices!
Shared cloud SSD hosting
HostArmada offers Linux based, Fully Managed web hosting servers with cPanel environment exclusively. Their shared hosting plans have three distinct options: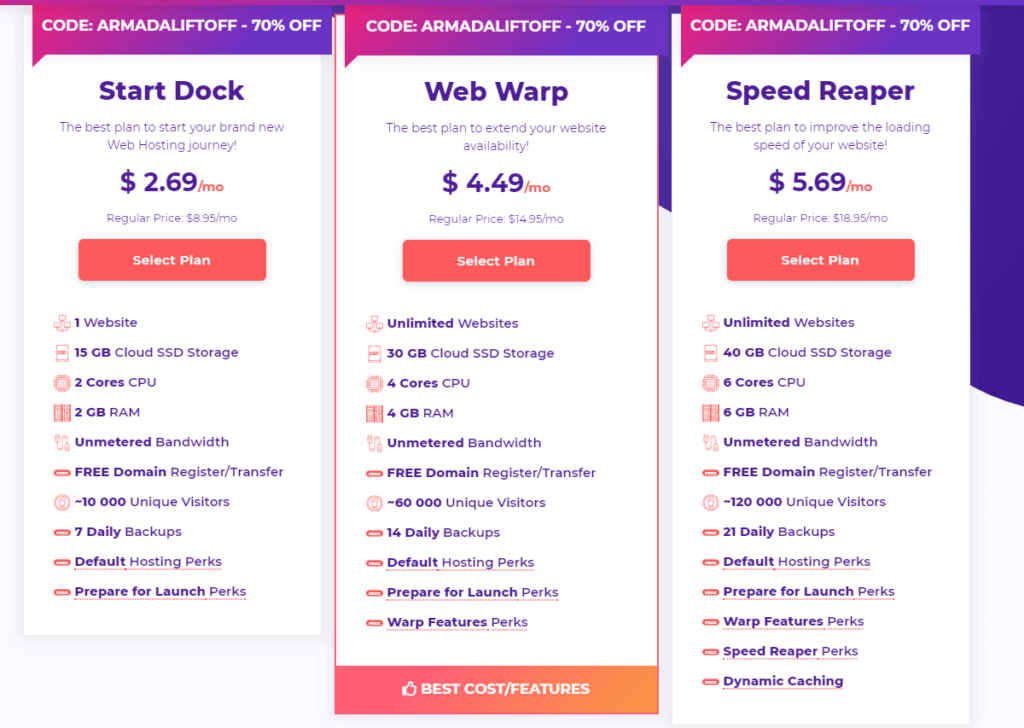 Start Dock
The Start Dock plan is the starter plan for a new business or a new website enthusiast. It provides everything a newcomer needs to begin his online endeavor such as:
Free Domain Name
Instant Account Setup
Free Application Installation
Unlimited Email Accounts
On top of that, you have 15G of SSD disk space available, and the plan can sustain ~10.000 monthly visitors, making it superb for new sites/businesses. It starts at $2.69 per month.
Web Warp
The Web Warp plan offers all the same features of the Start Dock, with a few exceptions which are:
The ability to Host Multiple websites
More resources – 30GB of SSD storage, double the CPU and RAM
More monthly visitors: ~60.000
We recommend this web hosting solution for people that already have a developed site and are looking to expand their website pool. It is also great if you have one website, but this website is already accumulating a nice amount of traffic and could use the extra resources the plan has to offer. It starts at $4.49 per month.
Speed Reaper
The Speed Reaper plan is HostArmada's jewel premium plan that not only includes all of the above but also has the following:
More resources – 40G of SSD storage and triple the resources of Start Dock!
This plan's server is twice as powerful as the server for the standard shared packages (Start Dock and Web Warp) and has fewer clients hosted there. This fact guarantees the extra resources the website could potentially need when it is getting high traffic (ad campaigns, sales promotions, etc.)
More monthly visitors: ~120.000
We recommend anyone who wants the highest possible Security, Speed, and Performance to pick this plan. Ideal for high traffic websites and can efficiently sustain many websites. It starts at $5.69 per month.
VPS Cloud SSD hosting
HostArmada designed the VPS Cloud SSD hosting packages for people who have a moderate to large-sized business or high traffic websites requiring more resources. These plans are resource-rich and offer dedicated resources to the user, and HostAramda has highly discounted them at the moment, going as low as $30.22 per month!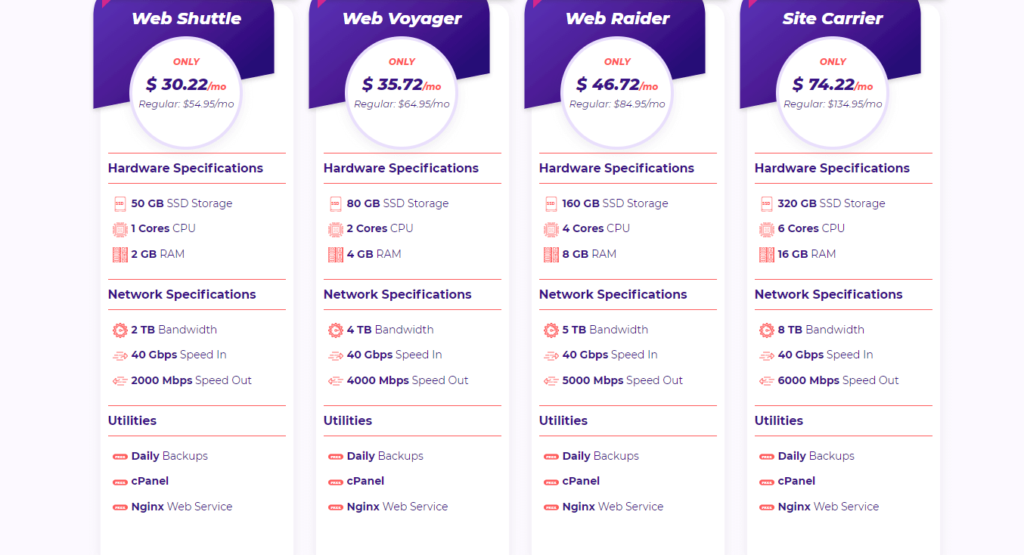 The VPS plans are an excellent choice for people who prefer having access to all available resources on the server and wish to avoid any nuisance from other users on shared hosting servers.
Dedicated CPU SSD hosting
Dedicated CPU Cloud servers are the most premium product HostArmada offers, and no wonder it has the highest price tag, starting at $149 per month. The user will have complete control over this type of solution and will be able to utilize the server's CPU at 100% efficiency at all times.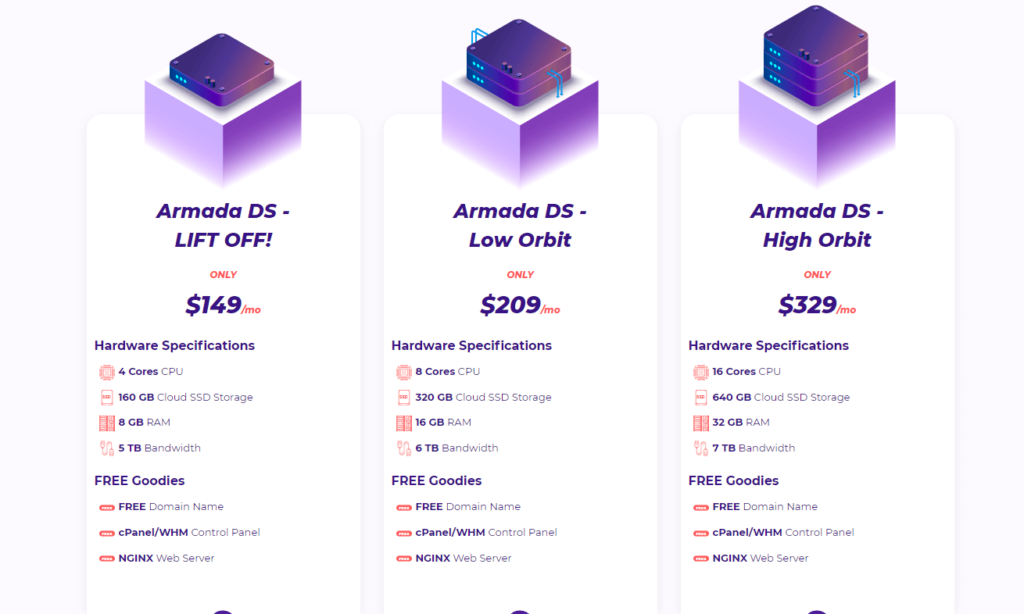 HostArmada created these powerful machines for users that have websites that have immense CPU utilization, such as image processing, constant read/write operations, and high traffic volume.
Speed Benefits
Now that we have gone through the essential web hosting features of their plans, let's talk about Speed! The technology they use for their Start Dock and Web Warp plans Apache + Nginx. Nginx works as a reverse proxy to the apache web server, caching your site's static content. When someone visits your website, the webserver delivers this content to the visitor's browser directly from the cache, increasing the transportation rate dramatically.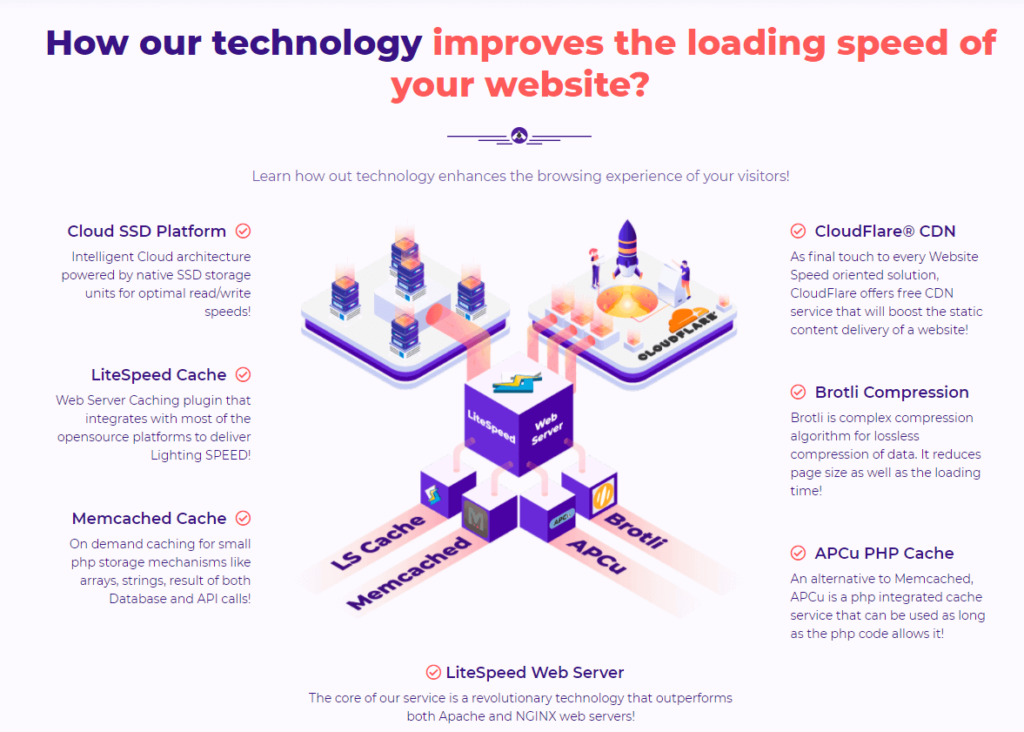 Their Speed Reaper hosting solution highlights LiteSpeed as the primary webserver. LiteSpeed tech is well-known across the internet, and the results it shows regarding website speed and performance are impeccable. Not only does it includes a lite caching mechanism baked into the server, but it can sustain a high amount of traffic with ease due to its request smoothening technology. Another excellent feature of a LiteSpeed server is the supported caching modules/plugins for many open-source applications such as WordPress, Magento, OpenCart, and PrestaShop. They further enhance the "LiteSpeed" effect, and the results are genuinely marvelous.
Pure SSD storage
Lastest available PHP version
Latest available and stable MySQL version
Free Cloudflare integration & quic.cloud(only on Speed Reaper) integration
Keep-alive & gzip/brothli compression
Nginx Web server (Start Dock & Web Warp)
mod_lsapi
LiteSpeed Web Server(Speed Reaper)
LSCache Plugin/Module(Speed Reaper)
APCu & Memcached(Speed Reaper)
HTTP/2
HTTP/2 over QUIC – HTTP/3(Speed Reaper
If you want to see a more in-depth look at all the speed-enhancing features they offer on their servers, HostArmada made a great article explaining all of them, based on the solution you chose!
Uptime Guarantee Commitment & Security
Uptime is arguable the most important thing for a web host. No matter how fast or secure it is, it is of no worth to you if it is down, right? HostArmada promises a 99.9% uptime guarantee as this is an industry-standard and anything lower than that won't cut it.
Security freaks will be relieved to learn that their servers are armed to the teeth with security features that proactively track and disable any malicious activity it detects. They also offer free malware detection scans that can locate even the slightest malicious code snippet embedded inside your files by hackers.
Here is a comprehensive rundown of all their security features:
Up-to-date hardware and software with the latest stable builds/chips.
In-house designed mod_security2 rules
CPHulk BruteForce protection
IP based FireWall & WAF with Machine-Learning Rulesets
Malware scanner
A free Application, theme, and plugin update upon request. Keeping your apps up to date is crucial for security!
Free SSL installation/configuration services upon request
Apache suEXEC
Account isolation & CageFS
IPS/IDS system
If you want to learn more about the above features, we recommend checking their article on the matter here.
Datacenter Locations & Moneyback Guarantee
Everyone knows how robust localization is for business and for the traffic you are looking to bring on your site. To ensure that customers can target their audience based on geolocation, HostArmada, offers 9 data center locations, each strategically placed worldwide:
Toronto, ON
Fremont, CA
Newark, NJ
Dallas, TX
London, UK
Frankfurt, DE
Bangalore, IN
Singapore, SG
Syndey, AU
A vast array of locations that a few hosting providers on the market offer, especially when they are so new in the branch! Impressive!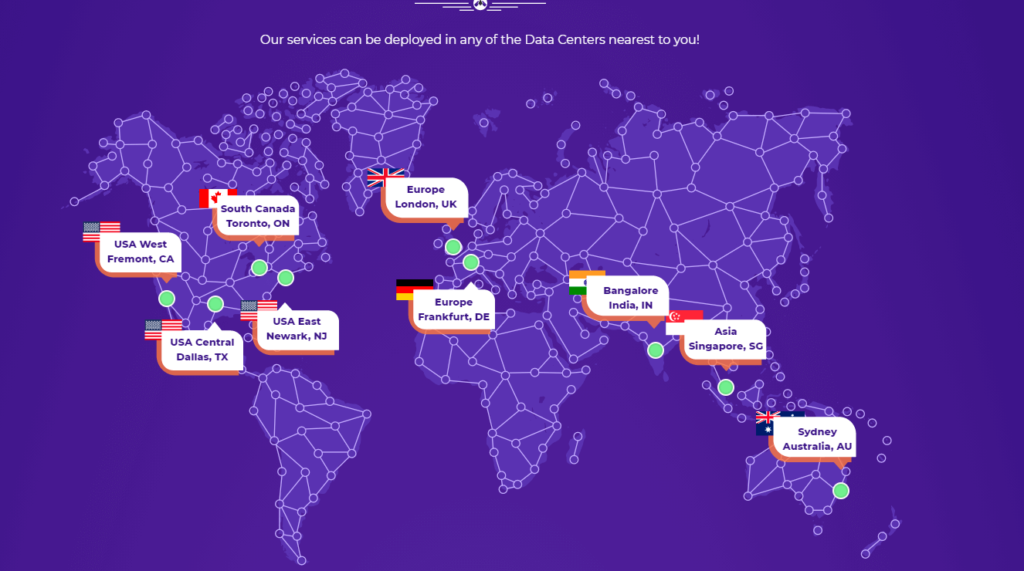 HostArmada's money-back guarantee period is 45 days. You can either love these guys and stay with them for life or request to cancel your service with the 45 days time-frame and receive your money back – no questions asked!
Technical Support
Having a reliable, knowledgeable, and innovative technical support team at your disposal is astounding. You will be nothing less than impressed by the HostArmada Team. Having a vast amount of experience, these guys can cater to you every web hosting needed and regularly go beyond that to help you achieve your goals and improve your stay with HostArmda. Available 24/7/365 over the ticketing system, live chat on their website, and phone, you can reach them whenever you encounter any difficulties with your hosting plan.
The chat and then phone support are generally channels where you can receive answers to general questions, sales questions, and minor technical support queries. The ticketing system is where their senior technical team reviews complex issues, which take more time to investigate properly. The response time on the phone and chat is instant, while the ticketing system's average response time is 10 minutes!
Summary
In case we missed anything during our review, we will list all the features customers receive when they sign up with HostArmada:
Affordable, SSD cloud hosting service, precisely tunned for Speed, Security, and Reliability!
Multiple plans, accomodating the need of every type of customer – prominent business owner, or small startup company – HostArmada has you covered!
Option to choose between LiteSpeed or Nginx – the most prominent web servers used on the web and a pinnacle for performance.
Multiple strategically placed datacenter locations worldwide
HostArmada's control panel of choice is cPanel. A hallmark for UX, accessibility, and a robust website/service managing solution.
Free comprehensive tutorials for open-source applications, cPanel, WHM, email, and a rich knowledgebase
Free one-click installation tool
Free CDN integration
Free website transfer
Free SSL certificates for all domains on the server
Free domain name registration/transfer
Free application installation, as long as it is compatible with the server environment
Free theme/plugin/module update service
Free daily backups
Free malware scanner
Free 24/7/365 premium technical support over live chat, phone, and ticket.
Forty-five days money-back guarantee – no engaging contracts and no questions asked!
Final Words
Wooh, isn't that something? HostArmada surely packs a hefty punch when we talk about features and is undoubtedly one of the best contenders for best web hosting startup companies in 2020. We highly recommend giving these guys a shot if you are looking for fresh web hosting experience at an affordable price, which incorporates the three pillars of web hosting – Speed, Security, and Reliability!