Bloggers start blogs for different reasons. Depending on their goals, they can start a blog for fun or use it as an online diary, then all they need to do is write. But, if they consider blogging a part-time or full-time career to make money, there are various administrative tasks they need to carry out. These tasks include affiliate marketing, social media marketing, email marketing, selling products, etc.
No matter what the purpose of blogging is, with the right blogging tools, you can generate leads, attract more visitors to the website, and even improve ranking on search engines.
In this post, we'll share some available tools with you to maximize your blogging effort to write better, publish faster, and attract more leads.
Let's jump in without further ado!
Tools for blog hosting
One of the very first things you need is a hosting platform for your blog. Here are two tools that provide you with SEO features, page speed, and many more useful features to assist you with starting and growing a successful blog.
WordPress
WordPress is an open-source platform for blogging. It's a free content management system (CMS) without any coding experience for those who want to build websites and blogs.
It has the best features that give you complete control over every aspect of your websites, such as a drag-and-drop block editor, over 80000 WordPress plugins and themes, customized blogs, and paid membership (forums/ online stores).
Ghost
Another CMS dedicated to blogging and can be an excellent alternative to WordPress is Ghost. It offers an intuitive editor, built-in SEO tools, built-in analytic trackers, responsive layouts, and an out-the-box email subscription. 
Tools for blog planning/SEO tools
Blog planning tools will help you define your target audience and find topics that appeal to them. Here are two tools to help you plan your blog strategy.
Semrush
Semrush gives you the possibility to take your blog planning to the next level. This software helps companies run digital marketing methods like SEO campaigns (if you are an SEO manager, take advantage of the best SEO tools to optimize your page), social media, and content marketing campaigns.
Generally speaking, Semrush is a premium tool for keyword research, keyword rank tracking, traffic analysis, site audits, and out-rank competitors on search engine results pages (SERPs).
Pro tip: A website visitor tracking tool like WatchThemLive is another useful way to analyze your website traffic and usability. This tool helps identify and track visitors, typically intending to assist sales.
Keyword Planner
It is a free and simpler alternative to Semrush. This SEO tool helps you enter a keyword and search its volume and related words and phrases. Bear in mind that to be able to use Keyword Planner, you're required to have a Google Ads account.
Although the tool is specially designed for ads, many bloggers use it for their content as well. For example, the founder of Backlinko was able to raise his site's organic traffic to around 300K visits per month with the help of this tool.
Ahrefs
If you want your blog articles and content to rank highly on Google, Ahrefs is the perfect tool for you because it will help you meet the appropriate methods and target the right keywords to market your website.
It enables a blogger to find the best-targeted keywords with high traffic and a low chance of ranking well on big search engines. It's free, and you may try it out for 14 days for free.
Image designing tools
Creating eye-catching and high-quality images is way important to attract more users. So, it is a must for every blogger to use quality and relevant images in their blog posts and articles to engage more people. Here are professional image designing tools that you can use to design your images.
Canva
Canva is a graphic design platform to create different kinds of visual content such as social media graphics, presentations, posters, documents, logos, etc. 
Design Wizard
It's a freemium tool that enables you to create different media types like graphics and videos without needing to have professional editing experience. It has hundreds of design templates that you can download and customize.
SMM Tools
What's the point of going through all the hassle of planning, writing, and optimizing your blog if you don' promote it? Nowadays, with 4.57 million people who are on some type of social media (Instagram, YouTube, Facebook, etc.), bloggers are active on social media platforms for marketing and promoting their content online.
Instagram has turned into one of the most popular social media platforms with roughly one billion monthly active users. That's why Instagram is the platform of choice for most bloggers, influencers, and businesses.
With the ever-increasing popularity of Instagram, influencer marketing has been a buzzword for a while now. Influencer marketing is now a mainstream form of online marketing, and a top-quality influencer marketing hub like Ainfluencer can take your marketing efforts to the next level.
Ainfluencer allows brands to find influencers and collaborate with them for influencer marketing campaigns with any goal. By creating an account, you get access to +190k influencers and can connect with the ideal one and run your campaign.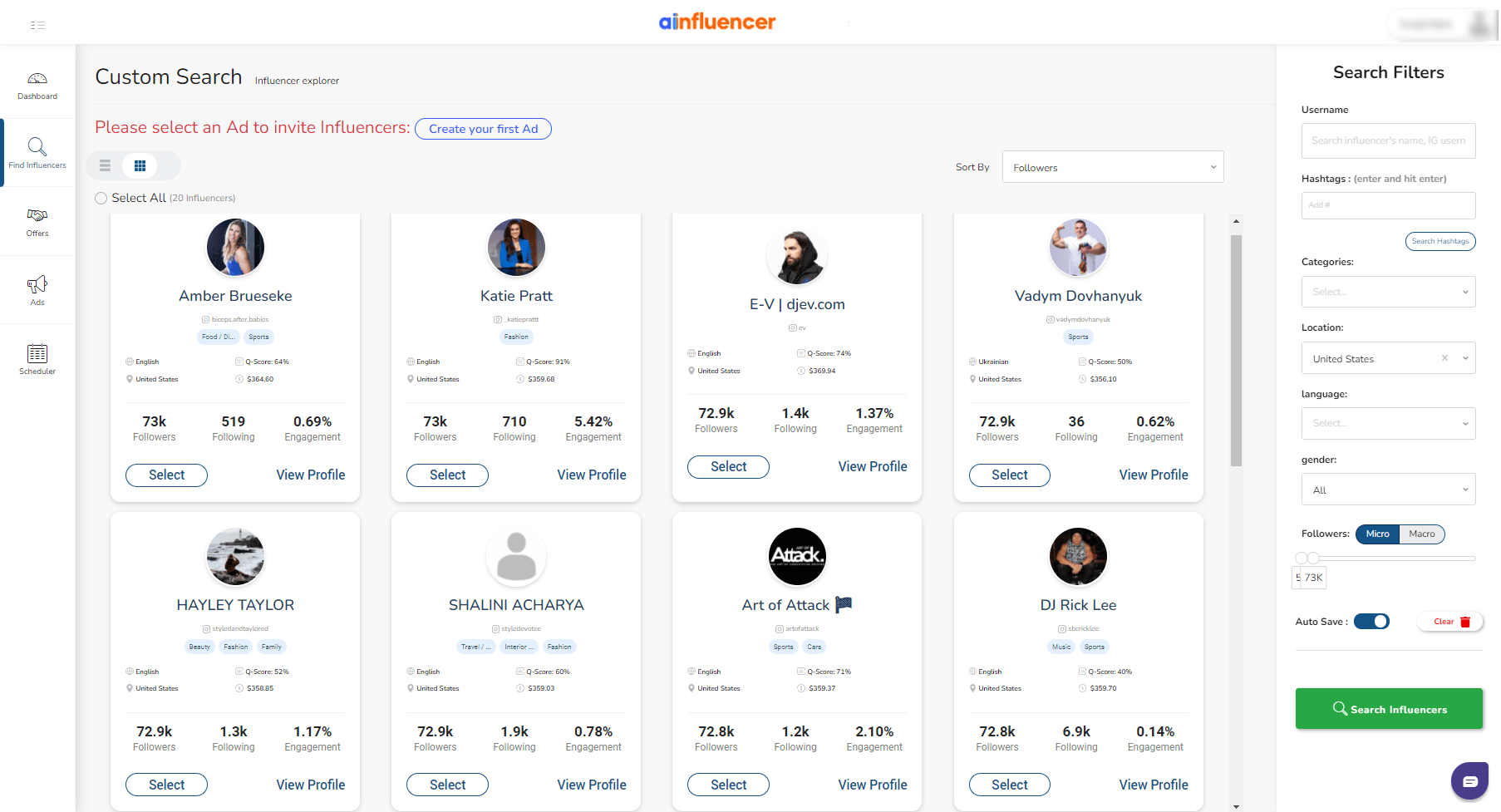 Pro tip: Consistency and growth are key factors in surviving on such a competitive platform (Instagram). Simply put, the more followers you have and the more consistent you are, the more likely you are to steal your competitors' thunder.
You can take advantage of a tool to schedule Instagram posts to have a consistent presence and an Instagram growth service for more and more followers.
Using such a service will free you from thinking about how to get more followers on Instagram.
Note: You can also ask digital marketing agencies for help to spread word of mouth about your content to convert visitors into leads, get your content in front of the right people at the right time. 
Conclusion
By using the above-mentioned top blogging tools, you'll find the chance to improve your content, get more traffic, and you'll be inevitably led towards the journey of success.